Korean makeup style is always a popular makeup style, bringing natural beauty, gentleness but no less charm. In particular, the trend of makeup with horizontal eyebrows is enthusiastically promoted by many famous stars and young people. Not only in makeup, trends Korean horizontal eyebrow spray It is also applied thoroughly in the method of cosmetic tattoo spray to bring youthfulness and dynamism to everyone.
"Those with the eyes of a leaf
Willow leaf eyebrows are worth a hundred francs."
Trend of Korean Horizontal Eyebrow Spraying Naturally Beautiful
Once upon a time, Curved eyebrows willow leaves is always considered as the standard of beauty, a bold Asian beauty. But today, the standards of beauty have been gradually changed, horizontal eyebrows have become popular, bringing modernity and also related to feng shui as well as expressing human personality.
1
Learn more about horizontal eyebrows
Horizontal eyebrows are understood as the type of eyebrows that are pulled straight from the beginning of the eye to the end of the eye to form a horizontal line. This eyebrow style has almost no curves giving people unique and attractive. There are many horizontal eyebrow variations, the eyebrow tail can be swept, horizontal or diagonal compared to the eye tail for customers to choose.
This is the type of eyebrow that both men and women love, bringing a modern, trendy look. In anthropology, there is a notion that women with horizontal eyebrows are wise and benevolent. At the same time, horizontal eyebrows bring strength to men, showing the intelligence and talent of men.
Horizontal eyebrow style is said to be picky, but customers can change it to fit their face shape.
>>> Reference article: Beauty by Spray Eyebrow Brushing Yarn - What you need to know about the method of spraying yarn.
2
Horizontal eyebrows are suitable for many faces
Although it is said to be quite "choosy", horizontal eyebrows are still able to "please" many different face shapes. Customers can customize a bit to choose the type of horizontal eyebrow that suits their face.
If you own a slim oval face, you almost fit any eyebrow shape, and horizontal eyebrow shape is also among them, helping you to be more youthful and modern.

If you have an elongated face, horizontal eyebrows are a great choice for you. Horizontal eyebrows will help the face look slimmer and more harmonious than before.

If you think that round faces are not suitable for horizontal eyebrows, you are completely wrong. You can be flexible in shaping your eyebrows, making your round face more beautiful and elegant.
3
Suitable for many types of makeup
The horizontal eyebrow style has many colors for you to choose from such as traditional black, western brown, chocolate brown, dark brown, etc. You can optionally choose according to your preferences and skin color. Horizontal eyebrow style is not picky about hair, suitable for many types of makeup and clothes, so you are spoiled with this eyebrow style.
>>> Recommended articles: How much is 3D Eyebrow Spray? – Learn about the cost, advantages and disadvantages of 3D eyebrow spray method.
4
Horizontal eyebrows are suitable for both men and women
If horizontal eyebrows in women make women more dynamic, youthful and modern, horizontal eyebrows in men make men stronger and more masculine. The most obvious difference is that men's horizontal eyebrows are usually big and bushy, while women's horizontal eyebrows are more elegant and gentle.
5
How to own a pair of Korean standard horizontal eyebrows?
The reason for saying horizontal eyebrows is "difficult" because very few embroidery facilities are capable of creating a standard horizontal eyebrow. If the spray is out of shape or out of color, it will make your face look fierce and less aesthetic. Not to mention the horizontal eyebrows are also picky about the face shape, so the KTV needs to have certain customizations to suit the customer's face. So, if you intend to spray eyebrows horizontally, choosing a reputable tattoo spray facility is essential.
If you want to own a pair of Korean standard horizontal eyebrows, you should go to reputable cosmetic centers like Miss Tram - Natural Beauty Center. Miss Tram owns the world's most modern tattoo spray technology along with a team of skilled KTVs that will bring you perfect horizontal eyebrows. Not only that, the estheticians will assist you to choose the most standard horizontal eyebrow shape and have a variation suitable for each face, ensuring balance and elegance.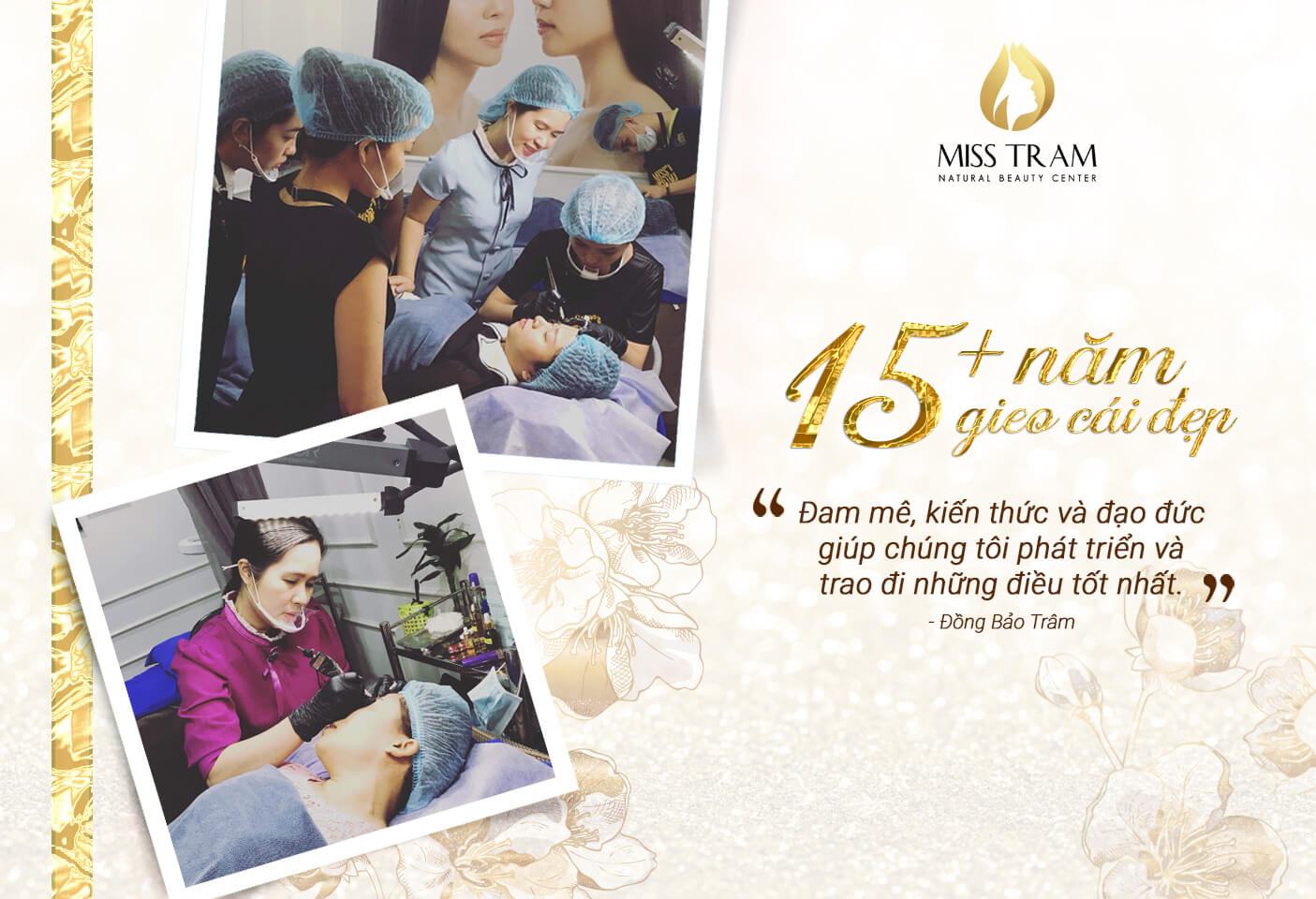 >>> Recommended articles: How to Choose & Draw Eyebrow Shapes That Fit Each Face, Skin Color
Whether you have an oval face, a round face or a long face, don't worry if you "fall in love" with horizontal eyebrows. Let Miss Tram - Natural Beauty Center Choose for you the most suitable eyebrow style, helping you to be more beautiful and confident to express your personality.
See More About News – Beauty Secrets By Miss Tram - Natural Beauty Center:
Why Spraying Natural Horizontal Eyebrows Is Popular
Is Collagen Scar Treatment Really Effective?