The Most Effective Way To Remove Tattoos Today
Tattoo considered a symbol of personal style. However, after a while each person will want to change or remove that tattoo. So tattoo removal method fastest way?
Tattoos not only express a strong personality but also a passion of many people. However, for some reason, there will come a time when we need to remove the old tattoo. So what is the fastest and safest way to remove tattoos today? If you are also wondering about this, Miss Tram - Natural Beauty Center will introduce a modern technology used by many advanced countries in the world.
Tattoos and problems when removing tattoos
Tattooing is an art form that uses needles to insert ink into the epidermis of the skin to create shape and color. After tattooing, these images will last for a long time, over time the ink stains will only fade, but not completely. Therefore, if not intervened by specialized methods, the ink will remain on the skin forever.
Tattoos are loved by many people, because they express their personality, rebellion and boundless love of art. For some people, drawing something on a person has a very special meaning. However, there will be times when we will need to remove the tattoo such as social prejudice, the mentality of wanting to hide memories or simply because the aesthetic orientation changes.
As mentioned from the beginning, tattoo ink has the ability to stay on the skin for a long time, so it is not easy for us to remove it with topical drugs or something. To lose the tattoo, you must resort to the intervention of a laser. The laser with high intensity will directly impact the ink-filled skin, breaking the color bond of the tattoo until it fades.
It is a fact that when treating laser tattoo removal, we must have a reasonable course with parameters suitable for our modern situation. Tattoo removal in each person is not the same because it depends on skin location, ink color, depth of ink, etc., which will give different long-term effects.
>>> Related Articles: Scarless Tattoo Removal Service At Miss Tram Natural Beauty Center
When using laser to remove old tattoos, if we do not choose the right wave level, the workmanship of the performer is not guaranteed, it can lead to the following cases:
Tattoos only fade but not completely

There is a risk of infection, leaving ugly scars on the skin

Effects on health and aesthetics
Because of these factors, Miss Tram - Natural Beauty Center advises you to go to reputable centers to be examined and give the most appropriate regimen for you. Only then will it bring the brand new and avoid the scene of "lost money".
YAG laser tattoo removal technology at Miss Tram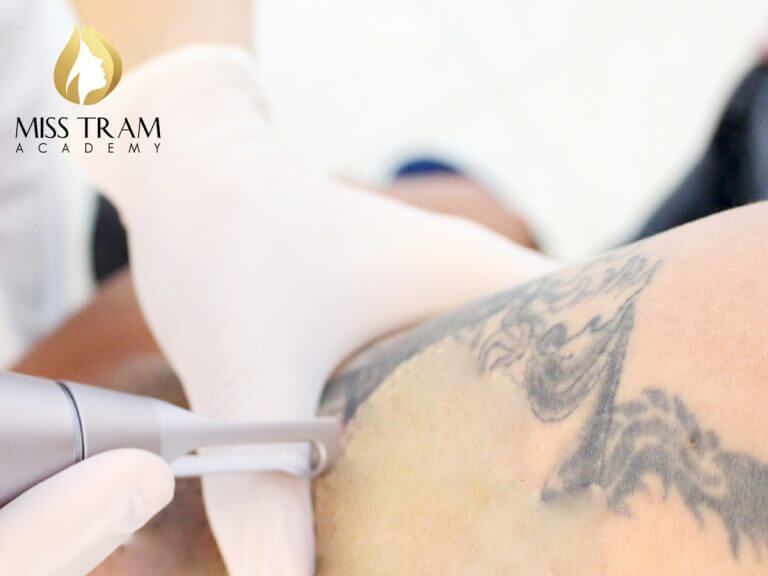 Safe tattoo removal, effective tattoo removal and fastest tattoo removal are the key phrases that many people search for when they want to lose their old images. Undeniably, with the great development of science, technology and aesthetics right away, tattoo removal has become much simpler. And among the most appreciated technologies is the YAG laser.
YAG laser is a new generation laser from the US, combined with 4 wavelengths of 1.064 nm, 585 nm, 650 nm and 532 nm. This type of ray is capable of active action on the skin, from the surface layer, epidermis, dermis or epidermis. The YAG laser has the feature that it will quickly identify the area of ​​​​the skin containing the ink to affect, but not invade, the surrounding areas.
>>> Related Articles: What to do after removing a tattoo is itchy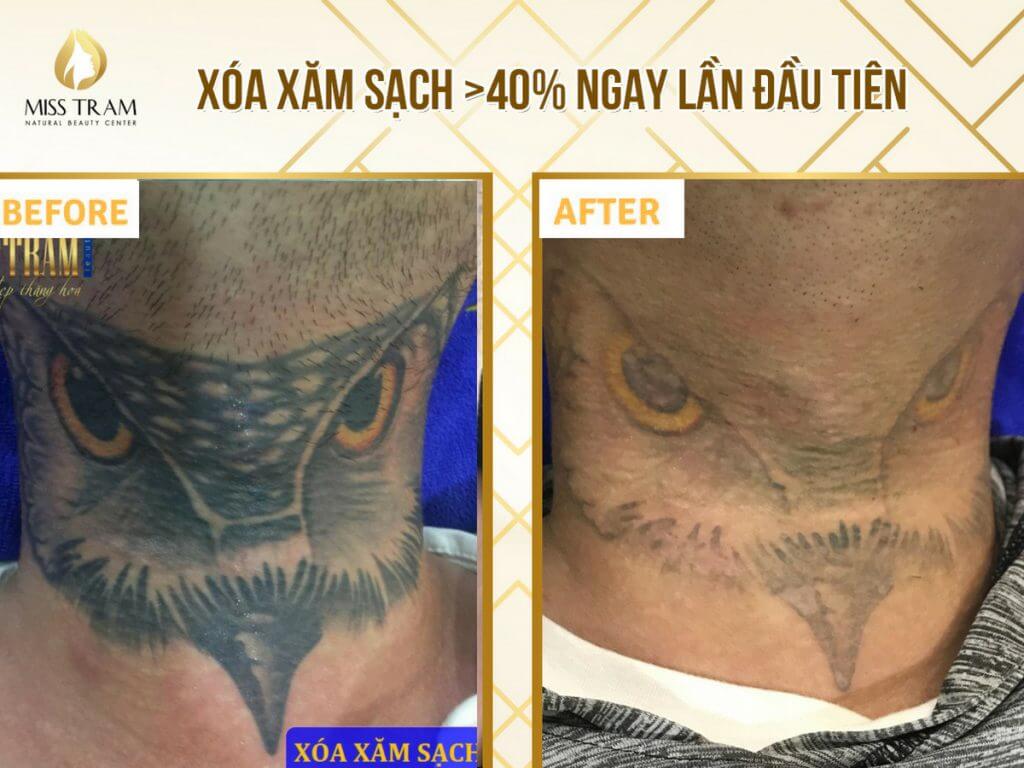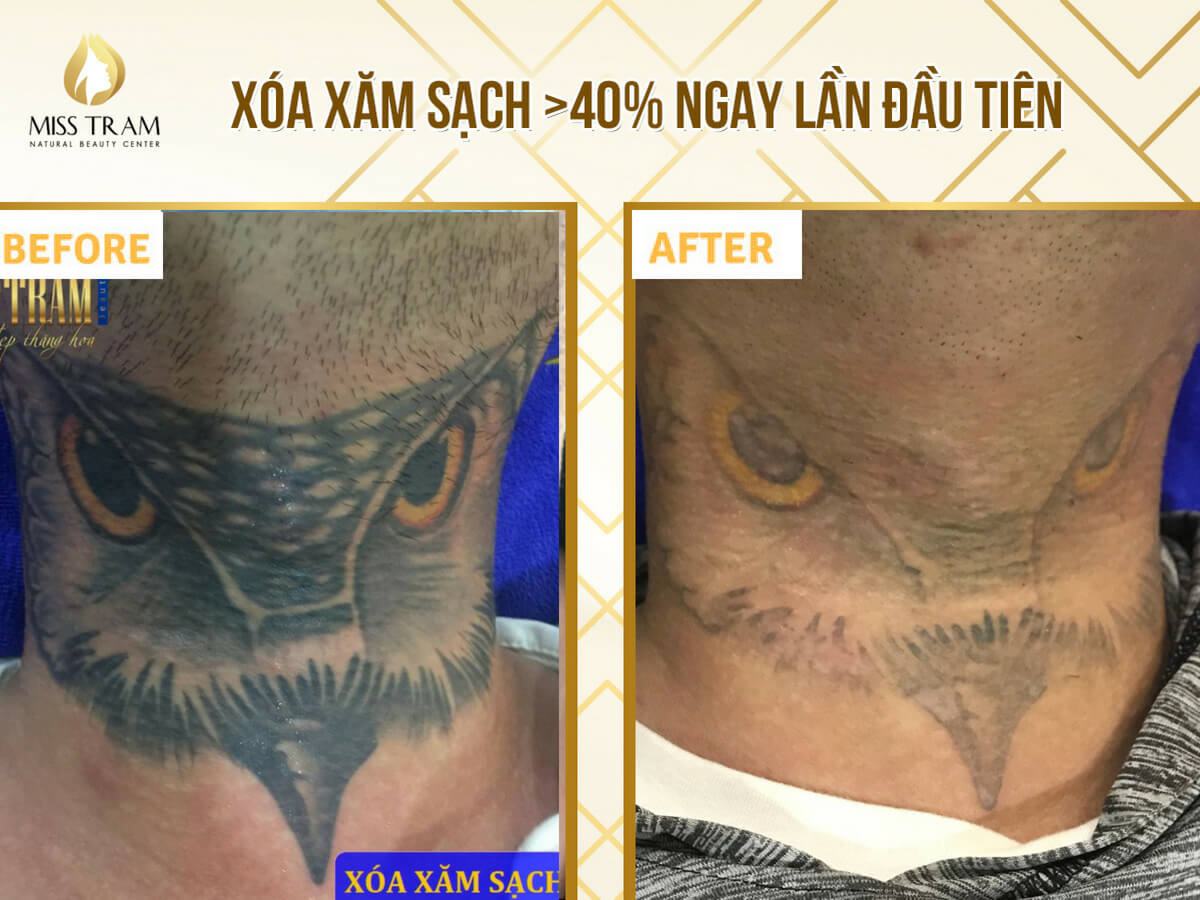 The YAG laser will break the color bond and then dissect it into tiny particles and gradually remove it according to the body's natural elimination mechanism. This process happens quickly, without burning pain, bleeding or any other side effects. YAG laser tattoo removal does not leave scars, can remove all stubborn tattoos such as blue, pink, red ink; Types of 3D tattoos, water tattoos, …
In particular, after only the first beam, Miss Tram confidently blurs up to 40% of the ink stains for you. Just persistently follow the process, you will quickly regain the smooth skin you used to be.
If you are in need of removing an old tattoo but are afraid of scarring or burning pain while doing it, please contact Miss Tram - Natural Beauty Center. We are committed to bringing you the best results.
See More About News – Beauty Secrets By Miss Tram - Natural Beauty Center:
Black Skin Can Sculpt Eyebrows
What Method Should You Do With Your Eyebrow Shape With Head But Missing Tail?
Eyebrow Sculpting at Miss Tram Why Free Support Up to 1 Year