Currently, technology laser tattoo removal has become popular in the beauty industry. So is this method painful or not? Check out this article now!
Introducing the Safe Laser Tattoo Removal Method
Tattoo is the pride of many people, to make a mark, or to express their own personality. To get a tattoo, the tattooer has to go through a lot of pain. However, at some point, because of work, because of circumstances, because of boredom, and a million other reasons why you want to remove it, you wonder if the tattoo removal will be over and is it as painful as when you get a tattoo?
Is laser tattoo removal painful? A lot of you have asked Miss Tram - Natural Beauty Center about this and Miss Tram assures you that tattoo removal will not hurt if done at Miss Tram. Why do many people still whisper that tattoo removal is painful, but Miss Tram insists that it doesn't hurt? Please refer to the article below to find the answer for yourself.
As we all know, tattooing is a form of using professional tattoo tools to put an amount of ink under the skin at the will of the tattooist. These inks have high color fastness and are difficult to remove. Therefore, "erasing" the tattoos is very difficult.
In the past, tattoo removal was very "suffering", but due to forced circumstances, many people still had to accept to bite their teeth and proceed. To remove tattoos, people often use skin grafting method, by peeling off the tattooed skin and then replacing the skin of another area (the patient's own). However, the cost of skin grafting is very high and this technique is only applied to tattoos with the maximum area of ​​the hand.
Another method that is also used is the laser projection method, but this method leaves a less aesthetic scar because the laser irradiation process will burn our skin.
Many people are willing to suffer, willing to spend a lot of money in the hope of quickly removing tattoos, however, with old technology, this is very difficult.
How to safely remove tattoos?
The old laser technology will burn the skin, cause pain and leave unsightly scars, this is a terrible "obsession" for those who want to remove tattoos, and if not careful, "pride" will Wrinkled like scars.
But everything will be different with modern tattoo removal technology from Miss Tram - Natural Beauty Center. This is a new generation tattoo removal method, using modern Yag Laser technology.
yag laser is an advanced tattoo removal technology, which is top-rated in the US and Germany and certified by the FDA (US Food and Drug Administration) for its effectiveness and safety when used on the human body. . Laser Yag has been tested and proven to be extremely safe. Even people with thin, sensitive skin Laser Yag is completely harmless.
This method uses wavelengths with frequencies of 1064nm and 532nm to act directly on the skin, breaking the color bond of tattoo ink and dissecting it into tiny particles so that the ink color is gradually removed according to the natural elimination mechanism of tattoo ink. body. (Instructions on how overcome the phenomenon of tattoo removal after being itchy the most effective).
Laser Yag possesses many outstanding advantages that the old tattoo removal technologies do not have.
Remove any tattoo color even the most difficult (red, black, green, blue)

Using rays with moderate heat, the process is gentle and does not cause pain

The ability to fade tattoos up to 95%

Helps the tattoo removal area to recover quickly, without leaving ugly scars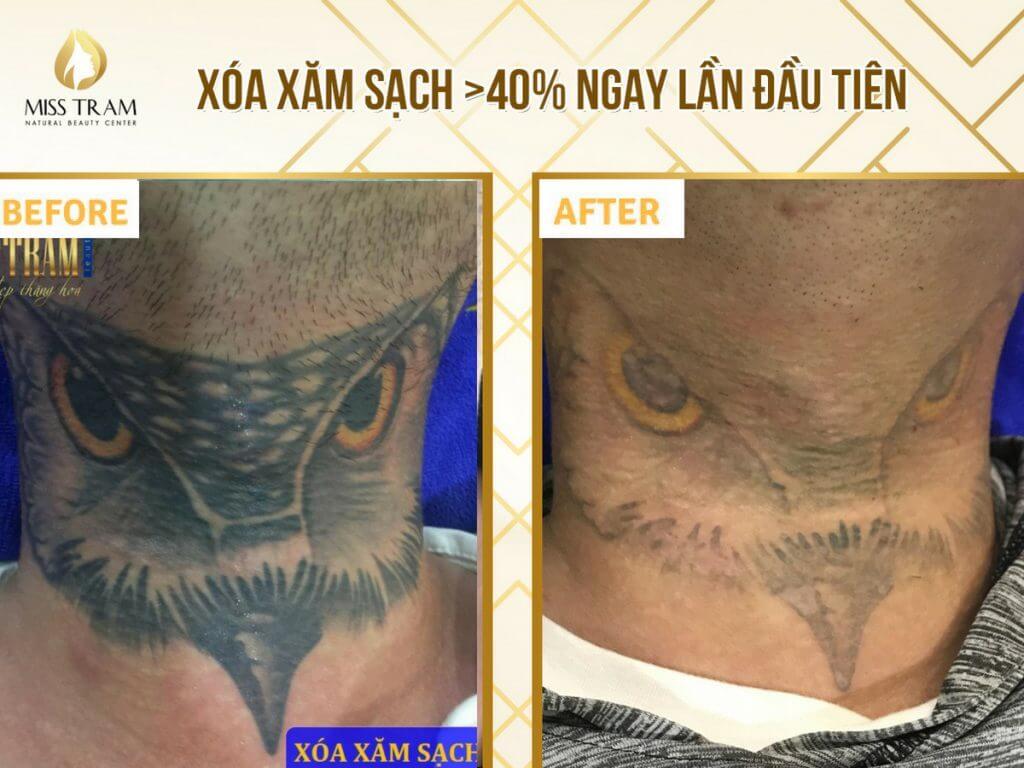 Therefore, you can be completely assured when choosing Laser Yag. In addition, you should also note, there are now many establishments advertising laser tattoo removal. However, it can be the old method of using lasers that leaves many serious consequences. It is best to choose reputable Yag Laser tattoo removal facilities like Miss Tram to be safe.
Miss Tram is committed to effective tattoo removal, returning you to the original healthy skin. In addition, this tattoo removal method is completely painless, so you can rest assured to do it. (Read more about Safe tattoo removal address, the most prestigious today).
Tattoos do not mean bad, in addition to hobbies, tattoos also have a special meaning or mark an important mark in each person's life. Therefore, just unleash your passion, explore and enjoy life the way you want. If one day you want to change or give up tattoos, don't worry too much, Miss Tram will help you.
See More About News – Beauty Secrets By Miss Tram - Natural Beauty Center:
What Should I Eat For Endocrine Acne To Get It Out?
The Easiest Way to Treat Blackheads On Nose