Puffy eyes deepThick fat makes women lose confidence and always have to spend hours every day wearing makeup to cover up ugly dark circles, but the effect is not long-lasting. So is there any solution? Remove eye bags without surgery are not? Let's Miss Tram - Natural Beauty Center find out!
Is It Good To Remove Puffy Eyes Without Surgery At Miss Tram?
1. Why do puffy eyes appear?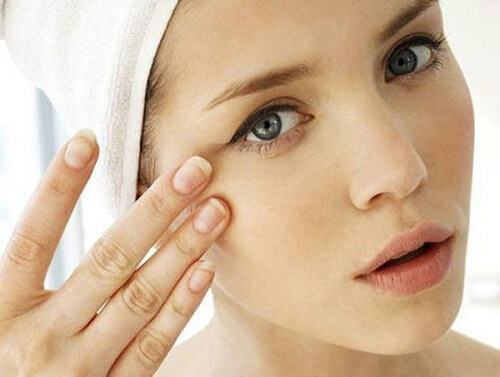 On our body, excess fat can appear anywhere. Fat has a protective effect on the body, stabilizing body temperature. However, there are places where it should not appear much. Those are the eyes. The fatty layer accumulated on the eyelids causes the skin to swell, creating puffiness in the eyes.
Puffy eyes have a lot of influence on facial expression. Your face will become old, tired and really dull. This is also the time to pay more attention to your eyes.
>>> Related Articles: Should or should not have eyelid surgery?? – Hear from today's leading beauty experts.
Some of the causes of puffy eyes include:
Due to old age: As we age, the skin and muscles around the eyes become more flabby and lose elasticity. Meanwhile, the amount of fat accumulated more and more forms fat bags around the eyelids.
Staying up late or sleeping too much: Unscientific living habits are also a common cause of this condition. You stay up late, lack of sleep, drink a lot of stimulants, use computers and phones a lot, causing eye bags.
Due to stress: after many hours of stressful work, pressure can be the cause of swollen eyes, puffiness, or dark circles
Due to heredity: may be due to genetic factors or hormonal changes in the body, especially in pregnant women.
2. Remove eye bags without surgery – effective after just one use with HIFU S+
Remove eye bags with technology is a method to overcome the condition of puffy eyes, making the eyes less attractive, making the face look older before age. Just apply the right course of treatment for your current condition, you will definitely notice the difference on your face.
Currently, the most effective and safe non-surgical cosmetic technology is HIFU S +. HIFU S+ technology (High Intensity Focus Ultrasound) at Miss Tram - Natural Beauty Center uses high-intensity focused ultrasound to generate heat of 60-70 degrees, impacting at a depth of 4,5mm to gradually remove excess fat. This technology is considered by experts as a remarkable improvement in the field of aesthetics and eye area beauty, which is very popular in the world. (Refer to top Natural anti-aging eye mask safest and most effective).
This technology has many outstanding advantages such as:
Eliminate puffiness thoroughly, regain youthful eyes

The treatment is short, does not take much time

No surgery, no invasion of the surrounding healthy skin

Safe, does not cause scars

HiFu S+ technology has a high safety index

The procedure is painless and requires no downtime

Long lasting effect, no side effects
3. Why should you remove eye bags at Miss Tram - Natural Beauty Center?
Effective, safe, absolute customer satisfaction
As one of the first beauty centers to apply successfully HiFu S+, Miss Tram has helped thousands of customers change their appearance, regain their youth and confidence. Each customer when coming to Miss Tram is carefully examined by experts, accurately assessing the current condition to offer the most suitable treatment. (Instructions for the Eye massage to reduce wrinkles effective at home).
Not only possessing advanced technology, Miss Tram also focuses on investing in modern equipment and facilities to create comfort for customers during the course of treatment.
Team of experienced professionals
With a team of knowledgeable experts, skilled KTV, Miss Tram is completely confident in the quality of service, giving her customers the best.
When giving faith to Miss Tram - Natural Beauty Center We are sure we will never let you down. The experts here will always be ready to listen and advise the most effective solution for your situation. So what are you waiting for without contacting us via hotline: 1900 7018 for a free consultation! (Refer lock up learn aesthetic sculpture at Miss Tram).
See More About News – Beauty Secrets By Miss Tram - Natural Beauty Center:
Remove Freckles Effectively With Laser Technology
Skin Rejuvenation With HiFu Technology Works As Expected
Review Top Skin Care Products