Back acne appear to cause skin pain and discomfort when wearing clothes. The "ugly" acne spots also make you afraid every time you want to show off your bare back. If you do not know how to treat it, it can leave scars, darkening, and unsightly skin.
Currently all kinds soap, bath powder for back acne was born to support acne treatment effectively - conveniently - economically. Together Miss Tram review 7 products that are trusted by many users.
1
Herbal Skintox Herbal Bath Powder for Back Acne
If you want to treat back acne quickly and effectively, you should not ignore herbal bath powder Herbal Skintox of Dori Beauty. This is a Vietnamese spa cosmetic brand that is highly appreciated by cosmetic and beauty spa experts for its quality.
Advantages of Herbal Skintox:
Can be used for all skin types thanks to safe, effective, benign ingredients:

Mulberry root extract, green tea leaf, orange peel essence, ginseng and rice bran help fight inflammation, treat acne, and deep clean the skin.

Vitamin E, vitamin B3 moisturize and protect the skin well.

Penetrates deep inside to clean and moisturize for soft skin.

Support skin to balance oil more, tighten pores.

Support to reduce inflammation - swelling back acne and acne treatment.

Remove dark spots after acne left on the skin, whiten - brighten skin effectively.

Usage is relatively simple.

Reasonable price for many objects.
Cons of Herbal Skintox: Not many people know about it because they are not invested in retail PR but are specialized for beauty spas.
2
Medimix Bath Soap 18
Medimix Originating from India and currently being highly appreciated by consumers for its ability to treat back acne and post-acne skin care. The product is famous for its ingredient list containing up to 18 natural herbs, including: licorice, Himalayan cedar, calendula ... Therefore, this bath soap is extremely benign, can be used for the whole skin. sensitive.
Medimix 18 advantages:
Penetrates deep inside the skin, helps to clean pores, effectively treat acne.

Eliminates acne-causing agents such as bacteria and fungi.

Treat acne inflammation and regenerate skin after acne effectively.

Does not contain substances harmful to human health.
Cons of Medimix 18: Contains an ingredient that causes dry skin, so if you use the product, pay attention to regularly moisturize the body.
3
Kojie San Kojic Acid Acne Soap
The next product that cannot be missed if you are having back acne problems is Kojie San Kojic Acid Soap (Philippines). The product impresses users thanks to the Kojic Acid compound contained in the ingredient - which has the ability to effectively treat inflammation - acne - dark spots.
Advantages of San Kojic Acid Soap:
Supports the treatment of the entire process from acne growth - inflammatory acne - post-acne darkening.

Has the ability to moisturize and smooth skin.
Cons of Kojie San Kojic Acid Soap: Ingredients containing tea tree oil can easily cause damage to sensitive skin.
4
Tipi . Herbal White Bath Powder
Simple - Safe - Effective are 3 things that users often mention Tipi white bath powder for back acne. The product is made from mostly natural ingredients, most of which are beans, oatmeal and green tea powder. Tipi bath powder is relatively benign and suitable for most skin types.
Tipi advantages:
Support effective treatment of acne on the back - chest.

Whitens and evens skin tone.

Removes dirt and dead cells, making it easier for the skin to absorb other cosmetics.
Cons of Tipi: The skin during use is very easy to catch the sun.
5
Label Shocking Body Bar Soap
Korean cosmetics are used by Vietnamese women because of their good quality and reasonable prices. Label Young Shocking Body Bar soap for back acne is no exception. The product is made up of natural essences of broccoli, carrots.. and the exclusive 3-Anti Care acne treatment formula.
Advantages Label Shocking Body Bar:
Thoroughly clean dirt and sebum accumulated on the skin (especially the back skin that is difficult to clean).

Supports the treatment of back acne safely, does not cause dry skin.

Pleasant cool scent.
Cons of Label Shocking Body Bar: The effect is only seen after a long time and persistent use.
6
Rossie Northern Medicine White Bath Powder
Based on applied research on Chinese beauty herbs, Rossie bath powder was born to support white bath, effective treatment of back acne for women. The product has almost natural herbal ingredients - no chemicals, so it is suitable for all skin types.
Rossie advantages:
Support whitening bath and turn on skin tone effectively in a short time.

Treatment of back acne, helping to regenerate the darkened skin left by acne.

Tighten pores, effectively reduce hair inflammation.

The price is relatively soft.
Rossie Cons: Contains ingredients that cause dryness and sunburn, so it is necessary to pay attention to moisturizing as well as sunscreen during and after use.
7
Pelican Bath Soap For Back Medicated
And finally Pelican For Back Medicated Bath Soap – a product of the famous Japanese brand Pelican Soap. Pelican Soap company is famous for its cosmetic lines - acne-fighting cosmetics extracted from activated charcoal, including Pelican For Back Medicated soap.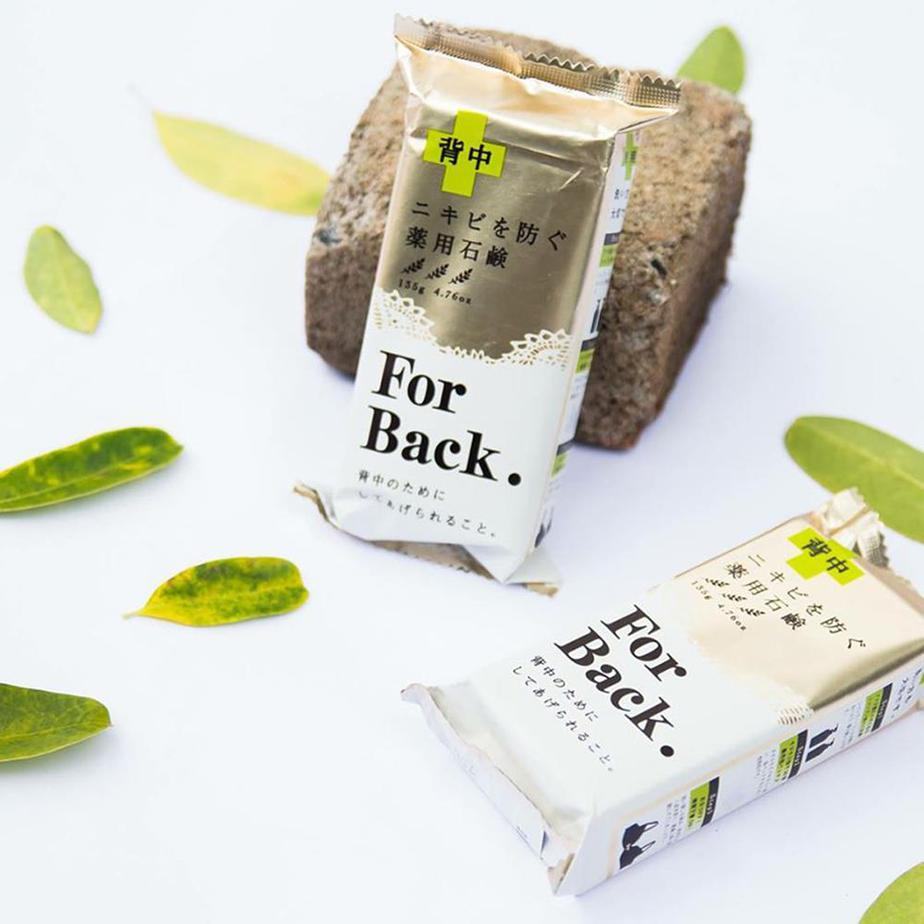 Advantages of Pelican For Back Medicated:
Easily remove bacteria and dirt from deep on the surface of the skin.

Has the ability to help moisturize the body skin.

Remove some dead skin cells.
Cons of Pelican For Back Medicated: Long-term use still causes dry skin even though the ingredients contain moisturizing active ingredients.
The above article has detailed 7 types soap, bath powder for back acne best today. Hope you have chosen the right product for you Acne treatment. Continue to follow Miss Tram to update more beauty knowledge!