Women's beauty needs are increasing and the use of methods Lip tattoo spray no longer so strange. So why is there a case where the lip spray is dark and light? Listen to the expert's explanation at Miss Tram - Natural Beauty Center .
Spray lips This is a simple beauty method, but it also hides many unpredictable risks if you do not follow the right technique. There are many cases after spraying lips with dark spots and light spots and don't know what the cause is. Let's Miss Tram VietNam Find out why and how to fix it!
Causes of uneven lip color
Lip spray is a cosmetic method that brings a plump and youthful beauty to the lips, making women more confident and attractive. Currently, there are many facilities that perform this service at an affordable price because the demand of female friends is quite high. However, not all addresses bring about the expected effect for customers because of "whatever your money". The main cause of uneven lip color can come from many factors:
>>> Recommended articles: 3 Things To Note When Spraying Lips
The first cause of lip spray is patchy, uneven color is because the technician's skill is still weak and unstable, so the needle speed is uneven, shallow and deep, making the lips jagged, spot Dark places lose their inherent aesthetics.

Secondly, the lips are not uniform in color after spraying because the tattoo ink color and the quality of tattoo ink are not up to standard, without a clear origin. This can affect health as well as cost a lot of money and time to treat.

Third, the care and diet regimen after tattooing is not reasonable.

Fourth, due to the body of each person: smooth, oily lips make it difficult for tattoo ink to stick.
Solution to treat lip spray uneven color?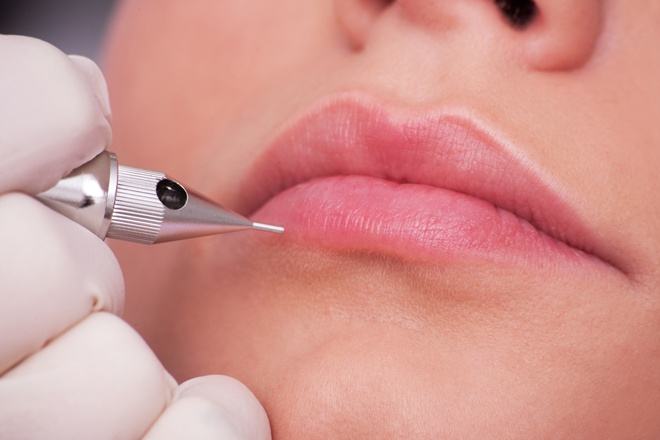 Leaving lips damaged after spraying is something no one wants. If you encounter any condition of the lips (misalignment, uneven color, color splash, ...), you can completely overcome it by going directly to Miss Tram - Natural Beauty Center. Here, experts will examine, determine the cause and have timely remedies to help you have a perfect and more even-colored lips.
For the case of lip spray with dark spots, the experts will fix it through 2 steps:
Step 1: Decolorize the lips to bring back the skin tone so that the new ink color is pushed to the standard tone

Step 2: The specialist will use a specialized tattoo pen with high-quality tattoo ink (ORGANIC ink, imported from Europe, with ingredients from natural herbs without harmful substances to health) to create contour shapes. lips, the color matches the face and ensures an even color. With talented hands, skillful, high expertise of estheticians will definitely bring you the best repair results for damaged spray lips.
>>> Recommended articles: Check Out The Signs Of Failure Of Lip Spray
5 differences only at Miss Tram - Natural Beauty Center
We listen to your opinions and desires about your favorite lip color, from which the consultant will choose for you the color that suits your skin and hair color so that you feel the most satisfied with your decision.

You are directly trained by a qualified professional, a trained teacher, and absolutely do not let new technicians or students with weak skills work for guests.

You get 100% FREE mile support for 2 years (unlimited mileage) if you want to change your lip color as you like.

You are supported by the customer care department at Miss Tram to guide, listen to ideas and make an appointment to check until you are completely satisfied.

In addition, you will receive unexpected beauty gifts when you accompany or introduce friends and relatives to experience the service at Miss Tram - Natural Beauty Center too!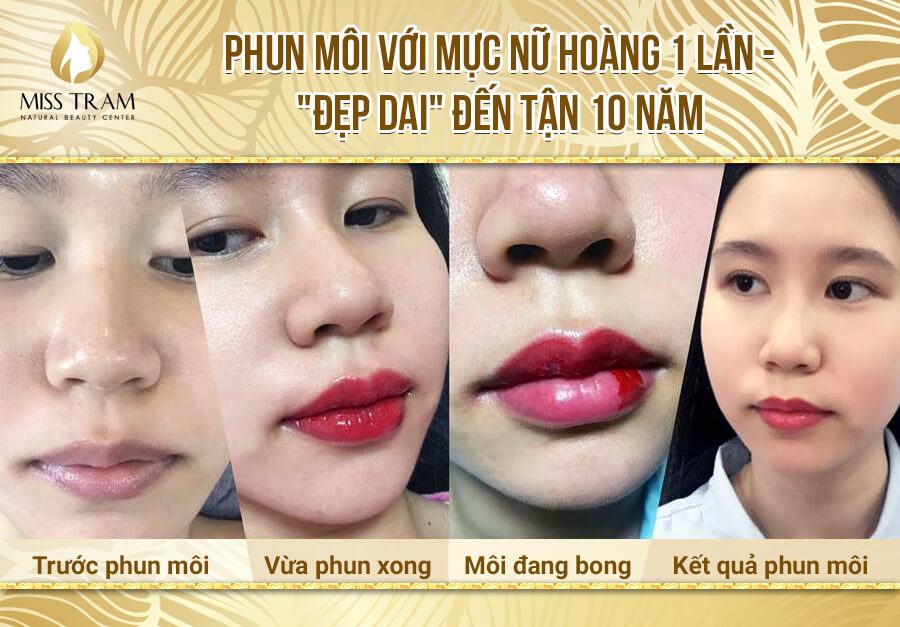 >>> Recommended articles: European Standard 3D Lip Spray Technique
If you want to learn more about how to handle uneven lip spray, you can come directly Miss Tram - Natural Beauty Center or call the Call Center: 1900 7018 for consultation, examination and answers to all questions.
See More About News – Beauty Secrets By Miss Tram - Natural Beauty Center:
Not Many Acne But Leaving Dark Spots – How To Treat It?
Is Laser Tattoo Removal Painful?