DIODE LASER technology "blow" the violin after only a few treatments, making the sisters "crazy" too! So what makes the success of this DIODE LASER hair removal technology?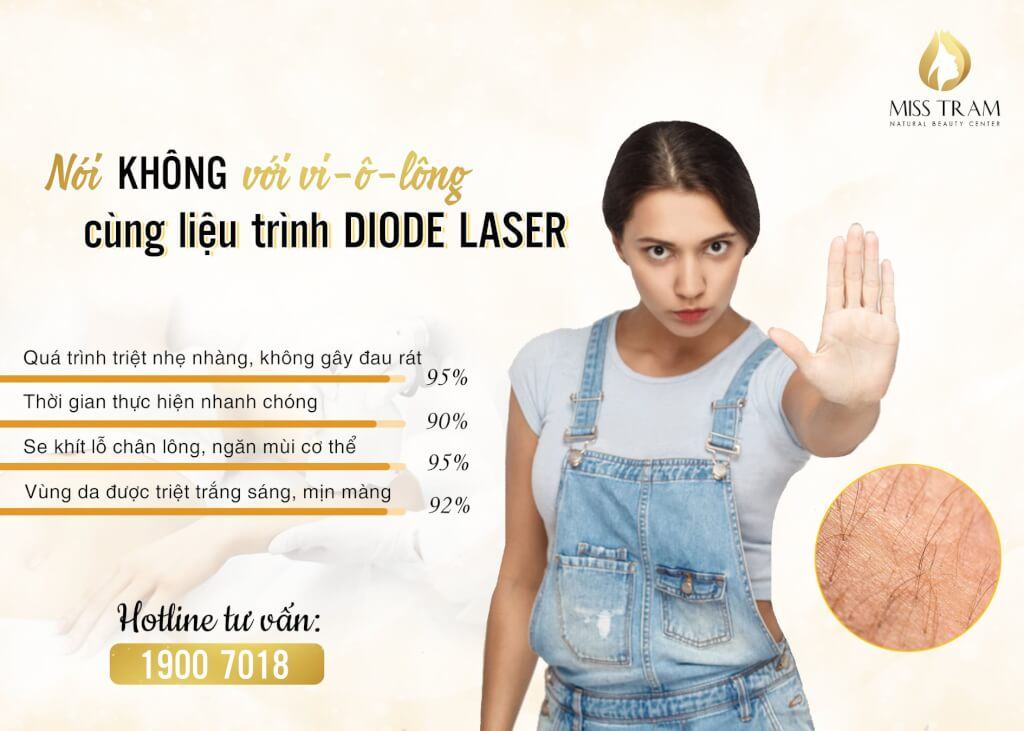 Uses of Diode Laser Therapy
Hair removal with RF waves (Radio Frequency from 808nm - 810nm) has the ability to destroy and prevent hairs from growing.

Destroys thick, hard, dense hair follicles thoroughly.

Treatment of inflammation of hair follicles, ingrown hairs

The process is gentle and painless.

Hair removal of parts: arms, legs, chest, back, edges, armpits, bikini, ...

It takes only 15 to 30 minutes to make.

Tighten pores, prevent body odor.

The skin area is white, smooth and bright.
The hair removal process at Miss Tram will give you a more specific look at this technology:
Step 1: Consulting, testing and explaining technology for customers to understand.

Step 2: Clean the area to be hair removal for better absorption wavelength.

Step 3: Apply a layer of transparent cold gel on the skin that needs to be thoroughly soothed, softened, and avoided burning pain

Step 4: Adjust the wavelength and energy to suit the client's condition, shine the Diode Laser on the hair to be removed.

Step 5: Clean the gel of the skin that has just been removed, ending the course.
>>> Related Articles: Choose the Best Hair Removal Method For Each Body Area
What are you waiting for without "BEAUTY" the violins make you sad, come to Miss Tram to experience modern services and technology!
You are viewing the article Safe Hair Removal With DioDe Laser Treatment favorites in the category Q&A Miss Tram at the website Miss Tram Spa. Any comments - reviews please send directly to Email: teamcrmmisstram@gmail.com or comment right below the article. Don't forget to follow us for more good articles in the same category and share it with everyone you know!