Oil is a liquid containing aromatic compounds extracted from many different flowers, branches, roots, stems, and woods. This material is known as "nature's treasure", used in many treatments, health care and beauty. There are a number of essential oils that are used very effectively in the treatment of acne such as: tea tree oil, turmeric essential oil, lavender essential oil, menthol. So how to use these natural essential oils? Let's find out more through the following article of Miss Tram - Natural Beauty Center .
Safe Acne Treatment With Natural Essential Oils
Tea tree oil
Melaleuca alternifolia, scientifically known as Melaleuca alternifolia, is a plant of the Melaleuca genus, native and grown mainly in Australia. This plant is grown mainly for the extraction of essential oils and has long been used by indigenous people as a medicine for coughs, coughs, colds, wounds, and colic.
Tea tree oil works topical antibacterial, acne treatment, inflammation reduction, fungal treatment, skin diseases and sinusitis treatment are extremely effective.. Currently, this essential oil is considered a leading acne essential oil with powerful antibacterial and antifungal properties. Just a small amount of essential oil will penetrate into the skin, clean and antibacterial sebaceous glands, disinfect pores, effectively dry acne.
Using essential oils is very simple:
Step 1: Put tea tree oil on a cotton swab.
Step 2: Dot just enough on the acne spot.
Step 3: Leave it on for a few hours or overnight and wash your face with water.
You will see the swelling, redness will be reduced significantly. This method should be used daily until the acne is ripe and dry.
Also you can add 2-3 drops of tea tree oil Add a few drops of essential oil to your daily facial cleanser to help clean the skin, prevent bacteria, and prevent acne. bacterial attack, as well as effective acne formation. (Refer to the secret blackhead treatment on nose safest, most effective you should know).
Turmeric essential oil
Since ancient times, turmeric has been an effective skin care, scar treatment, and acne treatment ingredient. Turmeric contains many important active ingredients, especially curcumin with amazing possibilities for health as well as beauty.
With modern technology, turmeric essential oil was born as a high-class extract from turmeric, bringing much higher value and convenience. With many uses in skin care such as: preventing aging, treating dark spots, whitening and especially treating acne; Turmeric essential oil is one of the most trusted and chosen essential oils by women.
This essential oil has the ability to Antibacterial and anti-inflammatory, helps to clean the skin, regulate oil and remove the stratum corneum dead cells as well as dirt and sebum accumulated in the pores.. Thereby preventing the arising of acne and quickly reducing existing acne spots quickly. The way to use turmeric essential oil in the treatment of acne is also very simple:
Step 1: Put turmeric essential oil on a cotton swab.
Step 2: Dot just enough on the acne spot.
Step 3: Leave it on for a few hours or overnight and wash your face with water.
You just need to do this method every day every night before going to bed. Turmeric oil will help reduce inflammation and dry acne quickly, restoring both the bruises and acne scars left behind.
In addition, you can combine a few drops of turmeric essential oil with fresh milk or unsweetened yogurt to make a face mask that effectively repels acne.
Lavender oil
Lavender, called Lavender, is a famous flower in the southern regions of France. This flower has a light fragrance, often used to flavor incense or make tea. In addition, lavender is also used to make cosmetics as well as various aromas, has the effect of soothing stress, relaxing, balancing the mind, and curing headaches and fatigue.
In particular, lavender essential oil is an ingredient that is recommended by the majority of dermatologists in the course of acne-prone skin. Because of the ability Powerful antibacterial and anti-inflammatoryEssential oils will quickly dry acne spots. Besides, this essential oil also supports the balance of sebum to help prevent the formation of new acne.
How to use lavender essential oil to treat acne is also very simple:
Step 1:

Add lavender essence to a cotton swab (you can add a little warm water if your skin is dry).
Step 2: Dot just enough on the acne spot.
Step 3: Let it dry naturally and repeat this step one more time after a few hours.
If you use this method every day, you will quickly get rid of acne spots. In addition, you should also use a few drops of lavender essential oil to steam your face 2 times/week Effectively detoxifies the skin. (Refer to the necessary things Note when treating hidden acne You must be familiar with it).
Menthol
Mint is a small, low, perennial herbaceous plant that has a strong aroma and has many health benefits such as healing, beauty and many other useful applications in life. In particular, mint is popularly used to extract essential oils as raw materials for the production of many products.
Peppermint essential oil is useful for Reduces swelling, redness and drying of acne nhân. The antibacterial property of this essential oil can heal the wound caused by an infection in the pimple. How to use peppermint essential oil is also very simple:
Step 1: Mix 2 drops of essential oil with 1 tablespoon of vitamin E (or warm water).
Step 2: Apply an appropriate amount of the solution to the affected area.
Step 3: Let it dry naturally and wash your face after a few hours.
You should use this method 2 times a day for the fastest acne treatment. One note, absolutely do not apply menthol directly to the skin, because this essential oil is very strong and can cause skin burns. In particular, those of you who have sensitive skin You should test it on your wrist for skin irritation, or consider using other, milder essential oils.
Note when using essential oils to treat acne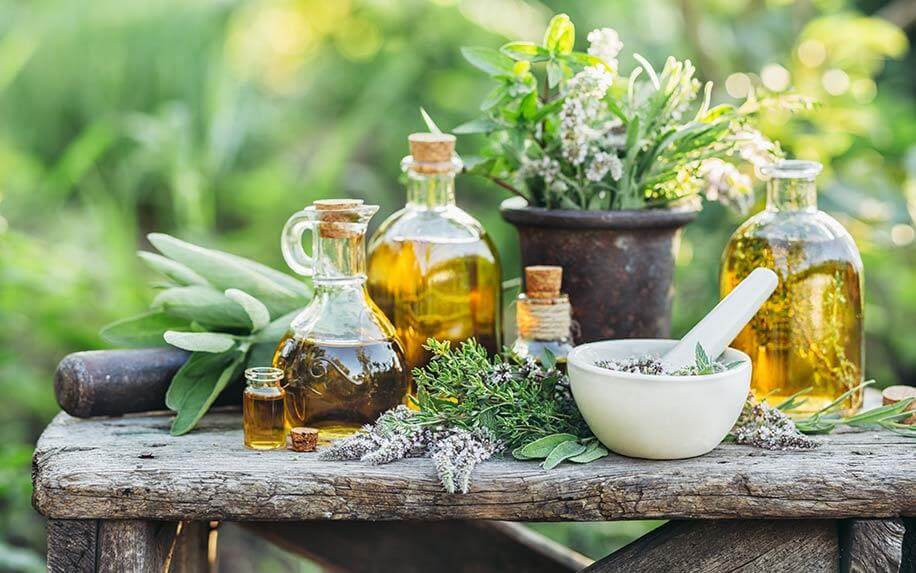 First,

need to choose to buy pure essential oils, with clear origin. Using poor quality essential oils will be very harmful to your skin.

Monday, Essential oils need to be tested before using on the face. Because facial skin is a very sensitive area, especially acne skin, so although essential oils extracted from nature are very safe, it is not certain that your skin has not been irritated with its ingredients. Therefore, testing on the skin of the hand is a very important step to ensure the safest for the skin.
Tuesday,

There are many ways to use essential oils to treat acne such as direct application, use in mask mixtures, saunas, etc. But in any way, you should make sure to clean your face and balance the dose to suit your skin best.

Wednesday

,

Persist in regular use, because there is no natural, safe beauty method that has an unexpected quick effect. Need to be persistent to use for a while, but in return, your skin is not only treated with acne but also healthy, smooth and does not leave bruises on the skin.
The above are the share of Miss Tram - Natural Beauty Center about methods Acne treatment with natural essential oils. This is one of the most effective and safe natural acne treatment ingredients you should try. However, for cases of acne that are too severe, the safest solution is still to go to reputable dermatology centers. Hope this article will help you. Wish you always have a beautiful healthy skin!
See More Articles About Beauty secrets Other Miss Tram - Natural Beauty Center:
Korean beauties who change their eyebrow shape change their career
How long does it take to apply lip color again