Using natural ingredients like oatmeal or red bean paste Is it effective for all types? acne or not? Find the answer with Miss Tram - Natural Beauty Center ok
Containing many minerals iron, phosphorus, calcium, vitamin B and antioxidants, red bean powder is said to help the skin become smooth, bright white, reduce inflammation and acne effectively. So does red bean powder really bring this amazing effect? And if so, how will we use this material?
Why is acne treatment with red bean powder effective?
Red beans is a familiar cereal, appearing in our familiar delicious dishes. Not only that, pureed red beans into powder will be the raw materials Skin Care loved by the girls. The girls say to each other that, if applied red bean powder mask (just pure bean powder or mixed with other natural ingredients), we will have smooth, flawless skin, inflammatory acne spots will quickly disappear. Moreover, this type of mask is extremely benign because it does not contain irritants, so you can "carefree" use it.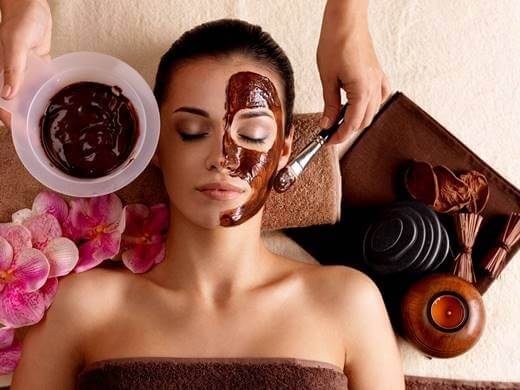 Indeed, red beans have the ability to help us clean the skin, antibacterial and quickly reduce inflammatory problems on the skin. According to research experts, in addition to starch and protein, red beans also contain up to 7 vitamins, the most significant being vitamin E, vitamin C and B.
These are all beneficial ingredients for the epidermal structure, gently nourishing from deep within the skin, helping the damage to heal quickly. Not only that, red bean powder is also rich in iron minerals and antioxidants that help fight bacteria, eliminate acne inflammation, remove blackheads, and tighten pores so that your skin is always soft and smooth.
When using red bean powder as a mask, these useful ingredients will penetrate into the skin, remove dead cells and help remove dirt and cosmetic residue. Not only treating acne, red bean powder is also a natural method to prevent acne from coming back, both safe and effective.
>>> Read more skin whitening recipe with red bean powder. Why red bean powder can whiten the whole body and how to use red bean powder to achieve the best skin whitening effect.
3 recipes to treat acne with red bean powder
If you are annoyed by the appearance of their obnoxious acne, try applying the following treatment recipes with red bean paste. As long as you persist in doing it, combined with a healthy diet and an active lifestyle, acne will quickly improve.
In general, red bean powder can be used alone or in combination with many other natural ingredients to promote greater effectiveness. And these ingredients do not have to look far because it is very familiar to us.
1
Red bean paste and yogurt mask
The use of yogurt to prevent acne is not controversial anymore. When combining these two ingredients together, acne will reduce inflammation quickly.
The mask recipe is extremely simple, you just need to mix 2 tablespoons of red bean paste into 1 tablespoon of unsweetened yogurt. Mix these ingredients into a paste and apply it on the skin. After massaging for a few minutes, keep the mask on your skin for about 20 minutes. Use cool water to wash your face, skin will be softer and brighter.
>>> Recommended articles: Treat Acne What Should And Shouldn't Eat - Important knowledge to know when treating acne for optimal effectiveness.
2
Red bean paste and egg mask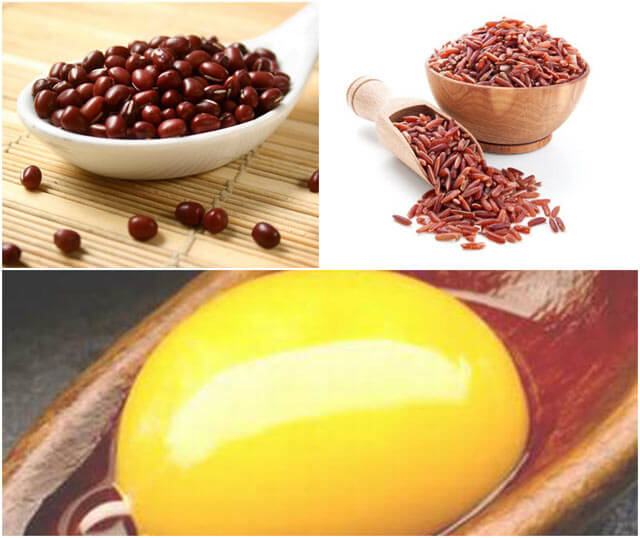 When combining with chicken eggs, let's keep the following important point in mind:
Use egg whites if you have oily skin

Only use yolks if you have dry skin
After mixing red beans and eggs, apply the mixture on your skin, relax for 20 minutes and then wash your face with warm water. With ingredients rich in lysozyme (found in egg whites), this mask will help kill bacteria on the skin, clean sebum. And egg yolks contain a lot of potassium, which helps the skin balance moisture effectively, both reducing acne and helping to prevent signs of aging.
3
Red bean paste and lemon juice (or fresh orange juice) mask
>>> Recommended articles: Effective Acne White Mask Formula - 3 formulas that both treat acne and whiten skin from natural ingredients.
In lemon juice and fresh orange both contain vitamin C, nitric acid has the ability to reduce inflammation and fade acne scars effectively. Combined with red bean powder, it will become an effective assistant to help us remove acne quickly and return the smooth skin.
This recipe is also quite simple as follows: mix red bean paste, lemon juice (or fresh orange juice) and almond flour in a ratio of 2:2:1. Apply this mixture on your skin for about 15-20 minutes and then wash your face with cool water.
With the acne mask recipes with red bean powder shared above, you can apply it 2-3 times a week. Consistently applying for about 2-3 months, we will notice a noticeable change in the skin. Come on, let's start doing it right away to get your smooth skin back!
See More About News – Beauty Secrets By Miss Tram - Natural Beauty Center: