Everyone wants to have smooth and youthful skin. So should we apply the "Skin rejuvenation with HiFu . technology" or not? Check out the article below of Miss Tram VietNam .
Skin Rejuvenation With HiFu Technology Works As Expected
Entering the age of 30, our skin begins to show signs of aging such as freckles, brown spots, crow's feet, lines around the eyes or mouth, etc. This is worrisome for women because of the signs. This is likely to grow quickly if not taken care of and prevented in time.
Understanding this concern, cosmetologists promptly updated modern skin rejuvenation technology to help their customers quickly get rid of the obsession called "aging". Among these, the most mentioned is HiFu technology. So does HiFu actually bring the expected effect?
>>> Related Articles: Reference CO2 laser skin rejuvenation technology Hottest right now.
HiFu skin rejuvenation technology
Owning a smooth, full of vitality skin is the desire of all women. But at the age of 30, due to factors such as age, environment, cosmetic use, etc., your skin may not be the same as before. Many women will see their skin appear freckled, unsightly brown spots, others will see unsightly wrinkles at the corners of their eyes or smiles. These are all signs of aging, making us seem to add many years old because the skin looks like it has lost its youthfulness.
"First shape - Second skin", so when you notice that your skin has these signs, you will be anxious to find a way to fix it. And a series of suggested ways such as using functional foods, special cosmetics, massage, laser beams, etc. In general, methods such as using cosmetics, topical drugs only have external effects. , the ability to bring efficiency is very low and the application time is long. Therefore, many people decide to choose cosmetic intervention for faster treatment.
Currently at Miss Tram - Natural Beauty Center In addition to modern laser projection technologies, we also successfully transferred HiFu S+ (High Intensity Focus Ultrasound). This is a method that uses high-intensity focused ultrasound waves, with heat ranging from 60 to 70 degrees, creating an impact deep under the layer up to 4,5mm. HiFu skin rejuvenation technology has the ability to penetrate deep into the dermis, stimulating areas of skin lacking Collagen and Elastin to work more strongly.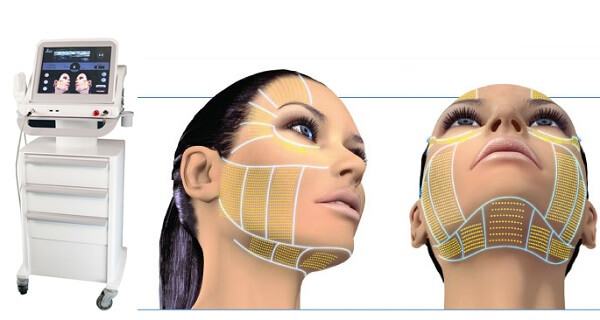 Aged skin (wrinkles, sagging, crow's feet,...) are characterized by connecting vessels collagen was broken due to weakening. Thanks to this ultrasonic wave, they are quickly reconnected, promoting the restructuring of epidermal cells. When Collagen and Elastin are produced more, the skin will gradually "regain its shape", gradually become smooth and fade wrinkles. Not to mention, the melanin accumulated on the skin will be easily affected, fading quickly with the heat of HiFu waves.
Not only that, HiFu ultrasonic waves also use its heat to affect muscle groups showing signs of sagging, making these skin areas visibly transformed, firmer and slimmer. With high heat going deep into the dermis, HiFu waves can completely melt the double chin to create a V-line face.
Applying care with HiFu waves, we feel completely comfortable and safe because the process is painless or invasive. Therefore, you can live and work normally without spending time off. After the first treatment, HiFu always makes us surprised by the effect, and when the rejuvenation is successful, how long does the effect last and does not cause any side effects?
Where is skin rejuvenation with HiFu?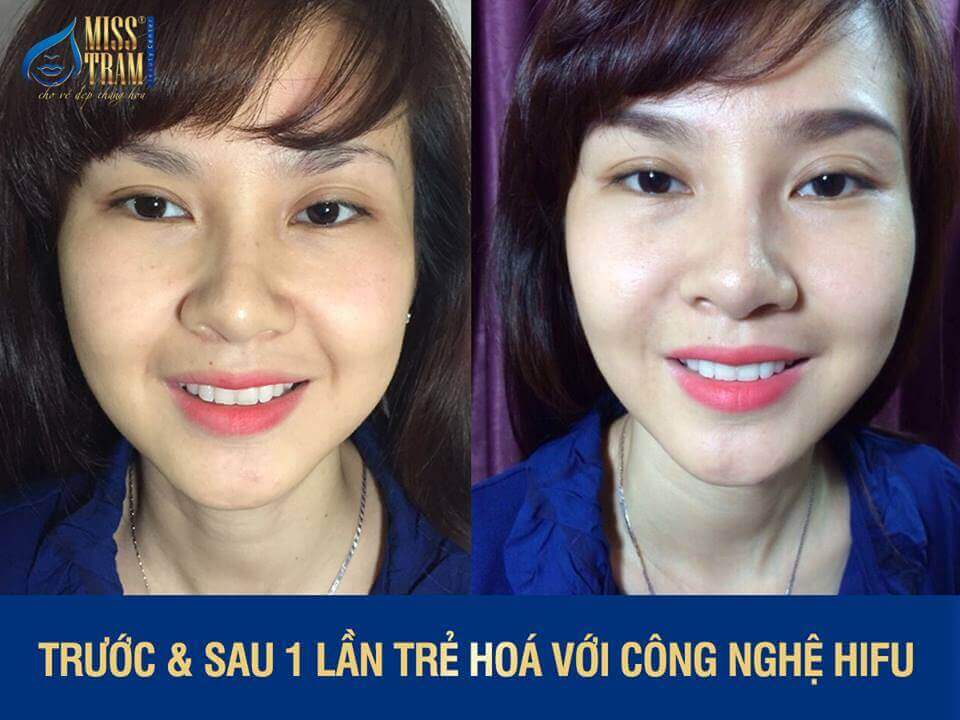 Currently, there are many centers applying HiFu technology in skin care and rejuvenation for customers. However, you should learn carefully and "choose to send gold" in a reputable place. Because if you want HiFu to bring about the expected effect, it is imperative that deployment facilities must meet:
Equipment and machinery in accordance with technology

Execution specialist has technical knowledge, extensive ability and in-depth assessment of skin conditions

The specialist must accurately assess the client's condition in order to choose the appropriate treatment regimen

The technique is performed in accordance with the regulations, perfectly complying with the safety principles
So where will be your ideal destination?
Proud to be one of the first centers to transfer HiFu skin rejuvenation technology, Miss Tram - Natural Beauty Center has brought unexpected changes to thousands of customers. Most of the customers who come to Miss Tram to receive the treatment are having skin problems when they turn 30. With a reasonable course, Miss Tram has helped many customers find smooth, radiant skin in time. fast. Not only that, all recognized the effectiveness of the long-term treatment, leaving no side effects on the skin.
Although depending on the situation of each person, there will be different long and short courses, but in general, when customers come to Miss Tram - Natural Beauty Center All feel completely satisfied from the first application. How about you? Do you want Miss Tram to regain her youthful beauty? If so, don't hesitate to contact our experts!
See More About News – Beauty Secrets By Miss Tram - Natural Beauty Center:
What's the Difference in Lip Spray Price?