There are many methods to help slow down the aging process of the skin and one of them is skin rejuvenation with Activated Carbon Laser Carbon.
Time and age always wreak havoc on our skin mercilessly, and normal creams are not strong enough to resist this powerful onslaught. Therefore, if you want to "save" youth and keep your skin young and beautiful, you need to resort to modern beauty technologies. In there Skin rejuvenation with Activated Carbon Laser is considered an effective and safe beauty method.
Carbon Laser Activated Charcoal Skin Rejuvenation Treatment
This is a beauty method that combines laser light with activated carbon very effective on the skin.
First, this method strengthens the support for the operating system on the skin, making the skin more healthy and smooth, effectively limiting wrinkles.

Second, the carbon laser helps limit excess oil on the skin, thereby preventing acne and large pores, making the skin more beautiful.

Activated carbon

Not only that, this beauty method is also capable of producing more collagen, helping to nourish the skin from deep within, restoring freshness and elasticity to the skin.

With this method, the skin becomes even brighter and more even than before.

Carbon laser is quite safe, does not cause redness or swelling, as well as does not cause damage to the skin, so there is no need for downtime like other methods.
However, this is a new beauty method, so very few beauty centers can provide this service. If you choose a cosmetic center that does not guarantee quality, uses outdated laser technology, it can harm your facial skin and leave many serious consequences such as dark scars, infections, damaged skin. damage,…
If you want to beautify your skin with activated carbon Laser Carbon, you should choose reputable cosmetic facilities such as Miss Tram - Natural Beauty Center to be assured of quality as well as to be thoroughly consulted. (Technology Reference Skin rejuvenation with CO2 laser safest and most effective).
Skin rejuvenation with activated carbon Laser Carbon at Miss Tram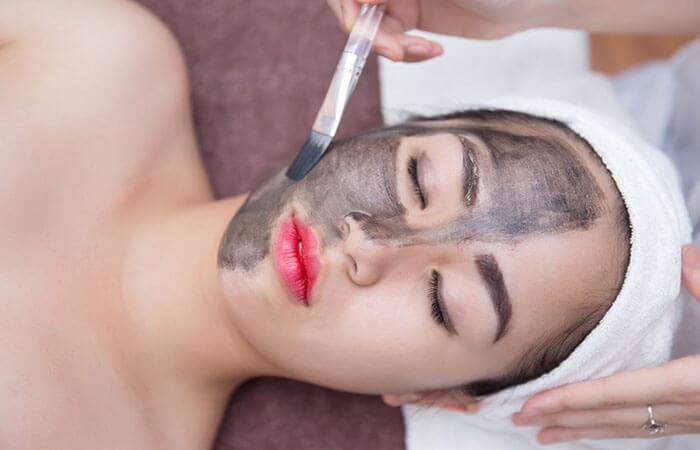 This is the leading beauty center in Vietnam with spacious facilities and the most advanced beauty technologies in the world, meeting all the beauty needs of customers. Coming to Miss Tram, you will experience a 5-star standard quality activated charcoal skin rejuvenation service.
Advanced beauty technology
Miss Tram owns a lot of advanced beauty technologies in the world with many advanced beauty treatments such as: acne treatment, whitening, skin rejuvenation, cosmetic tattoo spray, ... to help improve beauty for customers. more beautiful and confident. These advanced technologies not only bring high efficiency, ensure maximum safety, but also fast implementation time, saving customers time. (Secrets skin rejuvenation with collagen safe, effective is highly appreciated today).
KTV mind - talent
KTV at Miss Tram are all highly skilled, well-trained and responsible for the profession, attentive customer care, 100% of customers are satisfied.
Professional process
The coal firing process at Miss Tram includes many different steps, ensuring the best results.
Step 1:

The KTV will proceed to clean the facial area and then exfoliate to help the skin clean and easily absorb the nutrients.

Step 2:

Next, customers will be washed and cold sauna.

Step 3:

After steaming, KTV will peel off acne to remove all kinds of acne, for smooth facial skin.

Step 4:

This is the most important step, KTV will proceed to apply activated carbon to dry and then shoot. The coal firing frequency is 120J, the average is 240J.

Step 5:

After the charcoal is fired, the facial skin will be cleaned to apply an activated charcoal mask to help cool the skin.

Step 6:

The final step is to shine purple/blue light. Purple light has the effect of treating acne, brightening the skin, firming and promoting cell metabolism, so it makes the skin more beautiful.
The Franchising Process Skin rejuvenation with Activated Carbon Laser in Miss Tram VietNam Only conducting a single course of treatment, but with maximum skin rejuvenation and long-lasting effects, you can be completely assured. If you want to "rejuvenate" your skin, you can contact Miss Tram directly for a skin examination and advice on appropriate skin care methods to make you more beautiful and attractive.
See More About News – Beauty Secrets By Miss Tram - Natural Beauty Center:
Skin Rejuvenation With Salmon DNA Essence
What is 3D Collagen Eyelash Curling?