Causes of Oily Skin Easily Darkened Acne. The Most Effective Acne Mask For Oily Skin
The Best Face Mask For Oily Skin
Dark masks for oily skin must always be the "hot" keyword searched a lot on Google or beauty topics. In order to help readers gain more knowledge and experience in skin care, Miss Tram - Natural Beauty Center Collected all types Darkening mask for oily skin Super efficient that you can't miss.
Why is your skin prone to darkening and greasy?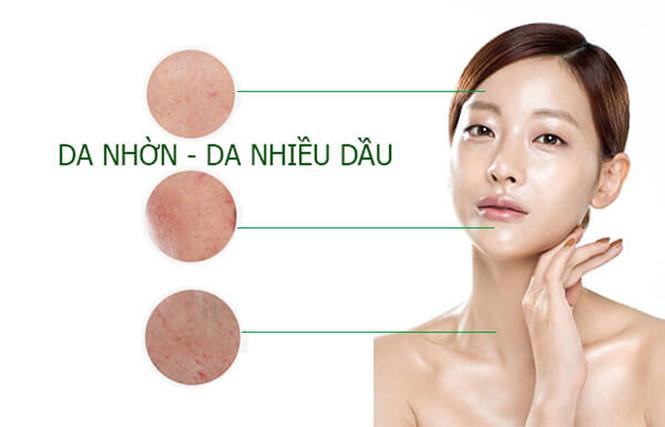 Due to hormonal disorders in the body;

Squeezing acne improperly should leave many acne scars;

Do not apply sunscreen when going out, making the skin dull, the bruises become more and more obvious;

Due to hot foods and drinks, there are many spices that cause dermatitis;

Cosmetic abuse seriously damages the skin;

Because shaving the face increases the risk of ingrown hairs into the skin causing dermatitis;

Not removing makeup, cleaning face properly.
And many more reasons. If your skin is both dark and oily, it is difficult to take care of, but if you understand and take proper care, you will easily overcome these problems.
The most effective natural face mask for oily skin
1. How to treat acne and dark spots with lemon and honey
Preparation: fresh lemon, 1 tablespoon raw honey ong
Uses: A mixture of fresh lemon and honey will help treat acne blemishes effectively. Because of the acidic nature of lemon, it has a deep cleansing effect on the skin, limiting the process of acne and removing dark spots quickly. In addition, honey has antibacterial properties and strengthens the skin's resistance, keeping the skin healthy and radiant.
Doing:
Take ½ of a fresh lemon, squeeze out the juice. Then, mix lemon juice with pure honey in a ratio of 1:1. Apply the mixture evenly on your face and keep it for 15-20 minutes and then wash your face with clean water. Do it 2-3 times a week to see visible results on your face!
>>> Related posts: Blackheads And Dark Spots Mask - 3 natural blackhead and dark spot mask recipes.
2. Very effective treatment of acne with fresh turmeric
Preparation: a few slices of fresh turmeric just enough to cover the face
Uses: Fresh turmeric has the effect of treating acne, anti-inflammatory extremely effectively, anti-aging, antibacterial, blurring bruises, so it is considered a "panacea" in beauty treatments.
Doing:
You crush each slice of fresh turmeric and then apply the juice to your face for 15-30 minutes, wait for it to dry, and then wash your face with clean water. Or you can combine with unsweetened yogurt and a little honey to cover. For the best effect, it is recommended to do 3-4 times a week for about 3-4 weeks in a row to see a marked improvement in skin condition.
3. Treatment of acne with garlic
Preparation: 3-5 cloves of fresh garlic
Uses: Garlic contains ingredients that are useful in treating acne and reducing dark spots on the skin.
Doing:
Take 3-5 fresh garlic cloves, wash and smash. Add 1 cup of clean water and extract the garlic juice. Apply garlic juice to the dark skin for about 15 minutes and then wash your face with clean water 2-3 times a week. Consistently implementing this type of mask will bring unexpected effects to you in improving acne.
>>> Related Articles: Aloe Vera Mask For Sensitive Acne Skin - 3 mask recipes from aloe vera for sensitive acne skin.
4. Oatmeal non-greasy, non-greasy mask
Preparation: 2 tablespoons of oatmeal, 2 tablespoons of unsweetened yogurt
Uses: This type of dark mask has an oil-control feature. Using oil-control ingredients helps to penetrate deeply, conveniently and quickly, without leaving a greasy feeling on the skin.
Doing:
Mix 2 mixtures of oatmeal and unsweetened yogurt together in a 1:1 ratio. Then, apply the mixture on your face for 15-20 minutes and then wash your face with clean water. Do 2-3 times / week you will feel the oily skin today is smooth, and less oily.
>>> Related posts: Red Bean Facial Mask - 3 recipes that combine red beans to make an effective darkening mask.
Instead of using expensive cosmetics to treat acne and oily skin, try using available natural products that are both safe and beneficial for the skin. Let's start doing it today to say goodbye to ugly acne skin immediately!
See More About News – Beauty Secrets By Miss Tram - Natural Beauty Center:
Steps To Take Care Of Uneven Skin Color At Night Before Sleeping
3 Very Effective Ways To Whiten Facial Skin For Men
Review Top Skin Care Products