Wax is a way for women to feel more beautiful and confident when wearing short clothes. Most of the women choose the method hair removal at home because they are simple, economical and highly effective. Despite their simplicity, these methods also have some principles to follow or they will bring many consequences to the skin. To work hair removal at home To be most effective, do not ignore the following article of Miss Tram - Natural Beauty Center ok
Mistakes When Waxing At Home You Should Avoid
1. Waxing in the morning
Many people have a habit of bathing and shaving in the morning to start a new day. However, shaving with a razor in the morning is not a good habit. Because when you sleep, your body often swells up compared to normal – this makes the hairs partly hidden deep under the skin. At this time, if you perform a shave, it will not clean thoroughly, moreover this can hurt your skin.
2. Hair removal with too blunt razor cạo
A lot of people use used razors for days, weeks, or even months thinking they're still "usable". However, this is a disastrous mistake because using a blunt razor will easily cause scratches on the skin. Not to mention, the razor when left for a long time will contain a large amount of bacteria – this can cause the skin to become infected and damaged.
So, to cleanly remove hair and protect the best skin, you need a very sharp razor and should only be used 4 times for one blade.
3. Do not exfoliate before shaving with a razor dao
Everyone knows that exfoliating is a very important step in the beauty routine. However, many people do not know that exfoliating before shaving is also essential. This will make it easier and smoother to drag the toolpath. Besides, this is also an effective way to prevent stubborn hairs from growing under the skin.
4. Do not use shaving cream
This is probably the most common mistake women make. Shaving cream Not only does it make the knife path smoother, but it also helps you shave more deeply. In addition, the use of shaving cream also minimizes scratching and irritation on the skin. (How to guide make hair removal cream at home safe for you).
5. Waxing while the skin is injured
When the skin is scratched, has acne or any damage, you should not perform hair removal. Because this will make the wound heal longer and become more severe. In addition, hair removal on damaged skin will easily allow bacteria to penetrate and cause harm.
Therefore, it is best to only wax with healthy skin and not experience any damage.
6. Incorrect waxing
Waxing It is a fairly simple method of hair removal, just apply wax cream, cover the fabric, wait for it to dry and pull. However, it is only as simple as when you do it at the Spa under the skills of professionals. And when doing it at home, you need to pay attention to the following points if you don't want to hurt your skin:
Wax pulling technique: With one hand you pull the wax cloth in the opposite direction of the hair, the other hand tightens the skin to remove the hair.

Do it firmly so as not to cause pain.

Do not use stimulants before hair wax.

Do not wax immediately after bathing – at this time the skin has just lost its natural oil layer, waxing right away will make the skin vulnerable.
7. Regular hair removal
If you think regularly waxing will get rid of them completely, this is probably a huge mistake. Because this makes the skin more susceptible to infection and the hairs grow back more luxuriant. Not only that, if you regularly bleach the hairs that are too short, it will cause the hairs to tend to grow inward – these are very difficult hairs to handle.
8. Use hair removal products indiscriminately
On the market there are many hair removal products such as wax cream, hair removal cream advertised as thorough, fast hair removal and soft skin care. With ingredients extracted from nature, can be used for many skin areas and has the effect of gently cleaning hair without causing irritation.
However, hair removal creams are only a temporary solution for quick hair removal. They only have the effect of depilating hair, not affecting the hair roots. So after a short time, the hairs will grow back quickly, hard and longer.
In addition, for the safest hair removal, you need to choose products with a clear brand and origin because using poor quality hair removal cream will make the skin easily irritated and damaged. .
9. The safest and most thorough hair removal method: using technology công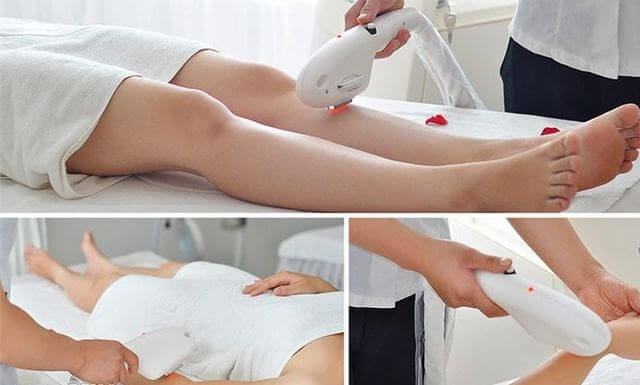 While traditional methods can only affect the hair on the outside of the skin, but cannot remove hair at the root, causing stimulated hair to grow back faster and denser, hair removal methods with Technology will bring results that will surprise you.
According to dermatologists, waxxing High-tech laser is the safest and fastest effective facial hair removal solution for women. This is a hair removal method applied at Miss Tram and received the love of many customers.
With a professional hair removal process, performed by highly skilled technicians, Miss Tram is committed to:
Removes all types of hair from fluff, coarse coarse hair on body areas.

Outstanding performance, long warranty period.

Effective on dark skin areas, improving skin color and helping to shrink pores quickly.

Treatment of cases of folliculitis, making the skin whiter and firmer.

It is quick, safe and painless.
So, if you are not persistent enough to regularly perform traditional hair removal methods at home, the high-tech laser hair removal service at Miss Tram will be a perfect choice for you. (How to guide armpit hair removal at home safe, effective, widely applied today).
So, Miss Tram - Natural Beauty Center shared these mistakes when waxing at home that you need to avoid so as not to damage the skin. At-home hair removal is a process that you need to do regularly to get the most "clean" looking skin. So, be aware of these mistakes so that hair removal is done in the most effective and smooth way. Wish you always have a good skin!
See More About News – Beauty Secrets By Miss Tram - Natural Beauty Center:
The Most Effective Ways to Detoxify Skin Da