today, Tiktok social network is having a great influence on users because its coverage is no less than Instagram and Facebook. With an extremely interesting, attractive and concise video store, Tiktok has created a lot of new and hot trends for young people.
Of course, the makeup tutorial videos on this app are also very influential. From here, new and unique makeup styles are often shared by women from different countries and quickly attract attention. And if you know how to choose, you will learn a lot of useful makeup tips. Miss Tram - Natural Beauty Center will list extremely useful makeup tips that you should learn.
Extremely Useful Makeup Tips You Should Learn Through Tiktok
1. Turn your eyeshadow palette into lipstick
Did you notice that the multi-toned eyeshadow palette goes well with the plump lipstick style? And according to Mireya Rios (@mireyario), you can transform your eyeshadow palette into lipstick extremely easily and effectively:
Step 1: Apply a generous amount of your favorite eyeshadow on the back of your hand.
Step 2: Use a lip balm or lip gloss over the powder and blend it in.
Step 3: Use this mixture to apply on lips like regular lipstick.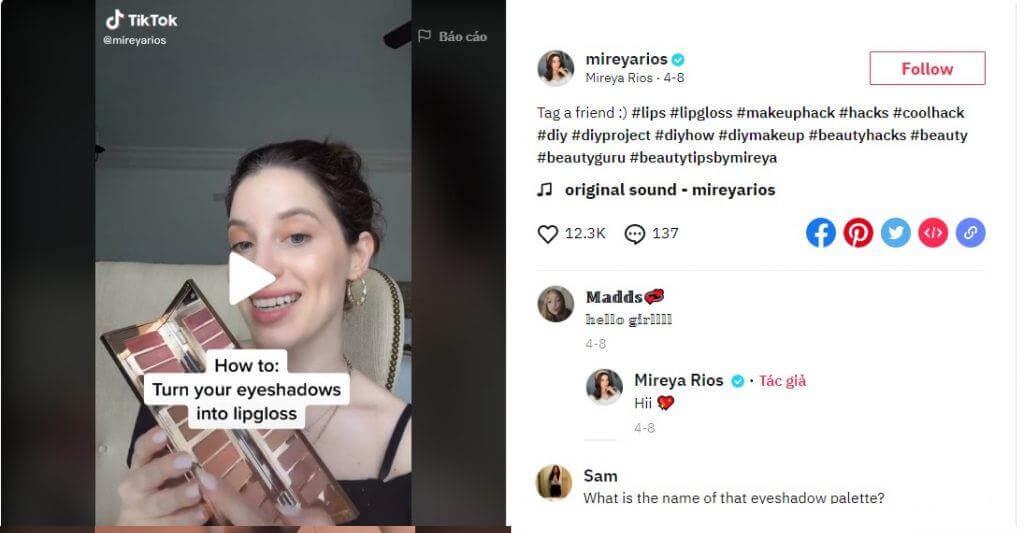 This method will help you have a pretty smooth - beautiful - strange lip color. Therefore, if you forget to bring lipstick, this is also an extremely effective "salvage" for you.
And with the more diverse palettes, you can experiment with as many tones as possible for your lips. So, this is also the most economical way to find "true love" for the lips. (Update Makeup trends will dominate this year năm you should not ignore).
2. Blur acne spots with simple tricks
Acne has always been an obsession of women. And if you want to cover up this "uninvited guest", you can use the trick of the girl whose account is @glamanne1:
Step 1: Apply a thin layer of foundation over the blemishes, then blend with your fingers or a brush. Note that you should use foundation with the same tone as your face, because using a lighter tone than your skin will not cover the acne swelling.
Step 2: Use a little powder and spread a thin layer around the acne.
Step 3: You perform the usual makeup steps with 3 layers: foundation, concealer and powder.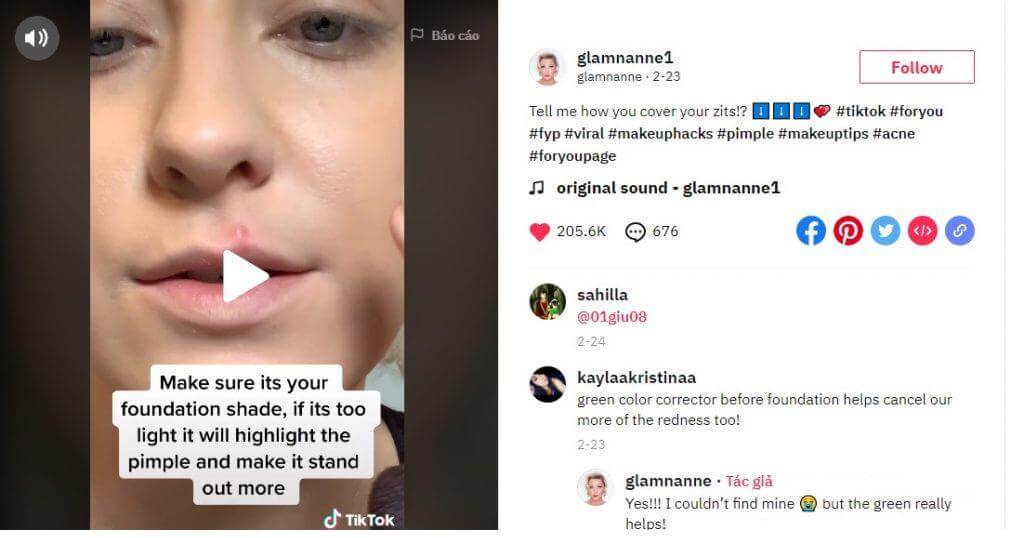 This almost double makeup method is not only simple and easy to do, but also works to reduce acne blemishes very well for the face. In particular, with acne spots, red acne, this makeup tip is also extremely effective.
3. Change the foundation application process
In recent times, her @ridaaaamat account named Jirada is being followed "loudly" by people because of its surprising effect.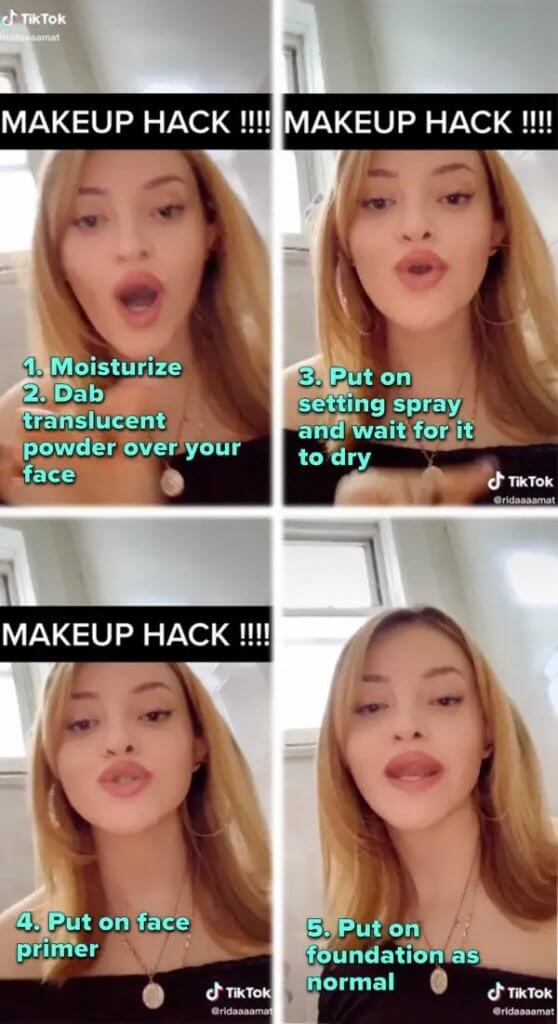 This girl did the reverse of the makeup process:
Step 1: The first is to moisturize the face.
Step 2: Next use a little powder to spread evenly on the face – This step has the effect of concealing the face in a more natural way.
Step 3: Spray on the skin and wait for it to dry.
Step 4: Use a skin primer.
Step 5: Spread the cream evenly and lightly as usual.
The difference of Jirada's makeup steps is that she performs the first step of powder. And surprisingly, these makeup products have received very positive feedback from the online community about its effectiveness.
Therefore, if you are not satisfied with your foundation, you can try this makeup method, maybe they will give you a smoother foundation. (Refer makeup tips for men right).
4. Make up fake freckles with Self-Tanner
"Fake freckles" is considered a pretty popular makeup trend in recent times - along with the style of makeup on sunburned cheeks. Therefore, on Tiktok, you can come across hundreds of videos showing how to create fake freckles in a unique - strange - eye-catching way.
The methods of creating fake freckles you can refer to online are: henna ink, bronzer and self-tanner. In particular, the henna ink stays on the face for a long time, bronzer is quite fast. So self-tanner (skin-tanning product) seems to be becoming the most favored product line by TikTok-ers.
The outstanding advantage of this makeup line is that it gives a very natural color. You just need to choose a quality product, use the brush to lightly highlight the dark spots on the cheeks (across the nose). Then combined with bright blush tones, the face will be much brighter and more Western.
5. "Foxy" Makeup
Foxy makeup style (fox face or cat face) is known by many people for its sharpness, coolness and charm. And one of the beauties most loyal to this style is the famous supermodel Bella Hadid.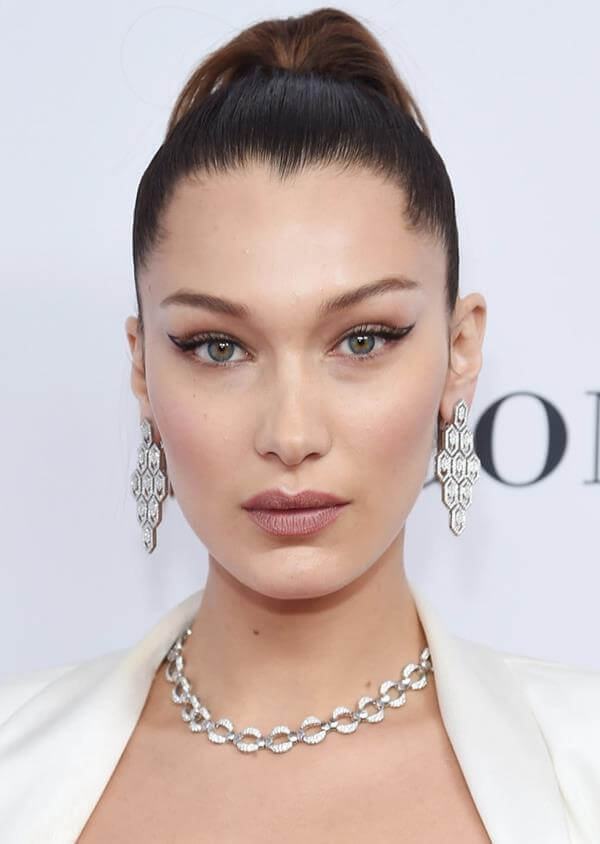 To own a Foxy-style face, TikTok-ers have shared extremely quick and "dangerous" makeup tips:
Using concealer 1 to 2 tones lighter than the skin for the corners of the eyes, nose and mouth before applying the cover.

Use gel or liquid eyeliner to line the cat's eye. For those who are inexperienced, use a card to make the line straighter and sharper.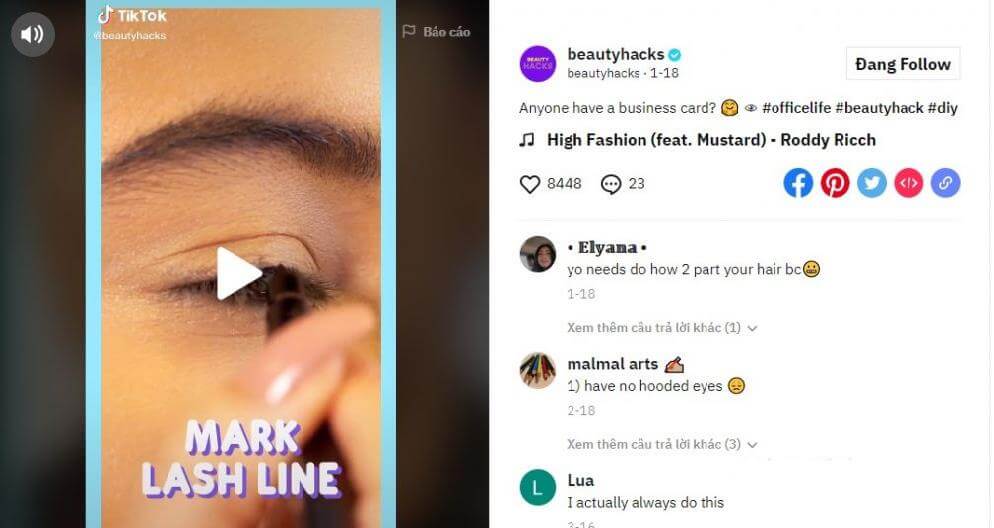 6. "Revive" dried lip glosses
What if your lipstick is dry? You can learn from Michelle Phan (@themichellephan) how to regenerate dried lipsticks on Tiktok:
Step 1: Microwave a cup of water, spin for 1 minute, and remove.
Step 2: Soak dried lipsticks in this glass of warm water for 30 minutes.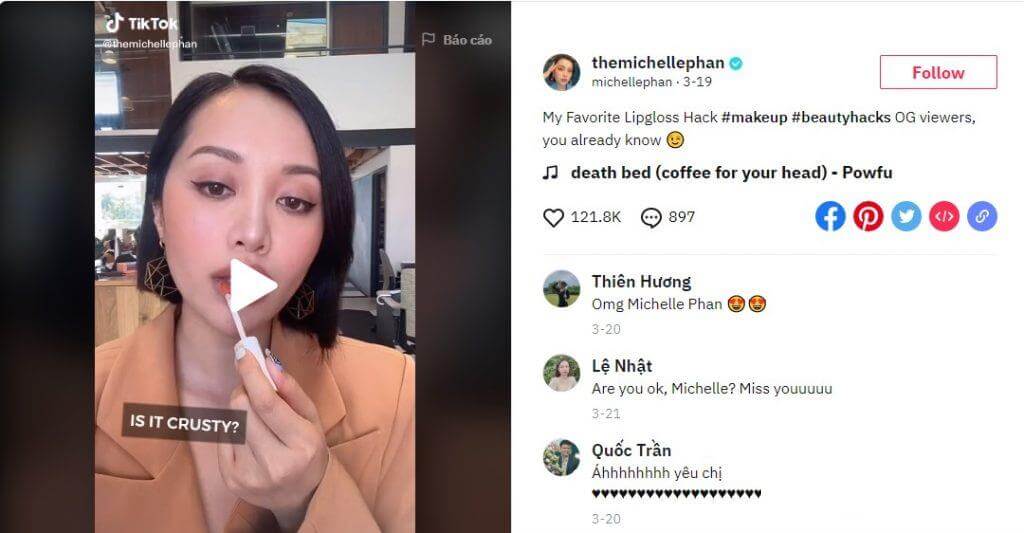 With these simple tips, your lipsticks will last longer, last longer, and save you a lot of money, too.
The simple and effective makeup tips that Tiktok-ers share above are very useful, right? The videos on these social networks are edited quite briefly with very attractive content and music, so they are extremely attractive to users. Therefore, if you want to update trends or tips on beauty and makeup, this is a channel worth checking out. (Explore top Pinterest's hottest makeup styles you should know).
Hope the sharing of Miss Tram - Natural Beauty Center will be useful to you. Wish you always beautiful!
You are viewing the article 6 Extremely Useful Makeup Tips You Should Learn Through Tiktok in a good forum News – Beauty Secrets of Miss Tram VietNam. All reviews and comments, please send them directly to Email teamcrmmisstram@gmail.com or you can comment right below the article. Don't forget to follow other good articles of Miss Tram and share it with everyone.