Senka Perfect UV Essence is a sunscreen product that is impressing many people with a rather special "essence" form. The product is also famous for its high sun protection ability, and good moisturizing for the skin to prevent dryness.
Does this sunscreen really work? To obtain objective information about Senka Perfect UV Essence SunscreenStay tuned for a review of this product.
Product information

Product's name

Senka Perfect UV Essence

Trending

Senka

Origin

Japanese

Capacity

50g

Thành phần

Alcohol, Octinoxate, Octocrylene, Tinosorb S, Avobenzone, Zinc Oxide, Titanium Dioxide, Mayu Naku White Silk Cocoon, Hyaluronic Acid, Glycerin, Tocopherol, Sodium Hyaluronate, Silica, Talc Powder, Colorant.

Uses

Protects skin against the effects of UVB and UVA rays.

Oil-control, limit greasy and sticky skin.

Long-lasting when sweating a lot.

Use as a makeup primer.
Is Senka Perfect UV Essence Sunscreen Good?
About the brand
Senka is a cosmetics brand under the group Shiseido cosmetics Japanese Group. Up to now, Shiseido has about 11 brands specializing in skin and hair care.
Senka brand was present in Vietnam around 2016 with a distribution network across supermarkets, beauty stores, electronic shopping websites. Senka cosmetics are famous for their "soft" prices and impressive quality.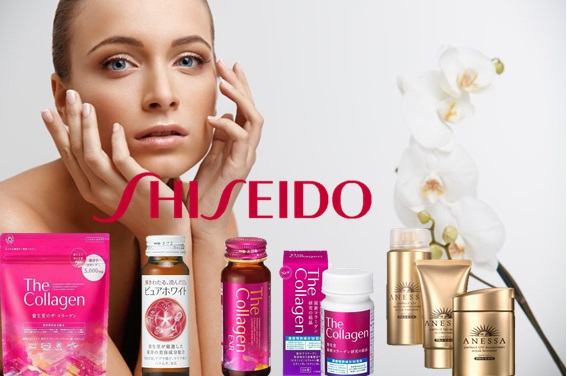 About product quality
Packaging design:
Senka Perfect UV Essence is still the traditional flat tube design with Senka's signature sky blue color. Information on the product is shown in Japanese.
The impressive point in the product design is that the output of the essence is quite small, which is very convenient to control the amount of cream used.
Structure:
In the crystalline form, Senka Perfect UV Essence It has a thin, light texture, feels like water when spread on the skin and absorbs quickly. No lumps, white streaks or shine.
Efficacy on the skin:
The product has the optimal sun protection factor SPF 50+ PA++++ to protect the skin well for about 8 hours.

Contains Octinoxate, Octocrylene, Tinosorb S, Avobenzone – chemical sunscreen ingredients; Zinc Oxide, Titanium Dioxide – physical sunscreen ingredients that help limit the effects of sunlight on the skin.

Contains silk cocoons essence and Hyaluronic Acid to make skin soft and moist.

Ultra-fine powder particles create a smooth foundation on the skin, helping the skin to shine and stick to makeup better.

Shiseido's exclusive technology - "Aqua in Pool" moisturizes the skin naturally, without causing dryness or stickiness.

Does not flow when sweating a lot.
User rating:
Review of Nguyen Diem Hang's account on Tiki:
"This sunscreen from Senka has a thicker texture than milk and gel, so I think it lasts a long time. I use it and I really like it.
Although the smell of alcohol is very clear, I have no problem using it, if I smell it closely, I can see a light citrus scent. The finish is quite good, has a slight tone up and makes my skin look better when not applied. This is the second time I bought it.".
Review of account MinhAnh2303 on Fi:me:
"If you are a lazy kid like me, you only have time to apply sunscreen, put on lipstick to go to school and have oily skin, this is your lifesaver… Sunscreen has a slightly thick cream like foundation but the quality is good. It's very liquid and spreads easily on the face."
Senka Perfect UV Essence Sunscreen Essence How much does it cost? Who Can Use? How to use?
Senka Perfect UV Essence is on sale with Prices range from 100.000 to 129.000 VND. This is an extremely affordable price for a sunscreen product.

This product is suitable for dry, normal and oily skin.

How to use: Dispense an appropriate amount of essence into the palm of your hand and spread evenly. Gently pat the skin with your hands.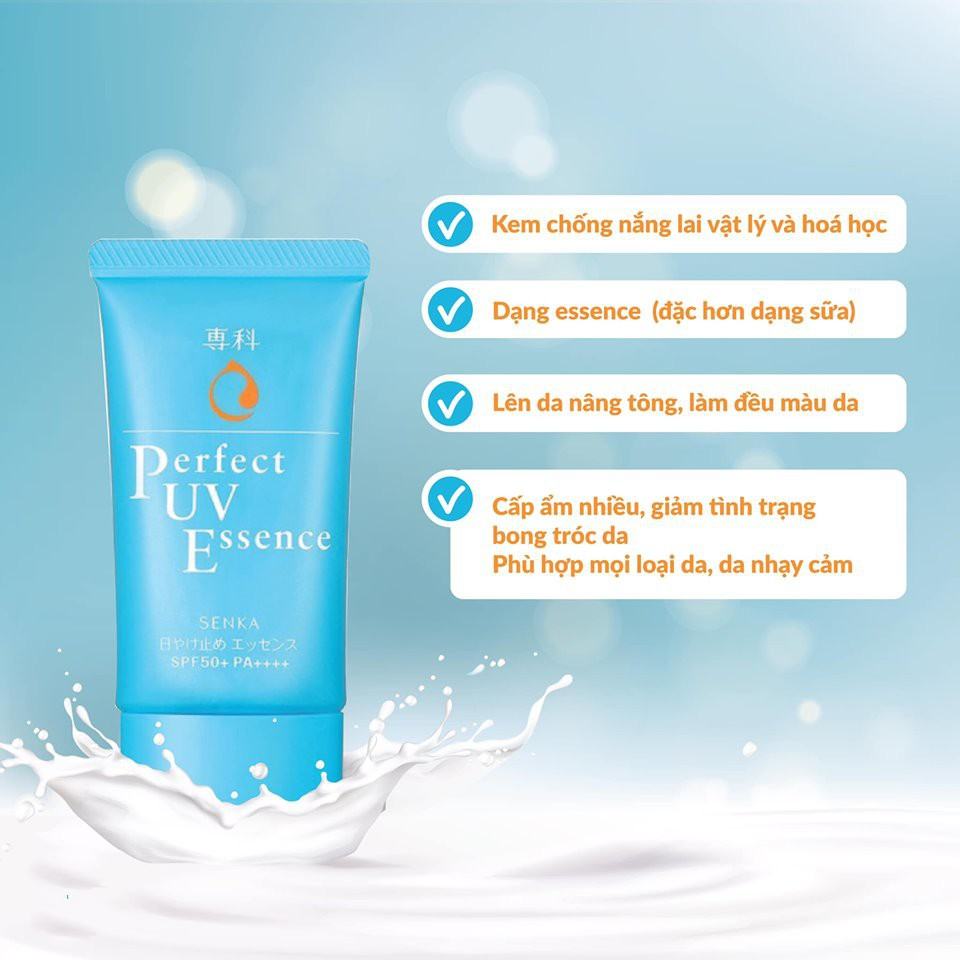 Review the Pros and Cons of Senka Perfect UV Essence Sunscreen
Advantages
Disadvantages

Reasonably priced, easy to find.

High sun protection effect.

Fast absorption.

Has the ability to raise skin tone, can be used as a makeup primer.

Good moisturizing.

Ingredients with alcohol, talcum powder, colorants - acne skin and sensitive skin should not be used.

When you use it, you will feel a strong alcohol smell.
Here is a review of everything about Senka Perfect UV Essence Sunscreen. Hopefully this is a useful reference for you to choose an effective sunscreen for your skin. Find out more products in the category Review of cosmetics.