|Q&A| Many Agencies Advertise 3D - 6D - 8D - 9D, So What's The Difference?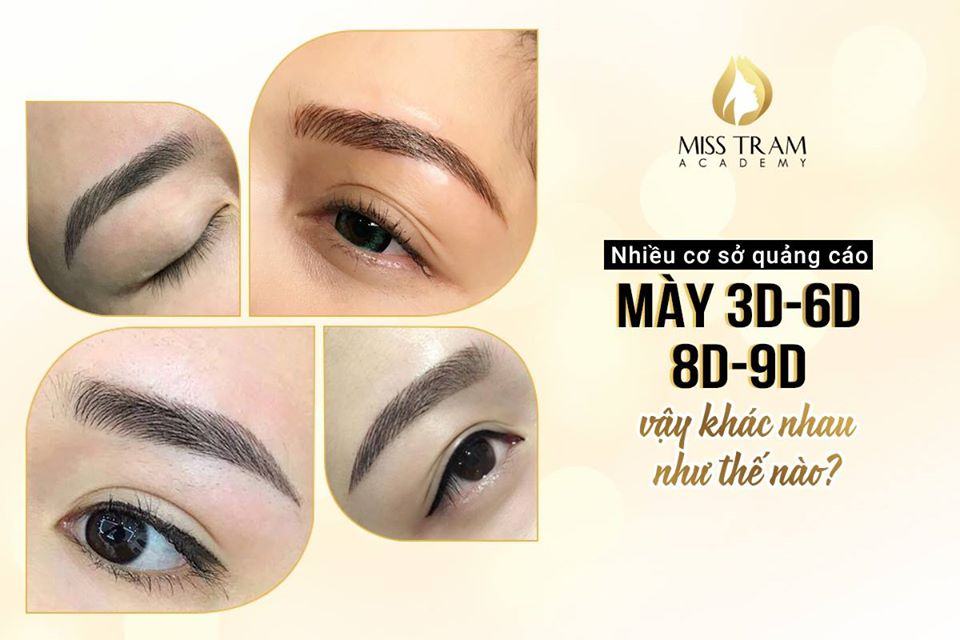 Miss Tram shares a few key features for everyone to distinguish.
3D - 6D - 8D or 9D techniques are all eyebrow threading techniques. However, depending on the real eyebrows of each of you, you will be advised which method is appropriate because these 4 techniques are completely different in terms of naturalness, color and method of creating fibers.
More specifically, 3D sculpting: will be similar to the old embroidery technology before, the eyebrows are formed into a stiff frame with each unnatural parallel line.
Sculpture 6D: by machine, there will be no eyebrow frame like 3D, but the 6D sculpted eyebrow is still quite rough, not soft, the distance between the fibers is still sparse and there is no natural interlacing.
Sculpture 8D: is an improved method of fiber engraving from 6D sculpting, but the specialist will use a special engraving knife with a micro blade to gently and meticulously put the ink on the skin. The result of 8D sculpting is also appreciated for its natural softness, 8D eyebrows begin to intertwine, but for those of you who have no, sparse or light eyebrows, 8D is still not a perfect choice. perfect.
Sculpting eyebrows 9D: is the most aesthetic method of creating eyebrows today. 9D eyebrow sculpting will produce each eyebrow according to the contours of the real eyebrow, similar to the color and size of your own natural eyebrows with a slightly large, light head and a slim middle and tail sharp, each sculpted eyebrow has a degree of interlacing with the eyebrows, so it is difficult for you to recognize after doing. This method also gives a natural look even if your eyebrows are faint, scarred, lack of tails, protruding out of shape or even you don't have real eyebrows.
Hope this small share helps everyone understand the methods.
With Miss Tram - Natural Beauty Center Some Questions Answered Other:
Can I make eyebrows for 2 months with Hanging Eyebrows?
Black Skin Should Sculpt The Eyebrows And Can The Eyebrow Threads Stand Out
Why There Are Some Places To Make Eyebrows Have A Few Hundred Thousand Only