Although one smooth skin, bright white is not the primary concern of male. But to ensure an attractive appearance, men also need to have healthy skin and not have too many defects (such as acne, scar, rough skin). Besides, external factors such as physique, hair, clothes or scent are all very important and directly affect their masculinity.
Therefore, to help men always have a beautiful healthy skin and a body that is always full of energy, Miss Tram - Natural Beauty Center Please share the following essential habits:
Good Men's Skin Care Habits for Healthy Skin
1. Always clean your skin every day
Cleansing is the most basic step in the process Skincare. This step of care will remove dirt, sebum and bacteria that reside on the skin all day long. In order for the skin to be properly cleaned, men need to wash their face with cleanser twice a day and note the following points:
You can wash your face with clean water in the middle of the day, but not more than 3 times. Because washing your face too many times causes the skin to lose its natural moisture.

Do not use product lines with too strong alkaline properties.

Should invest more makeup remover if using sunscreen - because conventional facial cleansers do not deep clean cosmetic residue.
>>> Related Articles: How to choose a face wash for Men - 3 tips to help choose the right face wash for men.
2. Don't Skip the Moisturizer
After washing your face, don't forget to moisturize. Because this skin care step will provide the necessary moisture to the skin, thereby balancing excess oil and making the skin dry, much smoother.
In particular, men do not need to be too picky in choosing a moisturizer, just choosing quality products and suitable for their skin type is enough.
>>> Related Articles: Korean Men's Skin Beauty Secrets - Learn the basic skin care steps of Korean Men.
3. Make friends with sunscreen
Although considered a "rugged" skin care step for women, sunscreen is actually very important for men's skin. This cosmetic has an extremely effective skin protection effect, helping to prevent the appearance of problems such as melasma, pigmentation, freckles, aging and skin cancer. So if you are a person who cares about the health and beauty of your skin, this is an absolutely correct investment.
4. Remove dead skin regularly
Men's skin often has a fairly thick horny layer, if not regularly exfoliated, this stratum corneum will easily be rough, dull and clogged pores. Since then, the skin is prone to problems such as acne, darkening, etc., very unsightly. So, just regularly exfoliating 2-3 times a week, you will have brighter, smoother skin and prevent acne spots from appearing very well.
There are many exfoliating products on the market, you can choose the right product for your skin type. Or you can also use recipes available at home such as coffee grounds + coconut oil, honey + oats, brown sugar + coconut oil, etc. However, it should be noted that you should always be gentle with your skin, especially especially when using granular exfoliants/formulas.
5. Don't forget your lips
For men or women, lips are always one of the most attractive parts of the face. However, men cannot use lipstick to cover defects (dry lips, dark lips) like women. Therefore, you need to carefully nourish your lips to limit dark lips:
No smoking.

Drink a lot of water, avoid drinking too much coffee and alcohol.

Lip balm should be done at the end of the day (with coconut oil, honey or colorless lip balm).

Always wear a mask when going out.

In addition, you can resort to the services of deep suction, lip spray for men to have natural pink lips.
>>> Recommended article: Methods dark lips treatment for men The most effective – 3 methods to treat dark lips for men, which method is right for you?
6. Smile and breath are very important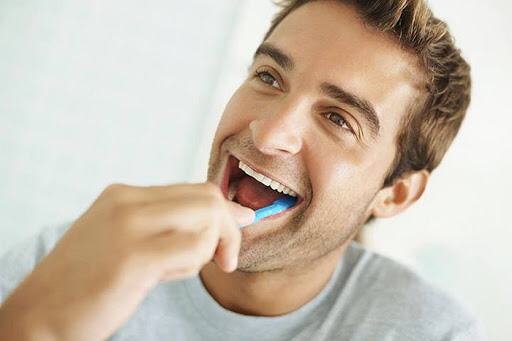 Smile has a great influence on the beauty and attractiveness of a man's face. Because according to surveys, women often have deep impressions with guys with beautiful smiles and charming mouths. Therefore, to have a charming smile, you need to keep your teeth clean, white and fragrant by:
Brush your teeth twice a day.

Limit habits that affect tooth enamel: brush teeth right after meals, drink juice right before/after brushing teeth, drink a lot of coffee, smoke, etc.

Use dental floss instead of toothpicks.

Use mouthwashes.
7. "If you want to be healthy, you must exercise"
A beautiful body is always considered the leading determinant of a man's appearance. Therefore, to improve your appearance, you need to have a daily exercise and sports regimen.
This habit not only makes your body firm, but your health and skin will also look younger. Because when exercising, the blood circulation inside the body is also accelerated, the toxins are quickly eliminated and the skin becomes smoother and younger.
8. Sleep on time and get enough sleep
Sleep is very important for everyone. Because this is the time when the whole body is rested after a long day of work. For the skin, too, this is the time when skin cells are restored and regenerated most strongly. Therefore, if you want to have good health, good spirit and beautiful skin, you need to make sure your sleep time is always in moderation every day.
9. Be careful when shaving
Many men often have skin problems under the chin because of the improper care and shaving process. Therefore, to ensure this safety for this skin area, in addition to being more careful when shaving, you need to note the following points:
Always clean and store the shaving tools carefully to avoid damage and rust.

Always use shaving gel to ensure a smooth shave and no skin abrasions.

Apply lotion after shaving to prevent the skin from drying out.
10. Always balance the daily nutritional groups
The last point that Miss Tram wants to share with men is to always pay attention to daily nutrition. Because nutritional factors will directly affect your body, skin as well as your daily life energy.
Make sure your body is always provided with a full range of nutrients such as protein, starch, fat, vitamins & minerals. For example: If your lunch is too fatty or hot spicy food, you need to balance it by drinking lots of water and eating lots of vegetables in the evening. This will make the body and skin supplied with enough nutrition, the liver and kidney functions will not be overloaded and affect your health later.
In particular, always provide plenty of water and fresh fruits and vegetables for your body every day - this is an essential source of nutrients to help your skin stay healthy and beautiful from the inside.
The above are the share of Miss Tram - Natural Beauty Center about the habits that make men's skin and body always beautiful. To own a perfect appearance, you need to maintain healthy living habits to have a body, skin as well as a body that is always full of energy. Hope the above sharing is useful to you. Wish you always have a beautiful healthy skin!
You are viewing the article Top 10 Habits That Help Men's Skin and Body Stay Healthy in a good forum News – Beauty Secrets of Miss Tram VietNam. All reviews and comments, please send them directly to Email teamcrmmisstram@gmail.com or you can comment right below the article. Don't forget to follow other good articles of Miss Tram and share it with everyone.