When it comes to cosmetic eyebrow technology, we often think that it is only for women. But it is only true in the previous stages, because today the need for beauty is necessary in all genders and all ages.
Sculpting eyebrows for men: The secret to increasing style and masculinity
male You can still rely on modern technologies to correct your eyebrow shape, make your facial contours more harmonious, and enhance your masculinity and style. Not to mention, this is also one of the ways to change fortune, help men strengthen their power, and expand their path of happiness.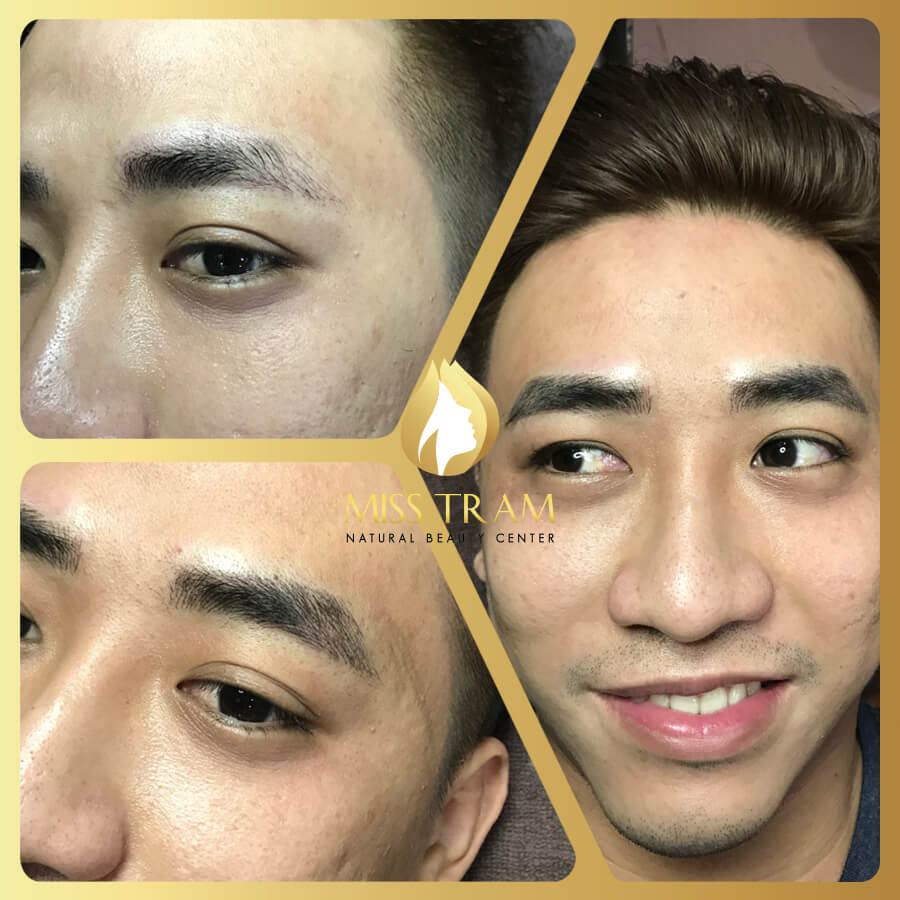 1
Men's eyebrow evaluation standards
Women will have criteria to evaluate the beauty of eyesbrown and so do men. Beautiful eyebrows will make the face more harmonious, look more charming and outstanding. Thanks to the eyebrows, other defects can be easily masked, making the overall look balanced and good-looking.
It is in terms of aesthetics, considering the anthropology of eyebrows also plays an extremely important role. "Questions are in you, fortune is in you, longevity is in you, happiness is in you" (Ask about happiness - fortune - longevity, everyone looks at their eyebrows), that was the ancient concept of eyebrow shape. Through eyebrows, you can guess what kind of personality that person has, whether the blessing of a good life is good, is the path to fortune open?
This is especially important for men, because they are inherently male, who will take on the main role in any family or organization. Once having beautiful eyebrows, men will increase their strength, bravery and at the same time create trust for the opposite person.
2
So how are male eyebrows called beautiful?
The beauty of the eyebrows implies many meanings, including harmony and balance on the overall face. When evaluating a man's eyebrow, it must meet the following criteria:
Eyebrows are thick and regular, not too short or broken

Moderately bold, the eyebrows are in a straight line, looking in a certain order

The end of the eyebrow is on a straight line with the corner of the eye

Measure the distance between the top of the eyebrow should not be larger than the width of the nose

And importantly, the eyebrows are in harmony with the contours of the face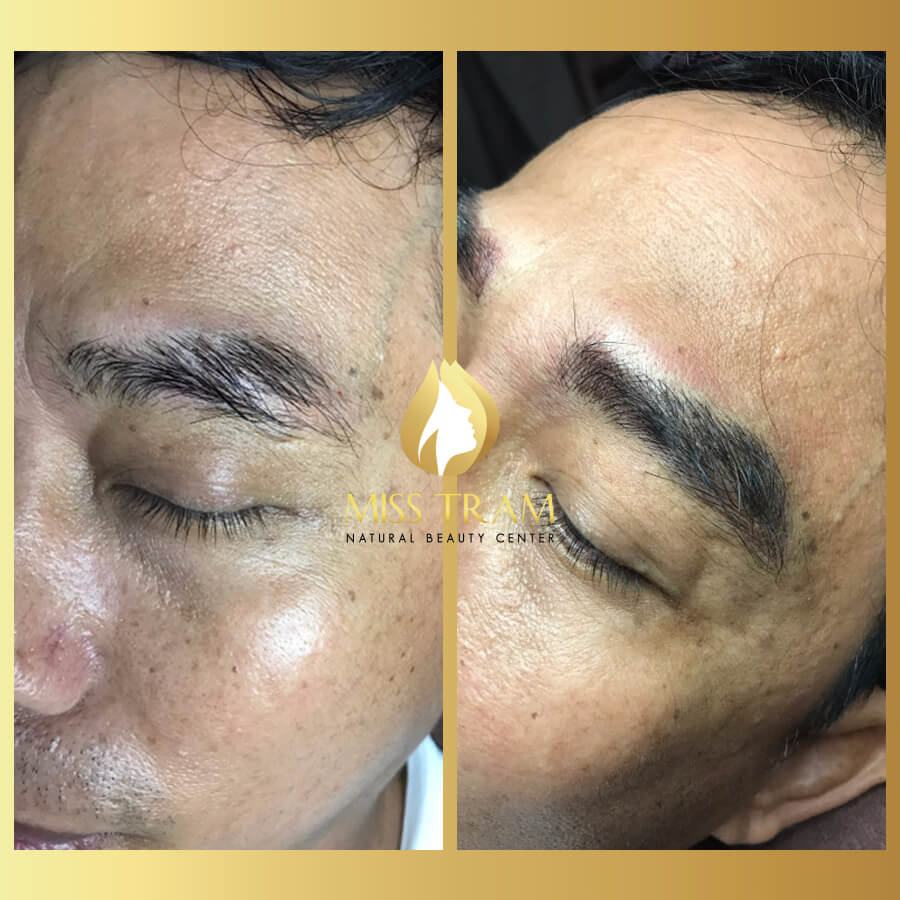 3
Cosmetic eyebrow for men: should or not?
The answer is yes if your eyebrows are too pale, looking at there is no highlight and harmony.
No need to work in the field of art, ordinary men with all occupations can still apply cosmetic technologies to beautify eyebrows. Male eyebrow cosmetic Thẩm mentioned here could be embroidery or sculpting. These technologies will help men correct their eyebrows and, of course, not create a soft, flexible beauty like women.
Spray embroidery or male eyebrow sculpture All have the same advantage of creating natural beauty, harmony for the eyebrows and balance for the face. In which, sculpture is chosen most because it is difficult to see that there has been an aesthetic intervention.
Microblading eyebrows: is a way of carving yarn, knitting finely, alternating in places where the eyebrows are sparse, blank to engrave. The ink line follows the growth path of the real eyebrows in a smooth, rhythmic way.
>>> Articles you should refer to: Standard Eyebrow Sculpting Process
This modern technology possesses the following outstanding advantages:
Minimize pain and cause less bleeding during the procedure, because the micro-blade is lightly engraved on the skin, without causing damage to the skin surface.

The ink used in the sculpture has natural ingredients, does not contain iron oxide, so it will not cause irritation, the eyebrows will be green or red even after a long time.

This method is suitable for all genders, diverse ages, those who lose part of their eyebrows due to burns, injuries, scars from accidents, and especially old people because it responds well to natural beauty. , harmony and balance on the face.
Sculpture has many eyebrow technique for men which beauty centers advertise as 3D – 6D – 8D or 9D. Of these, 9D eyebrow sculpting for men is the most aesthetic method of creating eyebrows today and is considered suitable for men who want to own natural-like eyebrows.
4
Where should male eyebrows be sculpted?
9D sculpture is European technology Phibrows (also known as Eyebrow Mieu) can control the depth and depth of each ink line, so it's non-invasive, painless, and doesn't need to take time to rest.
However, it is a very difficult yarn art that requires a high level of skill and understanding of the skin, ink, as well as the force and depth of the skin. This technique is difficult to apply on men, it is twice as difficult. Therefore, the advice for you is to choose reputable and experienced facilities to ensure the expected beauty.
today, Miss Tram Beauty Center – Miss Tram Natural Beauty Center is one of the facilities that successfully apply this modern beauty technology. Coming to Miss Tram, you will meet and discuss with experienced experts in aesthetics and anthropology to choose the right eyebrow shape for the overall face.
5
Sculpting eyebrows at Miss Tram also commits to:
The quality of the ink is clearly sourced from Korea, Germany, Japan, and the US. Ink lasts 3-5 years, does not oxidize and color;

3D, 6D, 9D male eyebrow sculpting is done by eyebrow sculptors themselves LEAVE - EXPERIENCE do for guests, absolutely do not let new trainees or technicians do the job;

The procedure is painless, does not hurt the skin, does not require abstaining and does not take much time to rest;

Miss Tram support MONOPOLY 1 year. Accordingly, after doing, if you want to adjust the color or shape of your eyebrows as you like within 1 year, you will be Free 100%, unlimited number of times;

Miss Tram always accompanies customers from work, prompts to check in until the customer is absolutely Satisfied.

It is the quality, prestige and dedication service that has made the Miss Tram brand, helping Miss Tram become a trusted address for everyone.
For dedicated advice and experience with advanced beauty technologies, you can contact the experts Miss Tram Information Contact MissTram Spa
See More About News – Beauty Secrets By Miss Tram - Natural Beauty Center: