Review of Rosette Gommage Moist . Dry Skin Scrub
Is it good? How much? Who Can Use?
Attraction of cosmetics domestic Japan has not decreased in Vietnam market. That is also the reason that the review articles on Japanese domestic cosmetics receive the attention of many people.
On the occasion of a reader request to review the product Rosette Gommage Moist . Dry Skin Scrub is quite HOT on the internet, let's keep an eye on some information related to this product.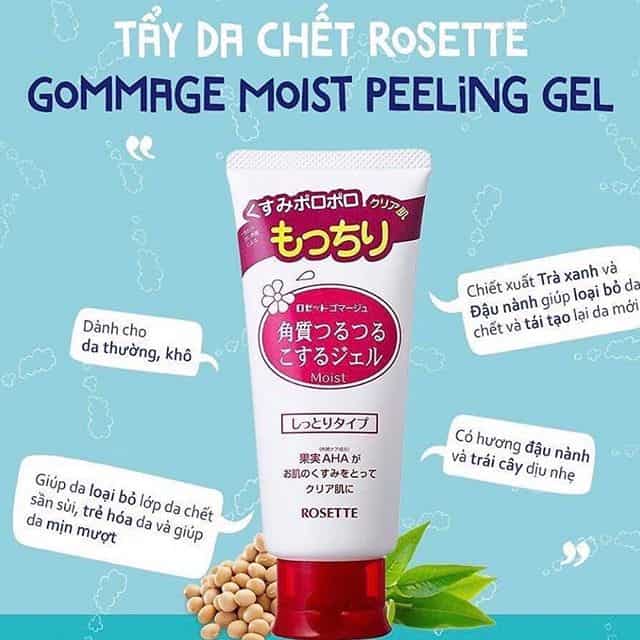 Product information

Product's name

Rosette Gommage Moist . Dry Skin Scrub

Trending

Rosette

Origin

Japanese

Capacity

120g

Thành phần

Water, Glycerin, Carbomer, Lactic Acid, Malic Acid, Citric Acid, Ethanol, Allantoin, Green Tea Extract, Steartrimonium Chloride, Glucose, Methylparaben.

Uses

Cleans dead cells, dirt, bacteria on the surface of the skin.

Shrink pores, smooth skin.

Reduces blackheads, freckles, dark spots.

Helps even skin tone.
Is Rosette Gommage Moist Good for Dry Skin?
Brand of the product
Launched in 1934, Rosette - Japanese domestic cosmetic brand has made many impressions in the hearts of women around the world. Rosette's products are famous for their stable quality and "soft" prices.
And products Rosette Gommage Moist . Dry Skin Scrub It is no exception when it is voted by @Cosme – a famous cosmetic magazine in Japan and other prestigious magazines in the world.
>>> Related Articles: Review Mamonde Micro Deep Cleansing Foam Hottest right now.
About the packaging, texture, scent
+ About the packaging: simple tube design with flip cap with information in Japanese. If you do not understand Japanese, you need to find product information on the internet or ask for advice from a salesperson.
+ Product texture: white gel solution, slightly viscous. Foams and precipitates fairly quickly when applied to the skin.
+ Fragrant: has a light fruity smell so it is quite pleasant to use.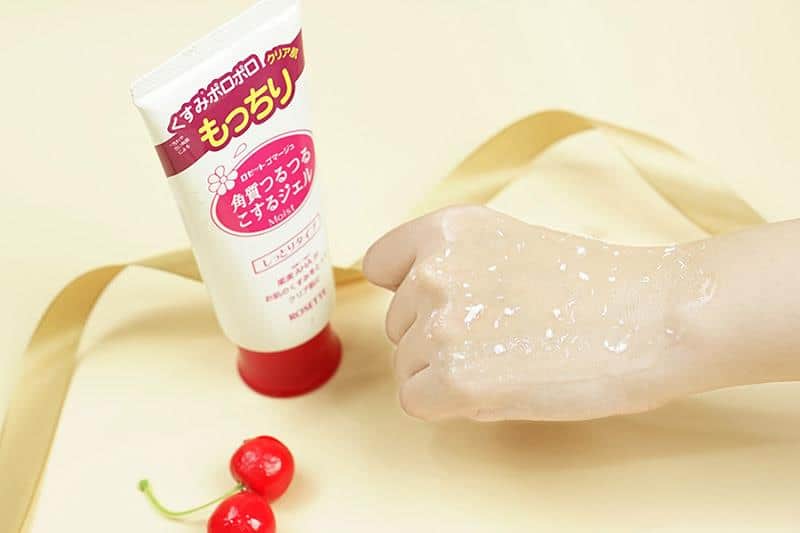 Ingredient panel quality
From the ingredient list, it can be seen that Rosette Gommage Moist contains many natural ingredients and some chemical formulas that effectively exfoliate without causing irritation. There are mainly 3 types of AHAs:
Lactic Acid: reduces irritation on the skin, suitable for sensitive skin.

Citric Acid: Evens skin tone, reduces dark spots.

Malic Acid: combined with the other 2 types of AHAs to increase synthesis collagen, helps the skin maintain elasticity, contributes to anti-aging skin.
In addition, the product ingredients also have Green Tea Extract (green tea extract) with the effect of protecting the skin against the effects of free radicals, enhancing the skin's antioxidant capacity.
Evaluate the pros and cons of the product
From the above analysis, the advantages and disadvantages of Rosette Gommage Moist Exfoliation can be summarized as follows:
Advantage:
Effective exfoliation, considered a dupe of Cure Natural Aqua Gel national exfoliant, but the price is many times softer (about 120.000 VND for a capacity of 120g).

The gel form works gently on the skin, does not cause damage to the surface of the skin.

Maintains moisture in the skin, does not dry the skin.

Pleasant fragrance.
Disadvantages:
The mouth of the tube is a bit wide so it's easy to pull out when using.

There is no genuine store in Vietnam, but only provided by hand, so it is easy to buy low-quality goods.
How to Use Rosette Gommage Moist
Target users: people with dry skin, dry combination, sensitive skinnormal skin.
Using:
Put an appropriate amount of exfoliating gel on the palm of your hand, apply to the face and then gently massage. At this point you will see the appearance of small lumps on the surface of the skin, which will carry the dead cells on your skin.

After massage for about 3-5 minutes, wash your face with clean water and dry your face.
Note:
Rosette Gommage Moist should be used on wet skin.

Use only 1-2 times a week.

After using the product, use toner, mineral spray or mask to balance the skin and help the skin absorb the best nutrients.
Recently a review of everything about Rosette Gommage Moist . Dry Skin Scrub. Hope this information will help those who need to buy a gentle and effective exfoliator.
Article Summary

Review of Rosette Gommage Moist . Dry Skin Scrub

Product brands

Packaging, texture, scent

Finished board quality

Evaluate product pros and cons