With the development of beauty technology, the methods make beautiful eyebrows also constantly improving from traditional eyebrow tattoo, to tattoo spray, embroidery spray and recently the method eyebrow sculpture at Miss Tram. This is a method of beautifying eyebrows that is being interested and loved by many women thanks to the outstanding advantages it brings. However, every beauty method has some disadvantages and certain requirements. And Miss Tram - Natural Beauty Center Learn more about this beauty method through the following article.
Everything You Need To Know About Eyebrow Sculpture
1.

What is eyebrow sculpture?
Sculpture of eyebrows Is a method of semi-permanent makeup for the eyebrow area, using a specialized engraving knife with a very small and sharp blade to put tattoo ink into the skin. Professionals will skillfully carve each eyebrow in a predefined shape, alternating with real eyebrows to create the most natural eyebrow.
After sculpting, what do your eyebrows look like?
Eyebrow sculpture is the most innovative and aesthetic method of creating eyebrows today. This method uses super sharp and sharp tools to create lifelike natural contours: large and light at the top, small in the middle, perfectly sharp at the end. The engraving angle also curves in the direction of the natural growth of the eyebrows, creating perfect depth and softness. (Refer: Should you sculpt your eyebrows for beauty?? – Listen to the most honest sharing from today's leading beauty experts).
So, after eyebrow sculpting, you will have a very natural and sharp eyebrows.
Advantages of eyebrow sculpting
This is the method to create the most beautiful natural eyebrows with real hairs. Therefore, this method of beautifying eyebrows is suitable for both men and women.

Using specialized equipment should make the operation of sterilization and sterilization easier and more thorough.

The blade used in the sculpture is extremely small and sharp, so it does not cause bleeding and is less painful.

Sculpted eyebrow color will fade after 2 years because it does not affect the epidermis deeply. Because your face will change over time, this method will help you actively change the shape of your eyebrows to suit each time of your face.
Disadvantages of eyebrow sculpting
For those of you with oily skin, it is necessary to consider and have the examination and advice of experts because eyebrow sculpting in oily skin will be difficult to color up - need to reapply a second time.

You have to choose a reputable facility with good and experienced professionals who can create beautiful, lifelike eyebrows that are suitable for each person's face. Prestigious beauty facilities also use high-quality ink, so the durability of the eyebrows can be kept the longest.

The cost of eyebrow sculpting is higher than other methods.
2. How does the eyebrow sculpting process take place?
At Miss Tram - Natural Beauty Center, after exchanging with customers the necessary information, examining and checking the skin, you will be prepared for a comfortable bed and begin the sculpting process as follows:
Step 1:

Draw eyebrow shape and edit for satisfied customers. Disinfect and incubate the client for about 15-20 minutes. This step is to ensure that the client does not suffer any pain or discomfort during the sculpting process.

Step 2:

Prepare a full range of specialized sculpting tools. Besides, must ensure the best lighting conditions in the sculpture room for precise manipulations.

Step 3

: Mix ink color in appropriate ratio. Depending on the customer's skin color and hair color, the specialist will determine the color ratio

for best results

.

Step 4:

Invite customers to check new equipment, engraving blades, this will give customers more peace of mind.

Step 5:

Start the sculpting technique according to the predetermined eyebrow shape.

Step 6:

After finishing eyebrow sculpting, the technician will clean the excess ink and invite the customer to check the results.
3. After sculpting, how should you take care of your eyebrows?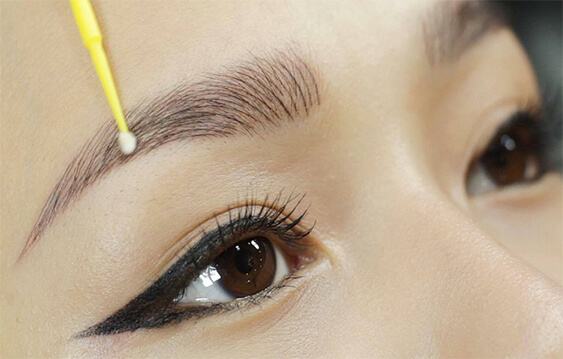 Any beauty method needs to be carefully cared for after implementation and so is eyebrow sculpture. The care step after sculpting will partly affect the success of this beauty process.
Therefore, you need to pay attention to the following points:
Do not let your eyebrows come into contact with water for the first 3 days.

Do not arbitrarily peel off the scab, but let the eyebrows peel off naturally.

Apply Vaseline continuously to keep the color, help you not to break the yarn.

Add more vegetables and fruits to increase resistance and help the eyebrow area recover quickly.
4. How long does sculpted eyebrows last?
Certainly, each method of beauty treatment has its own advantages and disadvantages. With eyebrow sculpting, the ink color will not last as long as tattooing or spraying, embroidery methods. (Guide to know-how Choose sculpting ink to help you color up properly, the most beautiful).
The average lifespan of a sculptural ink color will range from 1-2 years depending on many factors:
Expert technique and quality of ink color – you need to choose a reputable cosmetology facility to ensure this factor.

The location and habit of taking care of each person's eyebrows - you should follow the instructions of the specialist after performing the sculpting.
Although the ink color fastness is not long, but with today's beauty needs, 1-2 years is probably the most reasonable time. Because over time, the contours of your face will change, so the eyebrow shape that suits your face will also change. Therefore, according to Miss Tram, this is the most preeminent beauty method at this time.
Here's everything you need to know about sculpting eyebrows. This is a method of making eyebrows the most innovative and aesthetic today, bringing confidence and the most natural beauty to customers. So, if you have a need to beautify your eyebrows, this is probably the first choice for you. Hope this article will be useful to you, Miss Tram - Natural Beauty Center Wish you always have the perfect eyebrows!
See More About News – Beauty Secrets By Miss Tram - Natural Beauty Center
Common Problems After Lip Spray
How To Remove Milia Around The Eyes