Lip spray does not color? The reason why? How to fix lip spray without color? Today, with modern lip spray technology, we can easily own fresh, full of life lips. However, it is a fact that not every 100 cases of lip spray will be immediately satisfied with the results, because it is not uncommon for the lips to be sprayed with no color or patchy color. So why is this happening?
Why There Is No Color Spraying Phenomenon
Lip spray and factors affecting the result
Lip spray is considered a safe and optimal beauty method than traditional tattooing. This method will use a micro-needle, going gently on the lips with a depth of no more than 0,2mm to bring the previously selected ink color to the lips.
Successful spray lips must meet the following criteria:
Color up evenly, right color choice.

Bright lip color, cleverly conceals imperfections such as dark spots and wrinkles.

Lips are smooth and supple.

Harmonious lip shape, beautiful but natural.
Undeniably, the advancement in technology and the variety of lip spray techniques (collagen lip spray, crystal lip spray or spray glossy silk lips) has given women the beautiful lips they want. However, not all cases are 100% successful on the first spray. Because lip spray has a lot of factors that affect the final result. So what do you think are those factors?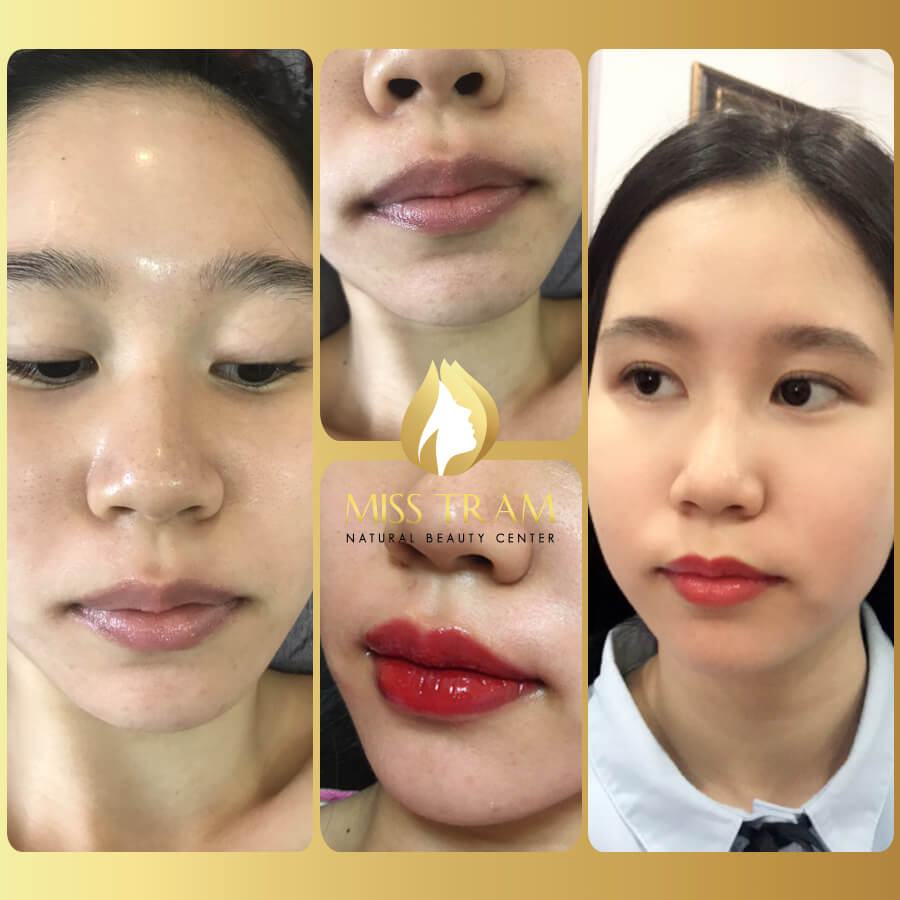 >>> Recommended articles: The secret to choosing the right lip spray color Factors to consider to choose a beautiful and suitable lip spray color.
1. Inkjet ink quality
Spray lips is the operation of coating ink on the epidermis thanks to the micro-needle tip technique. Whether this color layer is even or not, shiny or patchy, fast fading or colorfast all depends largely on the quality of the inkjet ink.
Ink spray standards in addition to safety (does not contain lead or other toxins), must be mixed in the correct proportions, aligned with the current environmental condition. In addition, the lip color is beautiful or not is determined by the color you choose. Therefore, you should not follow the trend but choose colors that are contrary to your skin and hair color. Remember when applying any cosmetic technology, we are only really beautiful when it suits and harmonizes with us.
2. Technique of the performer
The phenomenon that the lips after spraying do not color may be due to poor technical performance, uneven needle force, too light or too strong. Therefore, the ink does not create the necessary adhesion to create the desired color.
3. Lips are not treated properly
In case the customer's lips are dark (the part of the lips or the edge of the lips) must be treated properly before ink spraying. Otherwise, the lip color will not be beautiful, not the right color and may make the condition worse.
4. Post-spray care mode
After spraying the lips, within the first few days you have to let the outer color peel off on its own. Absolutely do not use your hands to pry or scratch or touch your lips. These things can more or less affect the quality of the lips because the first stage of the lips is still sensitive and needs more care.
What should I do to make my lips beautiful?
As stated above, we have many factors that affect the results after spraying. However, all of the above can be perfectly met if you choose the right reputable address like Miss Tram - Natural Beauty Center.
At Miss Tram - Natural Beauty CenterAll stages are carried out in the most professional manner. First of all, you will be fully consulted to choose the right color for the trend and overall face, helping you to be beautiful in the most natural way. Performing lip spray will be highly skilled technicians who are training at the center.
As a result, situations such as non-colored lips and patchy colors are thoroughly handled. Committed after the implementation, you will be satisfied with your lips, feel the natural beauty and harmony. Not only that, you are also guided on the most scientific and correct lip care methods, helping your lips stay fresh for a long time.
>>> Related Articles: Lip Beauty Method Suitable For Men And Women - Synthesize the latest lip spray technology today and the secret to choosing the most suitable lip beauty method for you.
To own charming lips, showing all your hidden beauty, do not hesitate to contact Miss Tram - Natural Beauty Center. Experts always listen and support you with the utmost dedication and professionalism. When coming to Miss Tram or any beauty salon or spa, you always have questions: Is it reputable? Is it good? Is there a scam? Is it worth the money?…. All your questions, Miss Tram would like to answer with pictures of actual results of customers at Miss Tram.
Click on the link https://thammymisstram.vn/ket-qua-thuc-te/ to see all the results, customer reviews about beauty services at Miss Tram.
So here is an article to share all about the causes that lead to questions that are: How to fix lip spray that has not been colored yet, lips that have not been painted for a month, how to spray lips that have not been colored yet. … There are many similar questions. After reading this article, you can draw your own answer.
But if you have any other questions about cosmetic lip tattoo spray, you can contact Miss Tram at the hotline number below for specific advice, you can make an appointment to check the situation and consult directly. continue with the expert.
In addition, Miss Tram Spa also offers classes and courses Learn lip sculpting and tattooing in Ho Chi Minh City. If you have a need to care and want to work and learn a profession in this field of cosmetic tattooing and beauty, Miss Tram Aesthetic Academy is ready to listen to you share and advise you.
See More About News – Beauty Secrets By Miss Tram - Natural Beauty Center:
Should You Sculpt Your Eyebrows For Beauty?
What's so special about Miss Tram's Eyebrow Sculpting Method?