What are the risks of side effects when taking orlistat stada 120mg? Surely when reading this article you are interested in finding out about this issue, right? As with all prescription and nonprescription drug products such as orlistat stada 120mg, there are various undesirable side effects. So in this article we will learn about side effects of orlistat stada 120mg and much more information and benefits.
1
What is Orlistat Stada 120 mg?
Orlistat Stada 120mg slimming drug is a product of the branch company of LD Stada-Vietnam Co., Ltd and is a non-prescription drug. The drug is used in combination with a low-calorie diet used in the treatment of people with obesity and overweight.
Dosage form: Hard capsule.
Packing: Box of 2 blisters x 21 tablets.
2
Main ingredients in Orlistat Stada 120mg:
Orlistat in the form of 50% microparticles with a content of 120 mg
There are also other excipients just enough for 1 hard capsule.
3
Mechanism of action for fat loss of orlistat stada 120mg
Orlistat stada 120mg when used helps users agree to inhibit the lipase enzyme. The active substance acts on the stomach and small intestine through covalent binding. When the lipase enzyme is inactivated, the hydrolysis of fats is also reduced, thereby reducing their absorption into the body and helping with weight control. At therapeutic doses, the drug has the ability to prevent the absorption of fats from food by about 30%. Fats that are not absorbed will be quickly eliminated through the digestive tract and excreted from the body.
4
Uses of Orlistat Stada 120mg
Treatment and prevention of weight regain in obese patients with a BIM above 30 kg/m2 or 28 kg/m2 in overweight patients.
Supports weight loss for adults and children over 12 years old who are obese or overweight
Get back in shape, reduce the risk of cardiovascular diseases, blood fats, diabetes... caused by overweight and obesity.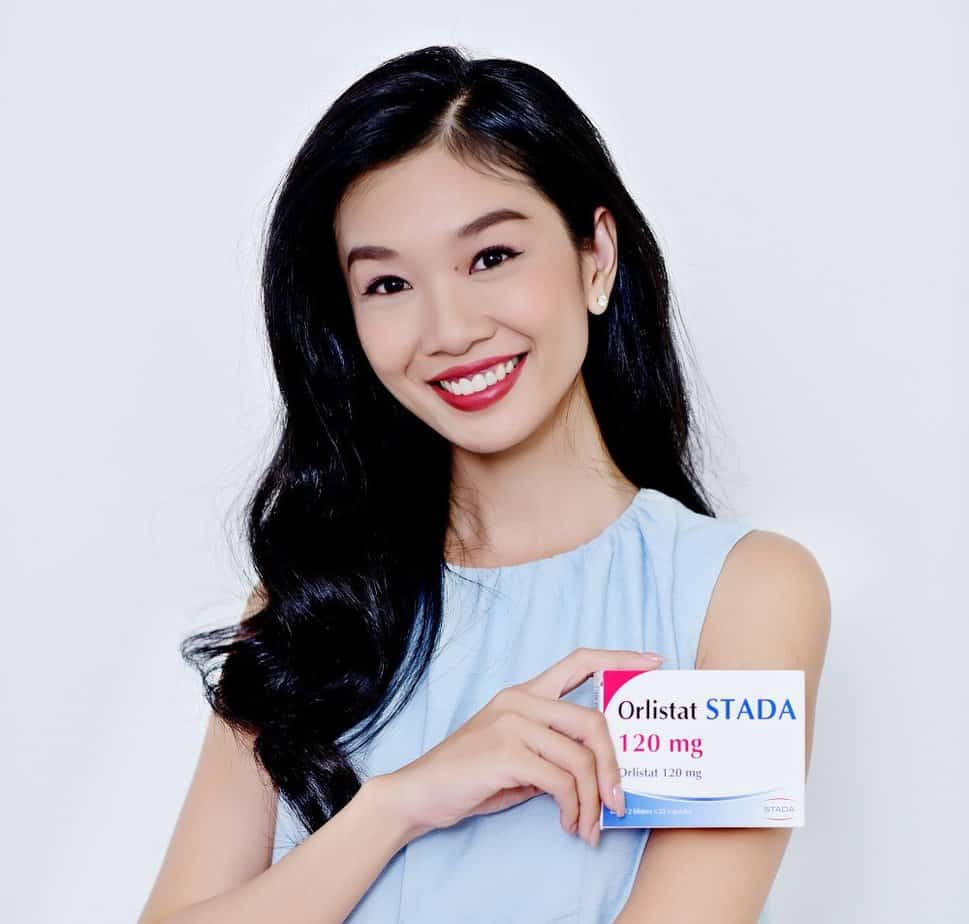 5
When using Orlistat Stada 120mg and unwanted side effects (ADR)
Adverse effects of orlistat occur mainly in the gastrointestinal tract. The incidence of adverse events is reduced with prolonged use of orlistat. The frequency of adverse events is defined as follows: very common (> 1/10), common (> 1/100 to < 1/10), uncommon (> 1/1000 to < 1/100). ), rare (> 1/10000 to < 1/1000), very rare (< 1/10000) including isolated reports.
Art unwanted side effects
Common symptoms
Nervous system disorder
Respiratory, thoracic and mediastinal disorders

Very common: Upper respiratory tract infection.
Common: Lower respiratory tract infections.

Digestive system disorder

Very common: Abdominal pain/abdominal discomfort, first spotting from the rectum, frequent bowel movements, feeling of urgency, fatty stools, flatulence, loose stools, oily stools, more frequent bowel movements than usual.
Common: Rectal pain/discomfort, soft stools, fecal incontinence, abdominal distention, dental disorders, gum disorders.

Renal and urinary system disorders

Common: Urinary tract infections.

Metabolic and nutritional disorders

Very common: Hypoglycemia.

Infection
General disorder
Reproductive system and mammary gland disorders

Common: Menstrual disorders.

Psychosis
In addition to the undesirable effects mentioned above, there are a number of other undesirable effects based on post-marketing reports, frequency unknown:
Laboratory results: Increased transaminases and alkaline phosphatase, increased INR and imbalance of hemodynamic parameters have been reported in patients receiving anticoagulant therapy with orlistat.
Digestive disorders: Rectal bleeding, diverticulitis, pancreatitis.
Skin and Subcutaneous Tissue Disorders: Bullous rash.
Immune system disorders: Hypersensitivity (pruritus, rash, urticaria, angioedema, bronchospasm, anaphylaxis).
Hepatobiliary disorders: Gallstones; Severe hepatitis, some deaths or the need for a liver transplant have been reported.
Kidney and urinary system disorders: Renal oxalate stones can lead to kidney failure.
Instructions on how to handle ADR: When experiencing side effects of the drug, it is necessary to stop using it and notify the doctor or go to the nearest medical facility for timely treatment.
6
Dosage / How to use Orlistat Stada weight loss medicine 120mg
Dosage Orlistat Stada 120mg
Dosage for overweight people over 12 years old and adults: take 3 times a day, 1 tablet each time, take while eating.
How to take Orlistat Stada 120mg
It is best to take the medicine 1 hour after eating or during the main meal. If the meal is frugal, low in lipids, this drug is not needed.
Do not overdose. Patients should consult their doctor or pharmacist if they have not lost weight after 12 weeks of taking orlistat for a safe treatment.
Patients should maintain an appropriate exercise regimen before, during and after treatment with this medicine.
Patients should have a reasonable diet, reduce calories and lipids as directed by the doctor and should maintain this diet even after stopping treatment.
Contraindications to Orlistat Stada 120mg
Do not use Orlistat Stada 120mg for people with a history of hypersensitivity to any of the ingredients in the drug.
Do not administer to patients with chronic malabsorption syndromes or cholestasis.
In short, any drug has different main and side effects. This article briefly outlines for you the uses, doses as well as unwanted side effects of Orlistat Stada 120mg weight loss drug. But to compare with other weight loss pills on the market, Orlistat Stada 120mg is a tested drug, manufactured with clear origin, sold and circulated in all drugstores in Vietnam. That is enough evidence for the safety and competitiveness of Orlistat Stada 120mg fat loss pills on the market today.
Refer to some more hotly shared topics on the internet: