Review Some By Mi Anti-Acne Cleanser For Oily Skin AHA-BHA-PHA 30 Days Miracel Acne Clear Foam: Price, Is It Good, Who Uses It?
Some by mi is a cosmetic brand from Korea famous for its lines Skin care products, acne treatment from AHA - BHA - PHA substances.
One of the products in this brand's collection and is very hot right now Some By Mi AHA-BHA-PHA 30 Days Miracel Acne Clear Foam.
Not only has a reasonable price, but this product also brings miraculous skin care effects to users. Let's Miss Tram VietNam Learn more about this product.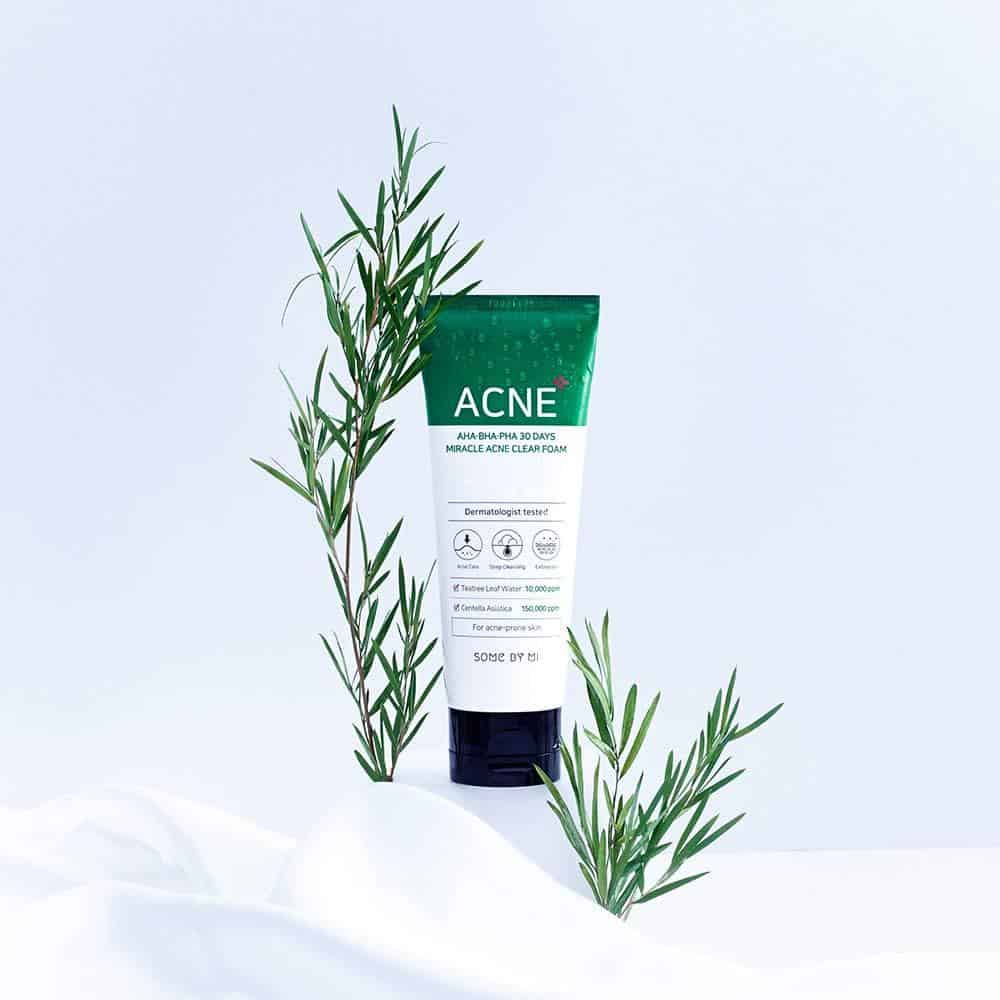 PRODUCT INFORMATION

Product's name

Some By Mi AHA-BHA-PHA 30 Days Miracel Acne Clear Foam

Trending

Some by mi

Origin

Korean

Thành phần

Glycerin, centipede extract, palmitic acid, stearic acid Ric myristic acid, potassium hydroxide, lauryl betaine. Butyleneglycol phage-100 stearate, glyceryl stearate, beeswax, tea tree leaf juice, sodium methylcocoyl Taurate, potassium cocoyl glycinate, salicylic acid, dipropylene glycol powderhydroxyacetate fumarate, menthol, caprylic glycol, 1,2-hexanediol di- sodium,ditallow hydroxyethylcellulose calamine, gluconolactone, citric acid, dipotassium glycyrrhizate ,, Madecasoide, Asian Ticoside , Asiatic Acid and Madeca Acid.

Uses

+ Clean skin, remove dirt, excess oil and dead skin layers from deep inside the pores. Thereby helping to unclog pores and limit acne conditions.




+ Improves the structure of the skin's surface, helps to increase elasticity and smoothen the skin.




+ Anti-inflammatory, antibacterial, restore skin after damage, reduce darkening and prevent the aging process.

Price

VND XNX

.
To buy genuine, quality and effective products when using, you can buy products at Some by Mi's official website in Vietnam or buy through e-commerce channels like Lazada or Shopee.
>>> Related Articles: Review Dabo Korea Premium Oil Control Sunscreen Sunscreen HOTTEST.
Some By Mi AHA-BHA-PHA 30 Days Miracel Acne Clear Foam Is It Good?
About product design
Some By Mi AHA-BHA-PHA 30 Days Miracle Acne Clear Foam has a tube design with a capacity of 100ml, with green and white as the main color.
The packaging on the body of the tube is fully printed about the place of manufacture, the ingredients, the use of the product, the acne treatment process of the product, etc. The black cap is elegant, convenient for use.
In addition, this child also comes with a paper box with the same tone, both to protect the product, and to create a sense of care, courtesy and careful investment.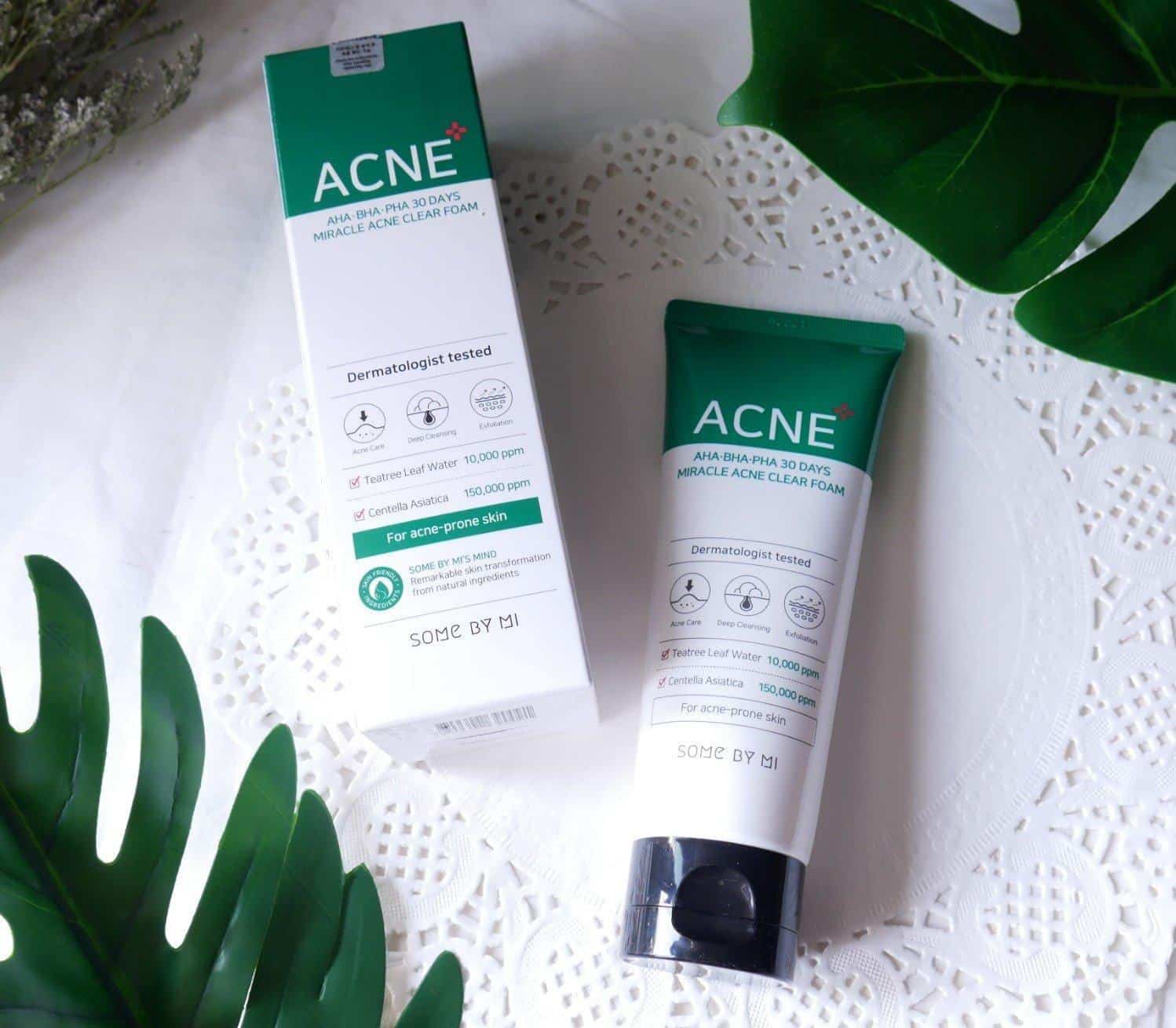 About product performance
Some By Mi AHA-BHA-PHA 30 Days Facial Cleanser is extracted from medicinal ingredients, combining natural ingredients that are safe and non-allergenic for the skin.
At the same time, providing hydration and nutrition to help skin regain its health and ventilation.
Some By Mi AHA-BHA-PHA 30 Days Miracle Acne Clear Foam has a smooth, slightly liquid, milky white color with high foaming. This product has a minty scent, so when used, it will bring the coolest and most relaxing feeling.
Beneficial ingredients and uses
+ The cult trio AHA-BHA-PHA works to bring dirt and sebum to the surface of the skin and remove them. Since then, the pores are open to help prevent acne comprehensively. At the same time, providing the necessary amount of moisture to the skin, protecting the skin from damage and irritation from external factors.
+ Extracts of wormwood, centella asiatica and tea tree have the effect of supporting balance, soothing the skin, limiting skin irritation problems.
Centella Powder Extract is extracted with a high purity concentration to help soothe and clear the skin.
In addition, with more than 20 other types of natural ingredients inside the product will help nourish skin smooth, moist, reduce dark spots, acne scars, return your skin smooth, bright.
User Reviews
Some user reviews at Shopee e-commerce site: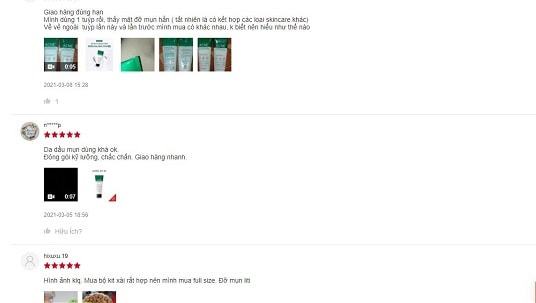 Target Users
Some By Mi AHA-BHA-PHA 30 Days Miracel Acne Clear Foam is manufactured with safe, benign ingredients suitable for people with fair skin. acne skin, oily skin and both sensitive skin.
User manual
Step 1: Wet the surface with clean water.
Step 2: Take an appropriate amount of cleanser in the palm of your hand or use a foaming cup.
Step 3: Use the foam just created to apply on the face, combine massage steps to remove dirt from deep inside.
Step 4: Rinse with clean water and dry your face.
Review Summary
Advantage:
Beautiful packaging design, easy to identify.

Healthy ingredients, non-toxic.

Fine foam, high foaming ability to save the amount of cleanser during use.

Deep clean dirt removal.

The ability to prevent and treat acne is good for the skin.

Pleasant, pleasant mint scent.
Disadvantages:
The capacity is a bit small and compared to the price will be quite high for students.

The liquid gel should be gentle when using, avoiding the case of strong squeeze and spilling the gel.
Here are all the details about Some By Mi AHA-BHA-PHA 30 Days Miracel Acne Clear FoamHopefully the article will be a useful reference to help you choose the right face wash.