Review Mamonde Micro Deep Cleansing Foam Cleanser
Is it good? Who Can Use? Price?
Are you interested in the product? Mamonde Micro Deep Cleansing Foam with cleaning function pores , and blackhead. You wonder about the effectiveness, target audience, usage, price, etc. of this product.
Let's answer the above questions with the article Review Mamonde Micro Deep Cleansing Foam.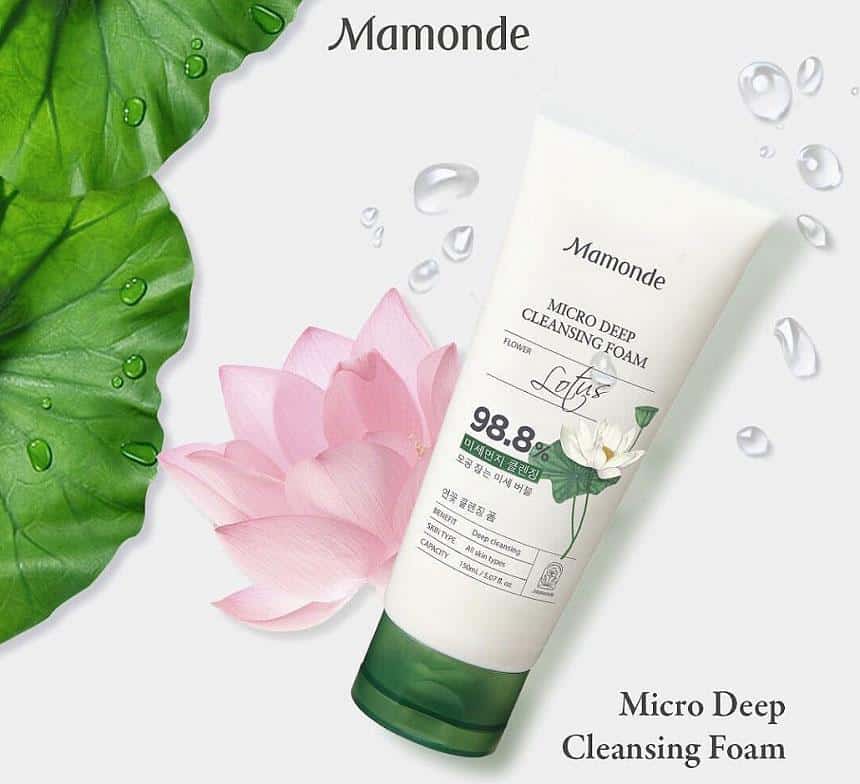 Product information

Product's name

Mamonde Micro Deep Cleansing Foam

Trending

Mamonde

Countries

Korean

Capacity

150 ml

Thành phần

Lotus flower, lotus root powder, lotus seed, clay, neem extract, ...

Uses

Deeply clean the dirt and oil on the skin, clean the pores.

Prevents and clears blackheads.

Moisturize the skin.

Skin lightening.
Is Mamonde Micro Deep Cleansing Foam Good for Blackheads and Pores?
About the brand of the product
Mamonde (Korea) is known as the "thousand flower" cosmetic brand, this brand belongs to Amore Pacific Group along with other famous brands such as Laneige, Innisfree.
Mamonde's products all have natural ingredients and are inspired by flowers (lotus, jasmine, camellia, ...) Safe for the skin.
>>> See more: Review of La Roche-Posay Cleansing Gel for face and body acne safest, most effective.
Thiẩt kế sản phẩm
Mamonde Micro Deep Cleansing Foam has a traditional flexible plastic tube design. On the body of the tube, there is an impressive lotus image and shows all the information about ingredients, uses, ...
This design is also quite convenient when squeezing the product to use, but you need to clean the mouth of the tube thoroughly to avoid accidentally using the gel that is stuck there for a long time.
Texture, foaming ability
The texture of Mamonde Micro Deep Cleansing Foam is an ivory-white slightly liquid cream, smooth and grainless.
When massaged on the skin, the amount of foam created is not much, but smooth and linked together quite well, not flowing down much when massaging. With this feature, the product is very suitable for use with facial cleansers.
Fragrant
Mamonde Micro Deep Cleansing Foam Foam Cleanser has a gentle, non-pungent lotus scent, so it is very pleasant.
Ingredients and product uses
The product introduces parts of the lotus plant such as lotus flower, lotus root, lotus seed into its skin cleansing formula.

Lotus: helps to brighten the skin.

Lotus root: helps firm skin.

Lotus seeds: moisturize, protect the skin.
Not simply collected, the lotus plants that make up the ingredients of Mamonde Micro Deep Cleansing Foam are all grown by organic methods, so you can be assured of their benignity and effectiveness.
There are also ingredients:

Kaolin clay seed extract: cleans the skin, brightens the skin.

Berries extract: Cleans the pores, prevent blackhead.

Lotus Anti - Complex technology combines lotus plant extracts and Cationic Polymer compounds in the product to clean dirt and sebum in pores, helping pores to be open, limiting the risk of acne. black.

With the mechanism of action like a magnet, the product has a cationic polymer with the feature of using a negative charge to absorb particulate dirt from the skin.
Especially Mamonde Micro Deep Cleansing Foam Foaming Cleanser is extremely benign, safe for all skin types with ingredients that say "no" to: mineral oil, animal extract, synthetic color, triethanolamine,…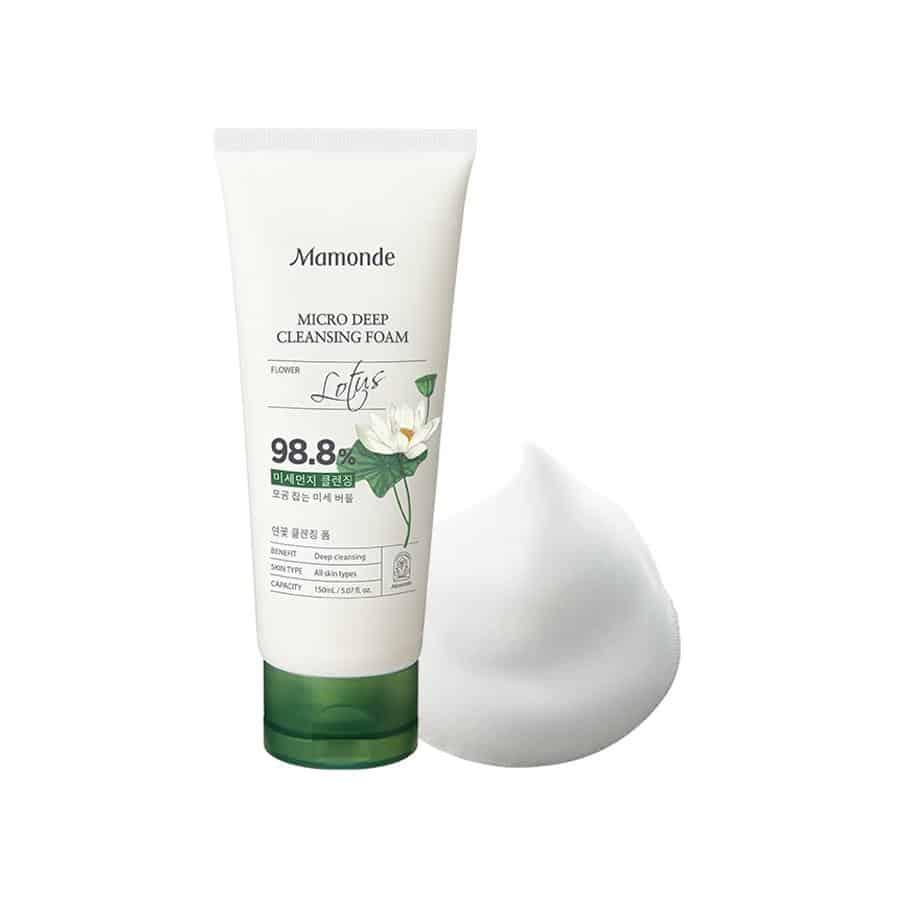 User reviews on Mamonde's Shopee store
From account Roseblack1925: "…. Used face wash, I really like it. Skin is deeply cleansed"

Quote from account honghanhdo089: "Good product, gentle fragrance, no tension after fixing..."

Quote from miumiu7393 account: "Creates a smooth foam, after washing, the skin feels clean, not dry."
Price for Mamonde Micro Deep Cleansing Foam for Pore Cleansing and Blackheads?
Currently the product is being sold on the market with a price of about 219.000 copper. Compared to face wash products, this price is not high but also not very affordable.
Who Can Use Mamonde Micro Deep Cleansing Foam? How to use?
Mamonde Micro Deep Cleansing Foam is safe and benign, so it can be used for all skin types. Especially those who are suffering from "rave" blackheads.

How to use: Put an appropriate amount of cleanser on the palm of your hand and massage your hands together to create foam. Then massage on the face from the center outward, from the bottom to the top. Finally, rinse with water.
General Mamonde Micro Deep Cleansing Foam It's a pretty stable product. If you want to try the product, you can try it. Hope the recent review information will be helpful for you in skin care.
Don't forget to leave a comment below the article if you have any questions!
Article Summary

Mamonde Micro Deep Cleansing Foam Cleans Pores - Prevents Blackheads

Product brands

Thiẩt kế sản phẩm

Foaming ability

Fragrant

Use of the product

User Reviews