Attendance at Top 7 Prestige Beauty and Skin Care Spas in Kien Giang
Top 7 Beauty Spas, Skin Care in Kien Giang
In recent years, the beauty needs of women have tended to increase markedly, especially skin care and cosmetic tattoo spray. Realizing this, there are many aesthetic establishments in Kien Giang that have been established and put into operation. Therefore, to help you choose a beauty address with services that suit your needs and financial ability.
Article below Miss Tram VietNam has compiled for you a list of places where cosmetic tattooing and skin care in Kien Giang. Let's follow along!
Top 07 Cosmetic Tattoo Spas, Quality Skin Care in Kien Giang
1. Queen Spa
Queen Spa owns a large team of beauticians, technicians with good skills, rich experience and extremely good professional qualifications.
Address: 328 Nguyen Trung Truc, Kien Giang

Phone: 0984.779.077
2. My Vy Beauty Salon
My Vy Beauty Salon offers the best quality skin care and cosmetic tattooing services. Therefore, this is a reliable address in Kien Giang that you should not miss.
Address: 15 Lac Hong, Vinh Lac, Rach Gia, Kien Giang

Phone: 0916.828.666
3. Linh Anh International Cosmetology Institute
The staff at Linh Anh International Cosmetology Institute have been trained abroad. Therefore, it is always appreciated by customers for its good expertise, as well as professional and fast working style.
Address: No. 29, Lot P8, 3/2 Street, Phu Cuong Urban Area, Rach Gia, Kien Giang

Phone: 0903.308.696
4. DIVA Aesthetic Institute
DIVA Aesthetic Institute uses modern and advanced machinery and equipment with clear and transparent origins. Therefore, when choosing DIVA, you can be assured of the quality of service here.
Address: Apartment 12A MG1 Vincom Co Bac Street, Vinh Bao Ward, Rach Gia, Kien Giang

Phone: 1900.6689
5. Like Ngoc Spa
As a famous aesthetic address in Kien Giang, Nhu Ngoc Spa has increasingly won the hearts of customers here. Because Nhu Ngoc Spa always gives customers the latest and safest experience in beauty services.
Address: Lot 30 Pham Hung Street, An Hoa Ward, Rach Gia, Kien Giang

Phone: 0941.223.332
6. Aura . International Beauty Salon
Aura international beauty salon will apply the most advanced beauty methods to completely improve all defects on your face.
Address: PL1, 20 Phan Thi Rang, An Hoa Ward, Rach Gia, Kien Giang

Phone: 0833.082.222
7. Kim Thuy Spa
Kim Thuy Spa must no longer be a strange name for women in Kien Giang province. Here you will experience beauty services with modern machinery and equipment, along with a team of highly skilled and professional estheticians.
Address: 11 Hoang Dieu, Thanh Van, Rach Gia, Kien Giang

Phone: 0909.786.692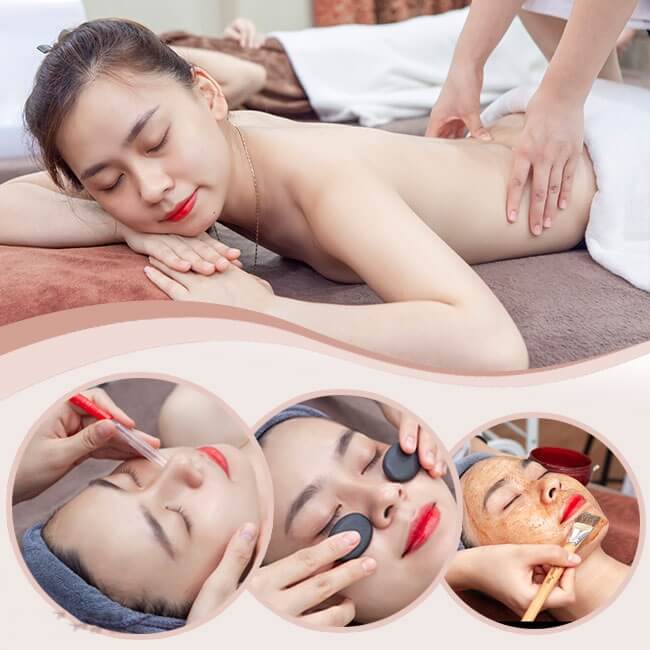 To make it easier for you to choose a beauty spa address, right now Miss Tram will reveal to you a few important experiences to be able to choose a reputable, quality and professional spa address. Karma. Let's follow Miss Tram now!
05 Factors You Need To Pay Attention To When Choosing A Beauty Spa.
Spa space
A professional spa address will have a space that is evaluated according to international standards with the most stringent standards. For example, the distance between the beds, the standard size of each room, etc.
Spa cleaning
Hygiene is always one of the most important and highly valued issues. For a professional spa, service tools must be cleaned regularly to ensure cleanliness. At the same time, products such as recliners, bed sheets, etc. must be of the best quality.
Spa equipment and staff
Besides the factors mentioned above, facilities and people also play a very important role in evaluating a professional spa. The spa equipment is not only the most advanced and modern machines, but also must ensure easy cleaning. Because, when using modern machinery and equipment, the process of serving customers will be smoother and easier.
Cosmetologists need to fully grasp the in-depth knowledge, ensure the training and practice time is up to standard. Moreover, the specialist must always be updated with the latest beauty technology to be able to provide the best service quality.
Spa products and cosmetics
A quality, reputable and professional spa will definitely use products of clear origin. Especially with benign ingredients, safe for all customers.
Transparent pricing
If a spa address is reputable, quality assured and professional, they will always be transparent and clear in the price of each service. Therefore, before making a decision to choose a certain location, you need to ask clearly about the specific price of the service you want to do.
To be able to choose a reputable and quality cosmetic tattoo spa address in addition to the criteria mentioned above, you also need to master 7 experiences in choosing this address: EXPERIENCE CHOOSE PRESTIGE BEAUTY SPAN.
Above are the top spa addresses for cosmetic tattooing and skin care in Kien Giang and the experience of choosing a quality tattoo spray address that Miss Tram would like to introduce to you. Hopefully with this information, readers will have more knowledge to choose an address that is most suitable for you. Thank you for following the article.
You are viewing the article Top Spa Spas Beauty Tattoo, Skin Care in Kien Giang in the good handbook Top Beauty Spas In Vietnam of Miss Tram VietNam. All reviews and comments, please send them directly to Email teamcrmmisstram@gmail.com or you can comment right below the article. Don't forget to follow other good articles of Miss Tram and share it with everyone.
Review Top Skin Care Products