Acne scary, but the acne left behind also makes many people equally bored. Because they make the skin uneven, unsightly and affect confidence.
To prevent acne, treat acne, treat dark spots - effectively prevent dark spots, you need to choose special treatment products that are suitable for your skin condition. This paragraph, Miss Tram - Natural Beauty Center will review these acne treatment serum Highly rated today, don't miss it.
1
Combo Anti-Acnes Serum DORI
As a famous acne treatment line in the spa world, Lotus Snow Acne Treatment Set (Combo Anti-Acnes Serum DORI) by Dori Beauty trusted and appreciated by many users.
This product set includes 3 lines of Acne Serum S1, S2 and S3. Each product will have its own unique uses, being flexibly used for each condition and level of acne skin during treatment.
Helps repair damage, regulate oil and prevent acne.

Moisturizes and balances skin moisture.

The product has a high ratio of nutrients, used before and after the acne treatment process to stabilize the skin and prevent acne recurrence.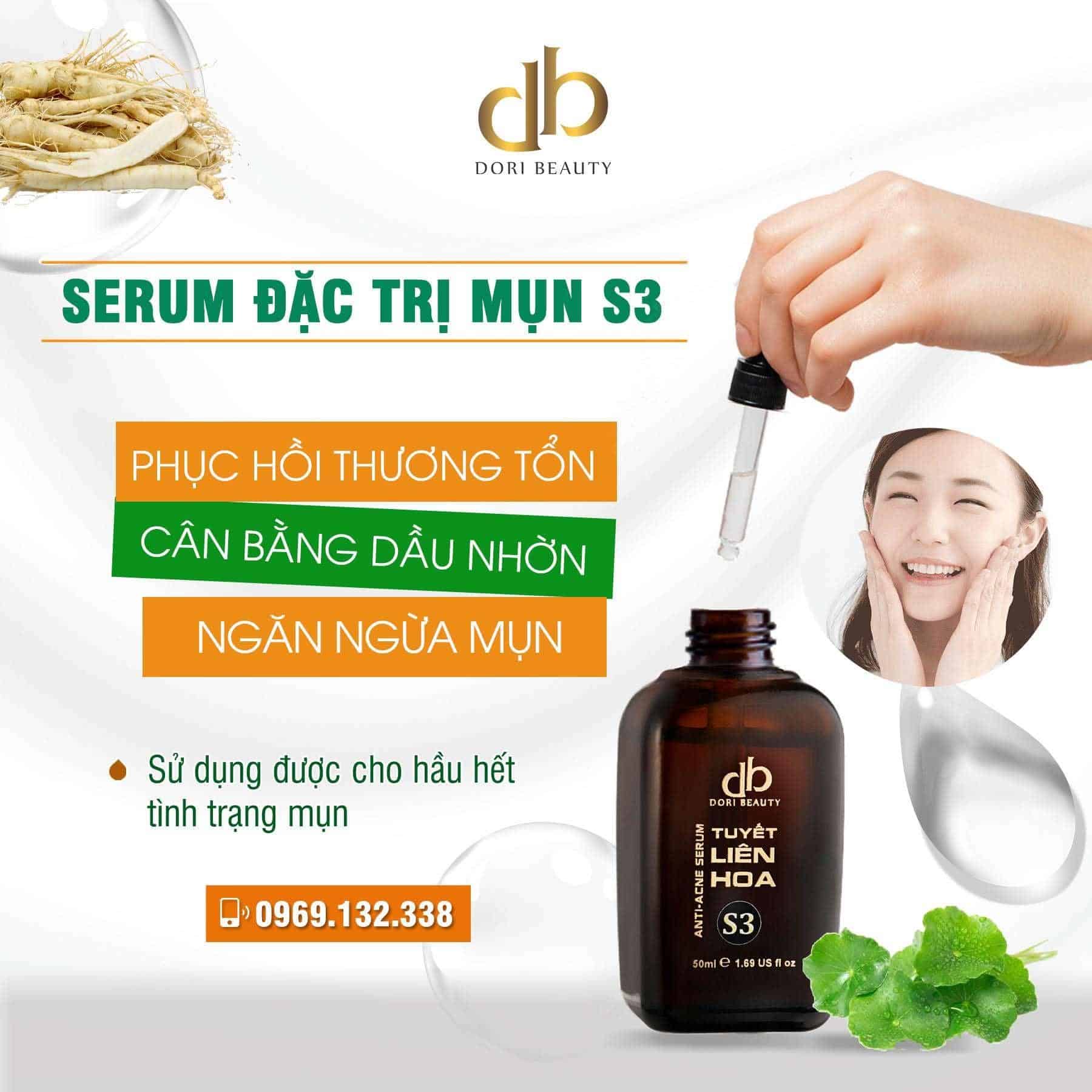 Helps to treat acne, fade dark spots, remove roughness caused by acne.

Smooth, even skin tone.

The product has a balanced ratio of nutrients and special treatments, used to treat acne, prevent dark spots and stimulate skin regeneration.

This is the most used serum at home in the Lotus Snow Acne Treatment Kit.
Helps remove dead skin, control oil, detox skin and treat acne effectively.

Fills pitted scars, regenerates new smooth skin cells.

Products with strong properties should be used to accelerate treatment - skin recovery. In particular, it is necessary to have the companionship of a Spa or a dermatologist.
Outstanding ingredients of the Lotus Snow Acne Treatment Kit:
(3 lines of Special Acne Serum have the same ingredient list but different ratios, so their effects will be different.)
Distilled Water, Glycerin, Carbomer: moisturizing and moisturizing.

Pearl powder extract: evens skin tone and stimulates cell renewal.

Fresh ginseng extract: enhances blood circulation, treats acne, prevents darkening and nourishes the skin.

Some other extracts such as aloe leaves, mulberry, tea tree leaves, purslane, centella asiatica ...: have the ability to detoxify, control sebum and support acne treatment.
With the ability to "balance" all acne conditions, treat dark spots and restore skin effectively, the serum lines of the Lotus Snow Acne Treatment Set are one of the perfect suggestions for your acne skin.
However, this product also has some disadvantages:
As a specialized product line for Spa, there are few advertisements and few distributors. Need to contact directly for purchase advice support.

When used, the skin may peel off (this is an essential process for rapid skin regeneration).
2
The Ordinary Niacinamide 10% + Zinc 1%
Being "named" by many beauty bloggers, The Ordinary Niacinamide 10% + Zinc 1% It is also a prominent serum line with the effect of treating acne and preventing dark spots that you can refer to.
Outstanding ingredients and uses:
The most prominent ingredient list must be Niacinamide 10% + Zinc 1%: has anti-inflammatory, acne-fighting and skin-soothing properties.

The product is also very good at cleansing, moisturizing, brightening and preventing acne.

Gentle and suitable for many skin types.
Cons: The serum is a bit thick, takes a long time to absorb and feels dry and tight when used.
3
Kiehl's Clearly Corrective Dark Spot Solution
Is a fairly famous high-end serum line of Kiehl's brand - France, Kiehl's Clearly Corrective Dark Spot Solution also received a "rain of compliments" from many users for its ability to improve acne, even skin tone and prevent acne effectively.
Outstanding ingredients and uses:
Vitamin C derivative: has the effect of removing dark spots, supporting acne treatment, and brightening and even skin tone.

White birch extract: reduce wrinkles, supply and retain water to the skin, making the skin naturally rosy.

Peony extract: anti-oxidant, whitening and anti-aging.

Viscous texture, super fast absorption.
Disadvantages:
High price.

Ingredients contain alcohol, so sensitive skin should pay attention when using.
4
Caryophy Portulaca Ampoule
Not so famous as the above acne treatment product lines, but serum Caryophy Portulaca Ampoule It is highly appreciated by users on many beauty forums. With the use of 5in1 (acne treatment, darkening, moisturizing, skin restoration and comprehensive anti-aging) which is quite popularly reviewed, this can also be a product that is suitable for your skin.
Outstanding ingredients and uses:
Centella asiatica: support acne, fade dark scars, stimulate skin cell regeneration.

Sam vegetable essence: helps antibacterial, anti-inflammatory and whitens the skin evenly.

Nhan Tran leaves: detoxify, reduce irritation, even skin tone and smooth skin.

Doesn't make skin dry and flaky when used.
Cons: The product contains alcohol at a safe level, but if your skin is too sensitive, you should still consider choosing.
5
CC Melano Vitamin C
Referring to the effect of treating dark spots - preventing acne, it is impossible to ignore vitamin C serum lines. In which, CC Melano Vitamin C (Rohto – Japan) is a product introduced by many dermatologists because of the "beautiful" ingredient list, affordable price and especially the prestige of the brand.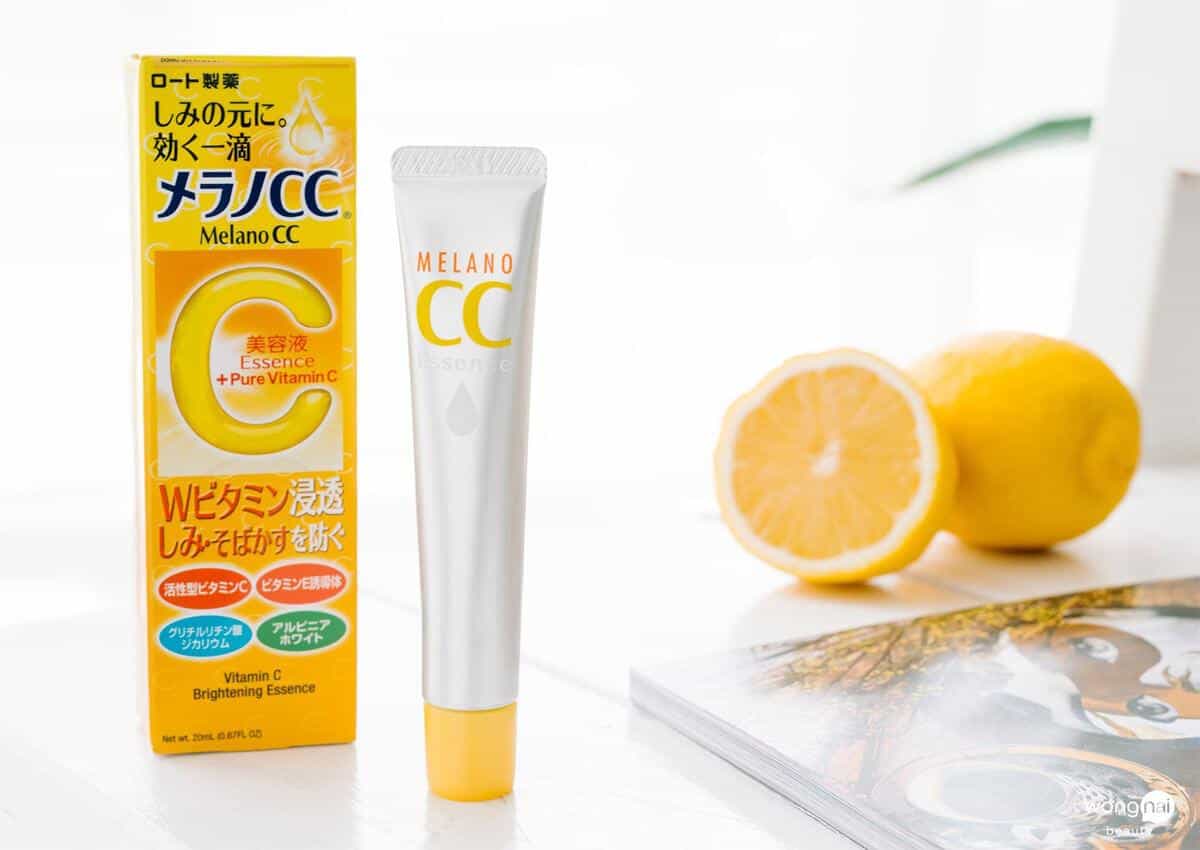 Outstanding ingredients and uses:
LAA - Ascorbic Acid (Pure Vitamin C): reduces melanin, helps fade acne, dark spots, and evens skin tone.

Tocopherol Acetate (vitamin E) ester: anti-oxidant, increases elasticity, replenishes moisture and stimulates skin regeneration effectively.

Dipotassium Glycyrrhizate: supports skin pigmentation balance.

Isopropyl Methyl Phenol: antibacterial, anti-inflammatory, prevents acne.

The ingredients do not contain irritants, so it is safe and benign for all skin types.
Cons: Need to be persistent to use to bring noticeable results.
6
Ciracle Red Spot White Serum
Also a vitamin C serum, but Ciracle Red Spot White Serum It has more intensive use than other cosmetics thanks to its 15% vitamin C ingredient and many plant-based nutrients. Therefore, in addition to the main ability to treat acne, this product also helps to improve skin texture, firm and smooth skin.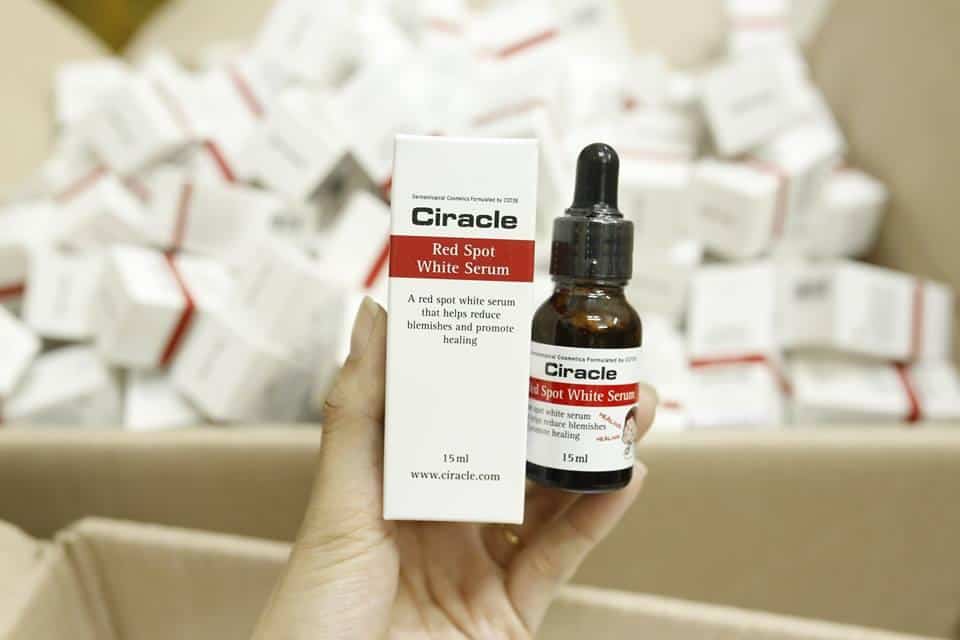 Outstanding ingredients and uses:
15% Vitamin C: reduces dark spots, prevents acne and stimulates collagen production on the skin.

Red pine extract: prevent melanin formation, whiten skin.

Niacinamide: soothes skin damage, accelerates the process of recovery - regeneration, healthy glowing skin.

Rosehip extract: replenish moisture, anti-aging skin.
Minus points: The product is difficult to store, easily oxidized and has a short shelf life.
7
Murad Rapid Age Spot and Pigment Lightening Serum
Murad Rapid Age Spot and Pigment Lightening Serum This is a product line recommended by many top beauty bloggers if you are having problems with acne. Despite the high price tag, with a "genuine" ingredient list and many great uses for inhibiting melanin synthesis, this investment will not let you down.
Outstanding ingredients and uses:
Hydroquinone 2%: effectively treat dark spots, whiten skin and treat melasma.

Glycolic Acid: gently exfoliates, allowing active ingredients to be absorbed quickly.

Proprietary NHP-3 technology with Niacinamide, Hexylresorcinol and Plankton Extract: removes dark spots and brown spots on the skin.

Ferulic acid: sunscreen and protects the skin against the effects of the environment.

Vitamin C: anti-oxidant, stimulates collagen production, strengthens and evens skin tone.
Minus point:
Expensive.

Strong activity should not be used for a long time.
Here are the reviews of the lines acne treatment serum Recently appreciated by users. Each product will have a different ingredient list as well as different advantages and disadvantages, hopefully helping you choose the right skin care line - special treatment.
Any questions about each skin condition, you can contact Miss Tram - Natural Beauty Center via hotline 1900 7018 for a free consultation. Wish you always have a beautiful healthy skin!