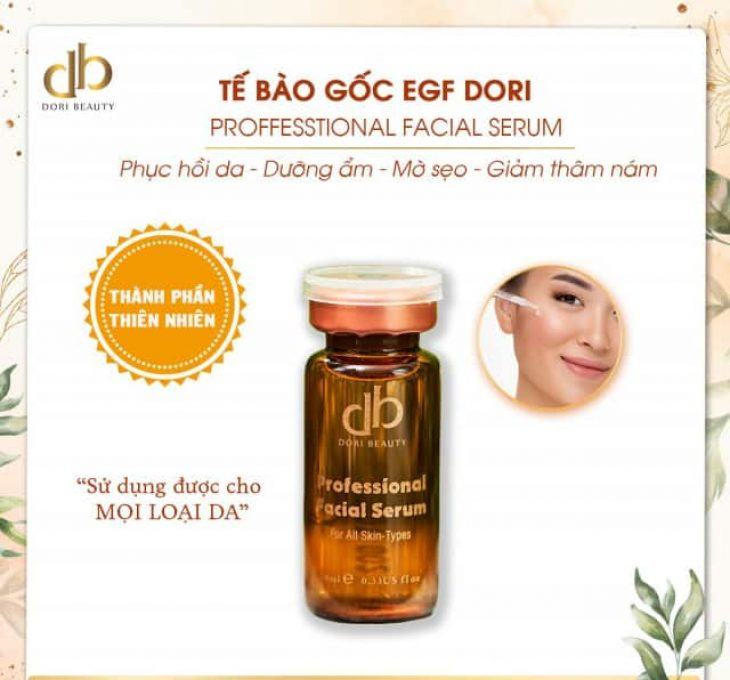 TOP 6 Serums to fill pitted scars, the best concave scars today
Review of 6 Highly Effective Scar Filling Serums
Pitted scars - consequences of acne degrade beauty, make you lose confidence. To "fill" pitted scars requires an arduous, challenging process and is indispensable for quality scar serum products. This paragraph Miss Tram - Natural Beauty Center will help you review in detail 6 types of serums to fill pitted scars Very effective, let's explore!
1. Eldas Korea Scar Treatment Serum
Eldas Korea Scar Filling Serum belongs to Eldas brand originating from Korea - a country famous for cosmetics and beauty technology. The product is located in the high-end cosmetic segment, known for its excellent penetration ability to effectively nourish and care for the skin.
Benign ingredients include EGF, Peptide, Butylene Glycol, Hyde roll Rise de collagen…
Product uses:
Helps improve skin elasticity and texture, facial skin tightening.

Stimulates the production of new cells, fills the skin that is defective due to acne, damage left behind.

Helps skin plump, smooth and reduce irritation.
Minus point:
2. Timeless Matrixyl Synthe' 6 . Pore Scar Removal Serum
Timeless Matrixyl Synthe' 6 Serum is one of the best-selling products of Timeless - a very famous brand in the US for skin care cosmetics. Although it has only an affordable price, it is undeniably effective that Timeless Matrixyl Synthe' 6 brings in the treatment of pitted and concave scars.
Main ingredients include 3 active ingredients: aloe extract, Matrixyl Synthe'6, Hyaluronic Acid. The plus point of this serum is that it is paraben-free, fragrance-free, and alcohol-free.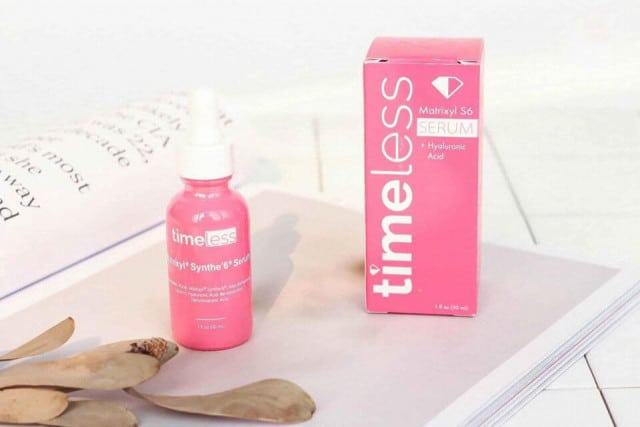 Product uses:
Supports the treatment of wounds on the skin to heal quickly.

Effectively moisturizes and hydrates for smooth, supple skin.

Stimulates collagen production to fill wrinkles and pitted scars.
Minus point:
Long-lasting effect (about 3-4 months after using the product).
3. EGF DORI Stem Cell Serum
If you are looking for an effective acne scar filling serum, you should give it a try EGF DORI stem cells. As a product of domestic brand origin, DORI serum was born to meet the unique requirements of Vietnamese skin. Serum for pitting scars EGF DORI It is highly appreciated by many industry experts and spa cosmetics for its ingredients and uses. The product can be used for all skin types.
Safe and benign ingredients for skin: Centella Asiatica Extract (centella Asiatica extract), Gluconobacter/honey Ferment Filtrate (honey yeast), Morus Alba Leaf Extract (mulberry), Lactic Acid, Phellodendron Amurense Bark Extract (bark) Hoang Ba).
Product uses:
Stimulates collagen production to help fill pitted scars and heal dark scars.

Remove dark spots and freckles on the face.

Promotes skin repair and regeneration.

Soothes burned, itchy and sunburned skin.

Balances skin's moisture and helps tighten pores.
Minus point:
Little known to retail customers but only famous in the beauty spa industry.
4. Korean Serum Pure Vitamin C 21.5
One more Korean serum that is extremely good at treating pitted and concave scars is Pure Vitamin C 21.5. Upgraded from C20, this product is now "fever" in the beauty market thanks to its good product quality, affordable price and extremely beautiful packaging.
Ingredients are benign and suitable for all skin types: Ethyl Hexanediol, Xanthan Gum, Cassia Obtusifolia Seed Extract, Allantoin, Sodium Lactate, 1,2-Hexanediol Sodium, Hippophae Rhamnoides Water 70%, Ascorbic Acid 21.5%, Hyaluronate Panthenol.
Product uses:
Nutrients penetrate deep into each layer of cells to support skin whitening and tighten pores.

Treat melasma, freckles, dark spots and pitted scars after acne.

Balance PH for skin.

Prevent skin aging and limit the formation of blackheads.
Minus point:
When used, it feels sticky and shiny.

Careful storage: do not expose to the sun for too long and keep the serum at a cold temperature.
5. NuEssential Scar Serum Control
If you are looking for a solution to the problem of pitted scars, concave scars and skin aging, then NuEssential Scar Control is a suggestion you should refer to. Originating from the brand name of Mibiti Prudente USA, the product applies stem cell technology - herbal stem cells to help restore damage from deep within the skin.
The basic ingredients of NuEssential Scar Control include enhanced fibroblast-stimulating factors, amino acids, peptides, plant extracts (centu kola extract, purslane extract, ginkgo biloba extract, turmeric, strawberry) silkworms, green tea leaves)…
Product uses:
Stimulates growth and production of collagen filling pitted scar treatment, scar.

Rejuvenate skin, remove dark spots and smooth wrinkles.

Lifting helps the skin become firm and smooth.
Minus point:
The effect is only visible after a long period of consistent use.
6. GSC . Scar Serum
GSC is known as a cosmetic company specializing in the application of marine microalgae technology - stem cells to solve skin problems. Present, serum GSC Many people believe in supporting the treatment of concave scars, pitted scars after acne on the face.
GSC ingredients include chestnut stem cells (containing vitamin B), white willow stem cells (with hydroxy acids), vitamin C, anti-aging agents.
Product uses:
Protects skin from UV rays – reduces the chances of skin cancer and the production of melanin that darkens the skin.

Exfoliate dead skin cells

, unclog pores.

Promotes the production of skin cells to help fill in pitted and pitted scars.
Minus point:
The above article has been compiled TOP 6 best serum to fill pitted and concave scars now. For the most complete and detailed advice on the scar treatment route for your skin, contact Miss Tram - Natural Beauty Center immediately at the hotline 1900 7018!
Review Top Skin Care Products