Skin Care It is always a matter of great concern to women. Most women will choose cosmetic lines or famous skin care products on the market. However, if you do not choose wisely and arbitrarily use inappropriate products, your skin can have many serious problems.
According to Healthline magazine (a reputable online medical and health website), many beauty products are extremely famous, but with sensitive skin, they can cause a lot of damage. Together Miss Tram - Natural Beauty Center List the skin care products to avoid for sensitive skin.
Skin Care Products Not Good For Sensitive Skin
1. Makeup remover tissue
In recent years, makeup remover tissues are being "cclaimed" for their quick - convenient - effective makeup removal and skin cleansing properties. Many beauty magazines recommend that women should pocket this product to remove makeup in an emergency.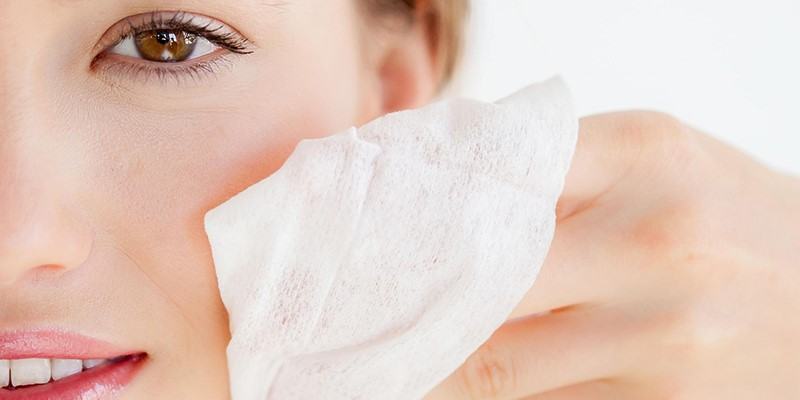 The convenience that makeup remover tissue brings is undeniable, but not all skin is suitable for them for the following reasons:
The ingredients in makeup remover tissues contain a lot of alcohol, preservatives and fragrances – easily irritating to dry, sensitive skin.

Makeup remover tissues are made from polyester, polypropylene, cotton, rayon materials - not "friendly" to the skin and can cause damage if used too hard.
Therefore, with dry and sensitive skin, you need to minimize the use of these cleaning products. As for normal skin, oily skin, you also need to be careful and should not use makeup remover tissue too often. Because they will not completely clean cosmetic residue and dirt like makeup removal steps with specialized products.
2. Exfoliating St. Ives Apricot Scrub
St. Ives Apricot Scrub is an exfoliating product with crushed walnut extract. Since its inception, this product has been "worshiped" by many beauty believers because of its natural ingredients and great uses.
However, not everyone appreciates this cosmetic line, especially those with delicate skin, acne or sensitive skin. The reason is that the lithium component from crushed walnuts is too rough, easy to cause damage and irritation on the skin.
Some studies also suggest that exfoliating ingredients containing crushed nuts from fruit or other ingredients with a structure similar to walnuts have a high risk of irritation with sensitive skin. Therefore, look for granular exfoliants that are more gentle on the skin like hydrogenated jojoba beads, or chemical exfoliants if your skin is prone to irritation.
>>> Related article: Notes to know when Exfoliating for sensitive skin – 4 notes to pay attention to when exfoliating for sensitive skin.
3. Cetaphil Facial Cleanser
Cetaphil face wash is recommended by many dermatologists for sensitive skin. So why does Healthline magazine list them as harmful products for the skin?
The reason is in the composition of SRM Cetaphil including: water, cetyl alcohol, propylene glycol, sodium lauryl sulfate, stearyl alcohol, methylparaben, propylparaben, butylparaben. Inside:
There are 3 ingredients parabens – potentially carcinogenic.

There are 5 ingredients that are in the group of endocrine disruptors.
Although this line of face wash does not cause direct or visible harm. But for those of you who have delicate skin, are concerned about the chemical ingredients in this product, or are a follower of "Green" cosmetics, Cetaphil Cleanser is not your choice.
4. Clarisonic Facial Cleanser
Since its inception, the Clarisonic Facial Cleanser has made a big splash and is chosen by many women with the desire to deep clean pores. However, the unexpected effect of this machine is that it functions as an exfoliator – which has a huge impact on the skin because they are used EVERY DAY as a face wash.
With a fairly sturdy brush design and vibration of the machine when operating, the Clarisonic Facial Washer will strip away the natural oils, wear down the skin and cause irritation if used daily.
So, with healthy skin, you should only use this cleansing device 1-2 times a week. As for thin and sensitive skin, you should definitely not try.
>>> Related Articles: How to whiten facial skin for sensitive skin Safe from natural ingredients.
5. Boscia Luminizing Charcoal Mask Mặt
In the early days of appearing on the market, Boscia Luminizing black charcoal mask made many women crazy because of its cleansing effect. Because this mask line can effectively remove blackheads and dead skin layers.
However, this product will also remove delicate new skin cells and even weak hairs. For those of you with healthy skin, it's okay, but those with sensitive skin will feel how damaged their skin is after use.
Therefore, if your skin is sensitive, it is best to choose more benign mask lines such as clay, mineral mud or activated charcoal to nourish and clean your skin in a safer way.
6. Glamglow Firming Treatment Mask
Glamglow's line of skin treatment masks are quite famous because they are advertised with many uses and "looks" extremely glitter. However, scientists are quite opposed to this line of skin care cosmetics for the following reasons: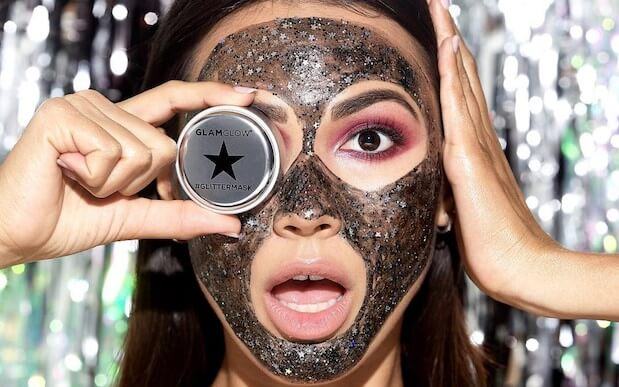 Glitter beads do not have a beautifying effect, but can cause abrasion and skin damage during use. In particular, they also cause extreme environmental pollution because they are difficult to filter through the water treatment system.
The mud in the mask has no effect on tightening the skin (only the Dead Sea mud has this effect). Therefore, you can use this type of mask to "live virtual", but for beauty uses, it is best not to use it. Especially those prone to irritation such as acne, sensitive skin.
>>> Reference articles: Detox mask recipe for sensitive skin - 3 mask recipes for sensitive skin from ingredients such as: aloe vera, honey, banana, green tea powder.
7. Biore Pore Strips Blackhead Removal
Blackhead Peeling Biore Pore Strips is used to remove stubborn blackheads in the nose area. This product is quite famous and favored by many women because of its convenience and high efficiency.
However, the composition of Biore Pore Strips contains Polyquaternium-37 (a key ingredient in hairspray), which can cause tearing and irritation of the skin during the peeling process. Therefore, for sensitive skin, you should use natural acne removal formulas instead of this beauty product.
Sensitive skin is very delicate and easily irritated, especially with cleansing cosmetic lines. Therefore, when choosing skin care products for this type of "fluffy" skin, you need to learn carefully about the ingredients, uses as well as the origin to ensure the safest.
In particular, never choose to buy indiscriminately the "hot" product lines on the market, because not every famous name is suitable for all skin types.
Hope the above sharing will be useful to you. Miss Tram - Natural Beauty Center Wish you always have a beautiful healthy skin!
See More About News – Beauty Secrets By Miss Tram - Natural Beauty Center:
Top 5 Detox Drink Recipes Energizing Body And Skin
Top 10 Habits to Help You Confidently Let Your Face Go Out
Skincare Times 4.0: No High-end Cosmetics, Just Quality Skin Care Machines