Sunscreen is one of the essential skin care products, especially in summer days. Not only effectively preventing the signs of aging and the risk of skin cancer, this cosmetic line also protects the skin from darkening. melasma, freckles and very optimal dehydration.
Although many men have understood the importance of sunscreen, not everyone uses them properly and effectively. Therefore, this article, Miss Tram - Natural Beauty Center Please share 7 mistakes that men often make when using sunscreen.
Common Mistakes Men Make When Using Sunscreen
1. Can't distinguish sunscreens
There are three basic types of sunscreen on the market today:
Physical sunscreen (Sunblock):
Sunblock is a sunscreen line containing the main ingredients of titanium dioxide and zinc oxide - which works to create a protective film on the skin, helping to block / diffuse UV rays, preventing them from affecting the skin.
Advantage:
Good sun protection, long lasting and does not need to be reapplied too many times.

Sunscreen does not penetrate the skin, does not worry about irritation.
Disadvantages:
Need to apply a thick layer so it is easy to cause greasy on the skin.

Easily washed away by external influences.

There is a white tone, so it is not suitable for men with dark skin.

If applied unevenly, UV rays will still penetrate and cause skin damage.
Chemical sunscreen (Sunscreen):
Sunscreen is a line of sunscreens containing common chemical ingredients such as avobenzone, oxybenzone, sulisobenzone, etc., which act as a chemical filter - which absorbs and converts UV rays into lower energy wavelengths. , safer and does not cause much damage to the skin.
Advantage:
Just apply a thin layer so it is easy to apply and easily absorbed into the skin.

Does not cause the phenomenon of "white" skin that is unsightly and limited to causing clogging or greasy shine on the skin.
Disadvantages:
Need to wait for the cream to be absorbed before going out in the sun (25-30 minutes).

Does not protect the skin for long, so it needs to be reapplied after a few hours.

The skin can be irritated, itchy, and oily due to chemical ingredients.
Broad spectrum sunscreen (Broad spectrum or UVA & UVB Protection):
Broad-spectrum sunscreen is considered a product line "converging the essence" of two types of chemical and physical sunscreens. This sunscreen line is rated as the best (against both UVA and UVB rays) and is suitable for quite a few skin types.
The biggest downside of this sunscreen is probably the price. Compared to chemical or physical sunscreens, broad-spectrum sunscreens are often much more expensive.
In short, to choose a suitable sunscreen line, you need to distinguish between sunscreen types and their advantages and disadvantages to choose the most suitable product for you.
>>> Related Articles: Comprehensive sun protection for skin 4 Tips to effectively protect your skin from the sun from the inside out.
2. Don't care about the index of sunscreen
Sunscreen has 2 important indicators:
SPF (Sun Protection Factor):
This index is a measure of the maximum sun protection period of a product. Depending on the light intensity, 1 SPF will protect the skin for 10-20 minutes. Therefore, if you use a sunscreen with an SPF of 15, it will last for about 3 hours.
Sunscreen's UVB protection will also be proportional to the index: SPF 15 absorbs only 94% of UVB rays, SPF 20 absorbs up to 95%, SPF 30 absorbs up to 96%, SPF 45 absorb up to 97%, SPF 60 absorbs up to 98% of UVB rays, ..
Therefore, it is best if you do outdoor activities often, you should not use it sunscreen have an SPF of less than 30.
PA (Protect Grade):
This index tells about the ability of the skin to protect against UVA rays:
PA+: 40-50% UVA protection for about 4 hours.

PA++: 60-70% UVA protection for about 8 hours.

PA+++: Up to 90% UVA protection for about 12 hours.
According to dermatologists, UVB rays are the cause of melasma and cancer, while UVA rays cause structural damage. collagen, lose elasticity and cause skin aging. Therefore, men need to pay attention to both SPF and PA to choose the right sunscreen for their purposes and use cases.
3

.

Using sunscreen that is not suitable for the nature of the skin
In addition to sunscreen types and indicators, men need to pay attention to sunscreen ingredients to make sure they are suitable for their skin nature or not.
Because each skin type (dry skin, sensitive skin, oily skin) has its own characteristics, if you choose the wrong ingredients, sunscreen can cause unnecessary irritation to the skin.
>>> Recommended articles: How to take care of Nam Gio's skin in summer - 7 important steps to help men's skin stay healthy in the summer.
4. Only apply sunscreen once a day
As Miss Tram shared, sunscreen is only effective for a certain period of time. Therefore, if you only apply sunscreen once a day, they will not protect your skin perfectly.
You need to pay attention to the SPF index to watch the time to reapply sunscreen for the most suitable skin. And the next time you apply, you just need to apply a thin layer lighter than the previous application is enough.
5. Not using the right amount of sunscreen
To ensure that sunscreen effectively protects the skin, you need to use the right dose for your skin. However, because each type of sunscreen will have its own regulations on how much to use. So you need to carefully read the instructions for use on the package to know how much sunscreen is right and enough.
6. Only use sunscreen for face skin
Any area of ​​the skin is at risk of skin cancer and skin aging. You should not focus too much on the face but "ignore" other parts of the body.
Wearing clothes, wearing gloves only partially block UVB rays, the rest are affected by the same. Therefore, if you want to protect the health of your skin, you should regularly apply sunscreen to other areas of your body. Especially in areas prone to aging such as the neck, chest, and hands.
>>> Reference article: Recipe fruit mask for men - 5 best fruit mask recipes suitable for men's skin.
7. Not cleaning the skin thoroughly at the end of the day
If you use sunscreen, you should make sure to clean your skin at the end of the day thoroughly. Because the sebum, dirt, cosmetic residue on your skin will be very difficult to clean.
Ideally, you should wash your face with 2 steps:
Makeup remover to remove all sebum and cosmetic residue on the skin.

Wash your face with a cleanser to remove any remaining dirt and dead cells.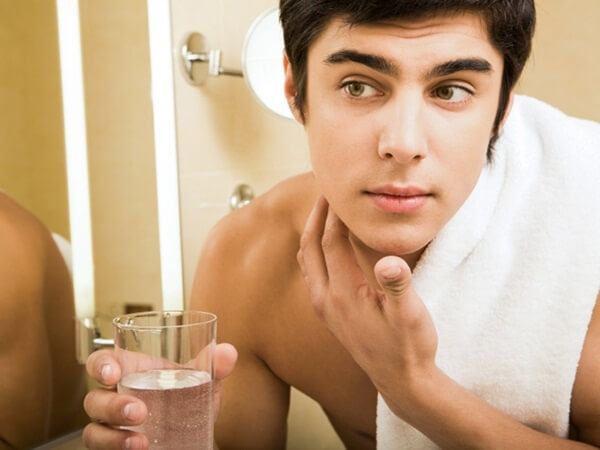 If not cleaned deeply, the dirt will clog pores, stimulate excess oil secretion and cause acne spots to appear quickly. Therefore, do not neglect this important skin care step.
Sunscreen is very important for the skin. However, to best protect the skin, men need to understand, choose the right and know how to use sunscreen effectively.
Hope the sharing of Miss Tram - Natural Beauty Center will be useful to you. Wish you always have a beautiful healthy skin!
You are viewing the article 7 Common Mistakes Men Make When Using Sunscreen in the good handbook News – Beauty Secrets of Miss Tram VietNam. All reviews and comments, please send them directly to Email teamcrmmisstram@gmail.com or you can comment right below the article. Don't forget to follow other good articles of Miss Tram and share it with everyone.