Wash your face is an important step in skin care routine. For skin care to be most effective, the skin must first be cleaned properly. Washing your face seems simple, but not everyone knows how to wash your face the best. Today's post, Miss Tram - Natural Beauty Center Please share about the The mistake of washing your face makes your skin more and more dark.
Mistakes When Washing Your Face Make Your Skin Get Darker
1. Wash your face too many times a day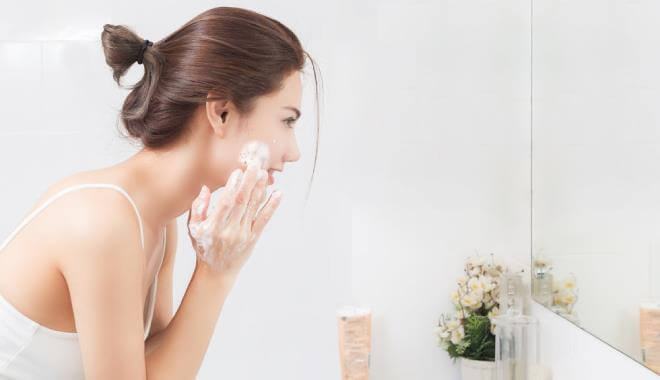 Many people believe that washing their face repeatedly helps to remove dirt, oil and gives a refreshing feeling to the skin; especially those of you with oily skin – this is a serious mistake. Washing your face too many times makes the skin lose its natural moisture, the skin becomes dry and stimulates excess oil secretion; This will make the pores easy to clog and is the main cause of acne formation.
Therefore, each day, you should only wash your face with cleanser twice: morning and evening. In addition, you should only wash your face with water no more than 2 times in the middle of the day.
>>> Refer to the quiz to find out which skin type you have the most at: https://thammymisstram.vn/trac-nghiem-kiem-tra-loai-da-cua-ban/.
2. Using a face wash that is not suitable for your skin type
Choosing the wrong face wash is the most serious mistake that women often make. Each type of face wash contains different ingredients and uses and is suitable for each individual skin type. Using inappropriate facial cleanser products can cause your skin to have problems such as itching, pimples, allergies, dry skin, etc. It's best to know your skin type to choose a cleanser. face accordingly.
In addition, with cleansers that have too strong cleansing properties, too high a pH will make the skin lose its natural moisture, dry and cracked. Therefore, give priority to choosing product lines extracted from natural, alcohol-free and with clear origin, so that the skin is cleaned in the most effective and safest way.
3. Do not wash your hands before washing your face
Another mistake that women often make when washing their face is not washing their hands before washing their face. This is equivalent to washing your face with a dirty cleanser, at this time bacteria in your hands and nails will penetrate the skin of your face, easily causing inflammation and acne.
4. Wash your face too well, too long
Many of you think that in order to deep clean your face, you need to wash your face thoroughly and for a long time - this is a mistake that makes the skin increasingly dark. The prolonged contact with facial cleanser causes the skin to lose its natural moisture, which is irritated by the detergent; Gradually the skin will become dry, sensitive and very difficult to care for.
In addition, washing your face vigorously will make the skin hurt, the skin is easy to sag and less smooth. Facial skin is a very sensitive area, so when you wash your face, you should be gentle and do not do it for too long to clean the skin most effectively.
5. Don't wash face towels often
Face towels are items used to wipe your face every day, so many of you think that they are always clean and can be used for many days. Because of that subjectivity, when washing towels, you also wash through speakers without using detergent or soap. This is a very serious mistake.
The reason is that when you use a towel to wipe your face, it will make the towel moist – this is an ideal environment for bacteria to multiply. If you do not wash your face towels every day or do not wash them thoroughly, the next time you wipe your face, your skin will accidentally be attacked by bacteria and have a lot of trouble with acne. Therefore, remember to regularly wash your face towels every day. Please.
6. Let your skin dry naturally after washing your face
A big mistake that many people make in skin care is letting the skin dry on its own without using a face towel. If the skin is allowed to dry on its own for more than 1 minute, it will begin to lose water. Air will draw moisture from wherever it can – and that means it can absorb all the moisture that is already on your skin. To prevent this from happening, lightly dab the water on your face with a cotton towel Use moisturizer right after you wash your face.
7. Do not remove makeup before washing your face at night
After a long day of working with makeup, sebum and sweat secreted, dirt clinging to it, it is never enough to just use a cleanser to clean the skin. Removing makeup before washing your face will remove makeup and sebum, dirt on the skin - which cleansers cannot remove.
In addition, if you do not wear makeup but only use skin care products and sunscreen, you must also remove makeup at the end of the day to clean the skin most effectively. (Refer to the Mistakes when removing makeup cause acne You must be familiar with it).
8. Wash your face with too hot or too cold water
Washing your face with water that is too hot will dry out your skin, which will gradually make your skin age faster. Too cold water will make your pores unable to open to deep clean pores. Therefore, only wash with water with a temperature of about 36 - 39 degrees, this is the warmth that makes the skin feel most comfortable.
Above are the The mistake of washing your face makes the skin more and more discolored. Hope this article will be useful to you. Wish you always take care of your skin properly and get the skin you want!
See More The Beauty secrets Other Miss Tram - Natural Beauty Center:
Effective Ways to Prevent Blackheads
Effective Blackhead Treatment With Clay Mask