Orlistat STADA 120mg is a well-known product for reducing the absorption of fat from food, used to support obesity treatment and safely control weight. If you are interested in Orlistat STADA 120mg and want to learn more about its effectiveness in weight loss, you need to carefully study the possible side effects and precautions when using the product.
In this detailed review, we will provide full information on the mechanism of action of Orlistat STADA 120mg, possible side effects when using the product and important notes when using the drug. So, if you are interested in this product, read our review carefully to get an overview and make a smart and safe decision to use the product.
1
Orlistat STADA Weight Loss Drug Overview 120mg
Orlistat STADA 120mg is a medicine used by doctors and nutritionists to support weight loss and body fat loss for people who are overweight or obese. This product belongs to the German STADA brand and is manufactured in Vietnam according to European technological processes, ensuring compliance with strict standards and testing procedures before reaching users. So you can rest assured to use this product with high safety and effectiveness.
With the main ingredient is orlistat - an active ingredient capable of inhibiting lipase, Orlistat STADA 120mg helps reduce the absorption and digestion of fat in food, thereby helping users eliminate excess fat in meals effectively. fruit.
2
Orlistat STADA Weight Loss Pills 120mg Is It Safe and Effective?
To know if Orlistat STADA 120mg is effective, safe or not, let's learn in detail about the advantages of the product:
2.1/ ​​Lose weight according to a scientific mechanism
Orlistat STADA 120mg has the main ingredients including Orlistat 120mg and some other excipients. The drug works according to a scientific mechanism:
When food is ingested, the fat in the food is usually broken down by the enzyme lipase into fatty acids and glycerol that can be absorbed by the body.
Active ingredient Orlistat will inhibit the enzyme lipase, preventing fat from being absorbed.
The amount of undissolved fat will be pushed out through the anus, reducing the amount of calories absorbed into the body.
Losing weight in a scientific way includes applying a reasonable exercise regimen and appropriate nutrition to reduce excess body fat, instead of losing water or muscle mass. Therefore, instead of applying methods of fasting, skipping meals or abstinence, the use of Orlistat STADA 120mg is considered as an effective solution to reduce the absorption of fat in the diet, helping users not feel feel pressure.
2.2/ Products of reputable brands
Orlistat STADA 120mg is a product of the STADA brand - this is one of the leading prestigious German pharmaceutical companies with a history of over 125 years. STADA's products always aim at the following criteria:
Meets high quality and safety standards.
Good price so that all users get health care.
Continuous improvement to optimize the effectiveness of products and customer care services.
Environmentally friendly for sustainable development.
So, Orlistat STADA 120mg manufactured with the purpose of bringing a scientific, safe and effective weight loss solution; both reduce the absorption of fat in food effectively and help users feel more comfortable during meals.
2.3/ User reviews
To have a more objective view of Orlistat STADA 120mg weight loss drug, you can refer to some more feedback from customers who have used it on some forums:
Review on the forum Q - Answer
I've taken this medicine before, and it worked. My job is a lot of exercise, so I diet without a pot, use this medicine to eat comfortably without fear of fat accumulation because it eliminates fat in food quite well. Every day I eat a lot of fried food, I go to the toilet at the end of the day. The side effects depend on the organism, I don't get tired or headache when I use it, I think it's safe to take the medicine sold at the drugstore, all the big drugstore chains sell it all.
3
Notes on Use and Side Effects of Orlistat STADA 120mg
3.1/ Objects of use
Orlistat STADA 120mg is indicated for use in a low calorie diet for the following subjects:
Patients in the course of obesity treatment, with BMI greater than 30 kg/m2.
People who are overweight, have a BMI greater than 28 kg/m2 with many risk factors for diabetes, high blood pressure, and hyperlipidemia.
People who need to maintain weight, control their physique, and have a suitable condition can also use the drug.
With the following cases, Orlistat STADA 120mg is contraindicated:
People who are allergic to the ingredients of the drug.
The patient is being treated concurrently with the active ingredients ciclosporin, warfarin, anticoagulants.
Pregnant or lactating women.
Children under 12 year old.
If using Orlistat STADA 120mg continuously for 12 weeks without losing at least 5% of body weight, you should stop and consult your pharmacist or doctor for a more suitable weight loss plan.
3.2/ Usage
The indicated dose for Orlistat STADA 120mg is to take 1 tablet immediately before, during or 1 hour after eating a main meal.
Dosage: 3 times/day.
It is not necessary if the meal does not contain fat.
3.3/ Notes when using
Important notes when using Orlistat STADA 120mg:
Patients with diabetes should be closely monitored when using antidiabetic drugs.
The use of the drug with a high-fat diet may cause some adverse reactions in the gastrointestinal tract.
Should have a supplementary diet with vegetables and fruits or supplement with multivitamins at least 2 hours after taking the drug to supplement vitamins for the body.
Orlistat may reduce the absorption of oral medications (birth control pills, HIV antiretroviral drugs, antiepileptic drugs, etc.).
3.4/ Unwanted side effects
Using Orlistat STADA 120mg may experience some unwanted side effects and the incidence will decrease gradually:
Headache, fatigue, respiratory disorders, flu.
Abdominal pain, indigestion, feeling of urgency, loose stools with fat, defecation more often than usual.
Urinary tract infections, nutritional metabolism disorders.
Menstrual disorders.
Undesirable side effects of Orlistat STADA 120mg may include immune system disorders such as rash and anaphylaxis, gastrointestinal disorders such as rectal bleeding and pancreatitis, skin disorders such as bullae, kidney disorders such as nephrolithiasis and renal failure, and hepatobiliary disorders such as gallstones and cholecystitis.
However, since these adverse events have not been clearly identified based on the postmarketing report of Orlistat STADA 120mg, their frequency is also unknown. Therefore, users should use this product with caution and under the guidance of a pharmacist or doctor to avoid possible unwanted effects.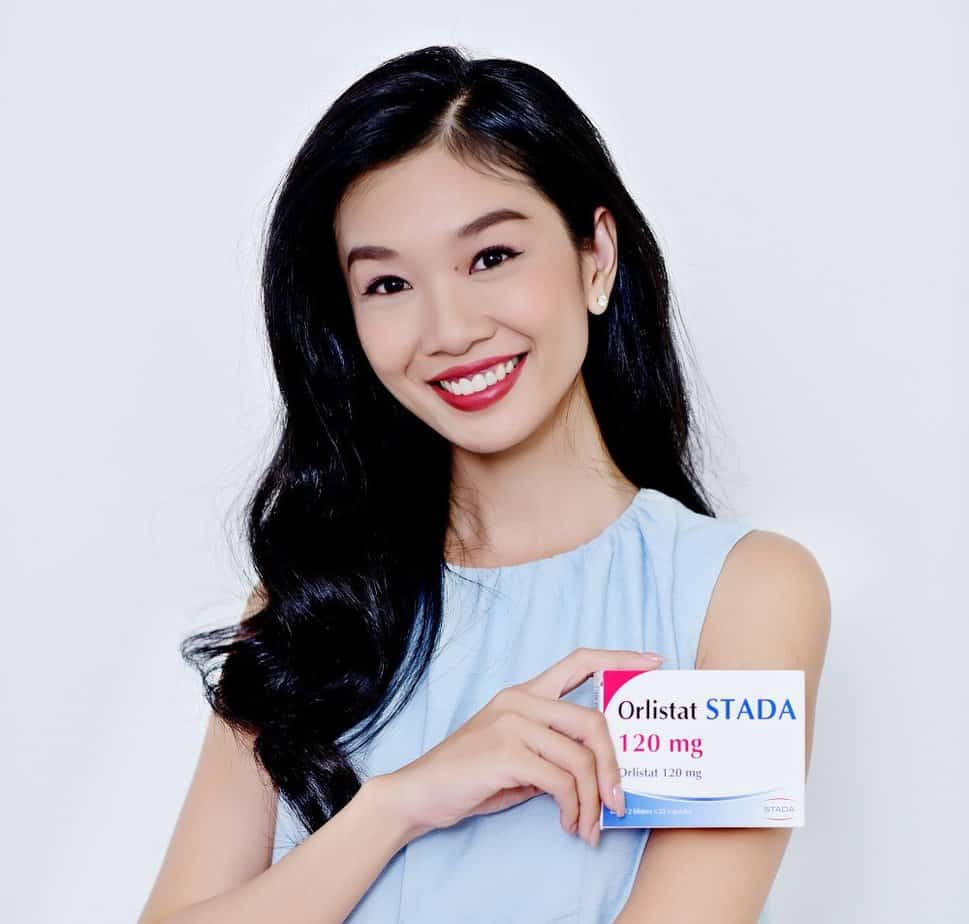 4
Price And How To Buy Orlistat STADA 120mg
Orlistat STADA 120mg is an over-the-counter drug and is widely sold in drugstore systems nationwide.
Packing: Box of 2 blisters, blisters of 21 hard capsules.
Reference price: 365.000 VND – 440.000 VND/box
Producer: STADA Vietnam.
Exclusively distributed by: Pypharm Pharmaceutical Trading Joint Stock Company.
Official website: https://orlistatstada.vn/
5
Conclude
From the above information, it can be drawn that Orlistat STADA 120mg is an effective weight loss drug when combined with proper diet, exercise and rest. If there is a need to use the product, users should consult with experts such as pharmacists or doctors to maximize the effectiveness in the process of weight control.
Some topics for reference and further discussion: