Today, the demand for beauty care not only stops at home, but also develops a trend to go to beauty salons and spas. In Ho Chi Minh City, Mailisa is one of the famous beauty salons, receiving the attention of beauty believers.
You need to refer to the most detailed review of Mailisa's service, quality, and price list to have a basis for consideration. This article will be the source of information you need, please stay tuned!
1
Mailisa Beauty Salon Overview
Mailisa Beauty Salon was established in 1998 with more than 20 years of operation in the Vietnamese beauty market. Operating based on 3 criteria: good personnel, perfect service, modern technology; Mailisa is currently a familiar beauty address of many HCM customers.
The unit also constantly learns, receives and expands the system chain to well meet the beauty care needs of customers.
2
Beauty Services at Mailisa Beauty Salon HCM
Mailisa offers a wide range of beauty care services, from cosmetic tattooing - art, plastic surgery, hair removal, skin care. In there:
Cosmetic tattooing services - art:
Spray queen lips.

Spray crystal lips.

Spray lip gloss with Collagen.

Spray lips with 3D matte lipstick effect.

Treat dark lips.

Combo cosmetic tattoo spray: eyebrows - eyelids - lips.

Micro-touch eyelid spray.

Spray pink breast.

Korean Natural powder eyebrow spray.

Spray eyebrows with Light Touch particles.

Artistic tattoo.

Artistic wig tattoo.

Laser tattoo removal.

....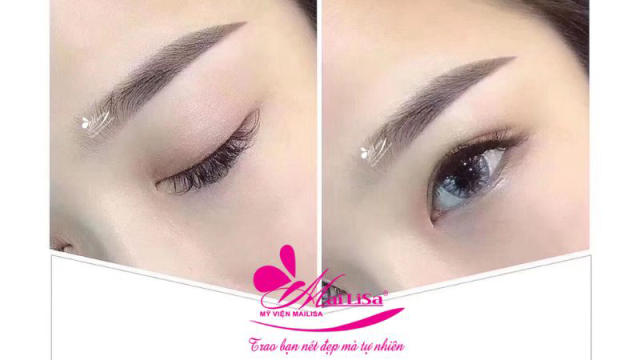 Plastic surgery services:
Facial skin tightening.

Remove eye bags.

Create a wing-tip thumbnail.

S-line rhinoplasty, cartilage wrap.

Create dimples.

Cut eyelids.

Dove eyelids.

Rhinoplasty carved in Korea.

Rhinoplasty Filler Korea.

....
Skin care services:
Treatment of melasma, darkening technique Whiteskin Laser Royal.

Treat acne, dark scars Anti laser CO2 Fractional.

Fractional CO2 laser pitted scar removal.

Laser Skin Rejuvenation, Oxy Oasis.

Minimize pores with Almighty oxygen jet technology and IPL QQ+.

...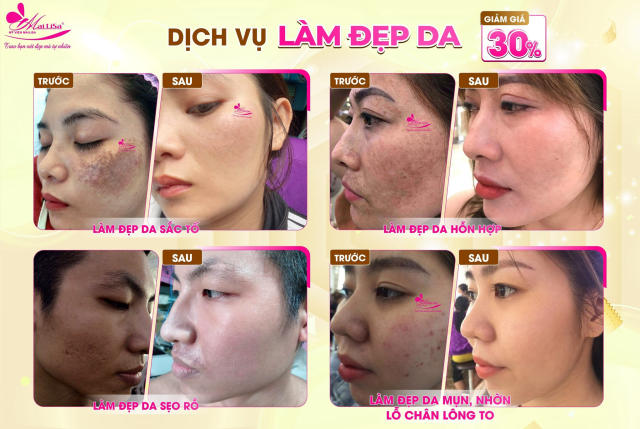 Hair removal services:
Armpit hair removal.

Facial hair removal.

Trim the edge.

Remove 1/2 hand.

Thorough hands.

Trim feet.

Trim bikini.

Abdominal removal.

Back hair removal.

...
3
Is Mailisa Beauty Salon's Beauty Service Good?
Among many beauty addresses in HCM, the service quality at Mailisa is highly appreciated by customers because:
Using advanced and modern equipment; make beauty treatments fast, accurate and highly effective.

The system of rooms is spacious, comfortable and modern.

A team of technicians with rich experience in the field of beauty, high expertise.

Enthusiastic consultants, recommending services in accordance with the needs and conditions of customers.

Diversified beauty services to meet the needs of customers.

Using high-quality genuine cosmetics, inkjet ink, essence... in the treatments.

Commitment to quality service is clear, there is a specific warranty policy for each service.

Constantly improving, updating the latest beauty methods.

Reasonable price, clear quotation; There are regular promotions, attractive service discounts.

Do not "pull" to use unnecessary services and cosmetics.
4
Service Quotation at Mailisa Beauty Salon
Mailisa's service price list is updated in 2023, refer to it now:
| | |
| --- | --- |
| Salon | Cost |
| Eyebrow spray | 4 million VND |
| Removal of deer eyelid spray package | 6 million VND |
| Remove lip spray package | 8 million VND |
| Spray eyelids to open deer eyes | 2 million VND |
| Spray lip gloss with Collagen | 6 million VND |
| Remove eyebrow spray package | 6 million VND |
| Rhinoplasty, carving | 15 million VND |
| Press the dimples | 4 million VND |
| Raise eyebrows | 12 million VND |
| Double eyelid surgery, fat removal, excess skin | 9 million VND |
| Complete foot removal | 14 million dong. |
| Eliminate 1/2 hand | 7 million VND |
| Hand sterilization | 10 million VND |
| Bikini philosophy | 6 million VND |
| Armpit hair removal | 6 million VND |
| Edge removal | 5 million VND |
| Abdominal removal | 6 million VND |
| Back hair removal | 12 million VND |
Choosing a reputable beauty facility will help you feel secure during using the service. Hope the above information will help you easily judge about Service quality at Mailisa Beauty Salon. Refer to the list Top beauty spas in Vietnam to add more options.