Rebi Beauty HCM is famous for its acne treatment services, pitted scars, PRP restoration... So among many similar service providers, what advantages does Rebi Beauty HCM have to become a trusted choice of customers? row?
Please refer to the review of services, quality, and quotes of Rebi Beauty HCM for a realistic view.
Overview of Rebi Beauty HCM
Rebi Beauty has been in operation since 2018, the brand name Rebi stands for Rebirth - rebirth. This name also represents the mission of the unit - to regenerate the skin for customers to have a more perfect, more confident appearance.
Despite "late birth", but Rebi Beauty still affirms its position in the market thanks to quality treatments, good personnel and professional customer care policies.
In particular, Rebi Beauty does not follow the market with "instant noodles" methods, but chooses safe and sustainable beauty methods.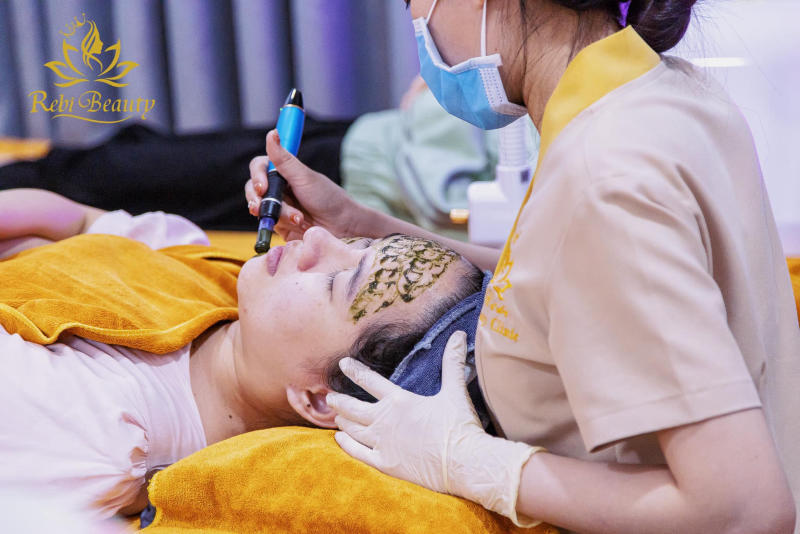 Rebi Beauty's key services include:
Anti-inflammatory acne treatment: offer effective acne treatment courses, helping to minimize the risk of acne recurrence.
Therepy Mask CO2 purifying acne: no pain, no swelling, no redness, non-invasive. The service can be used for severe acne skin conditions, skin poisoning with Corticoid, lead, allergies...
Treatment of dark spots - pitted scars: check the skin and make a treatment plan for each case.
PRP VIP implant for skin restoration: a safe, autologous biological solution, suitable for many skin conditions and ages.
Other services: shrink pores, cellulite treatment, skin rejuvenation...
Is Rebi Beauty HCM Good?
Among a series of spas and beauty salons in HCM today, Rebi Beauty is still known and chosen by many customers thanks to:
Gathering a team of highly skilled experts and technicians
At Rebi Beauty, there are dermatologists, skin care technicians with many years of experience in the profession, dedicated to their work. As a result, customers coming to Rebi Beauty will receive attentive and professional service from consultation, treatment and after-sales.
Diverse services specialized in acne skin
As a spa specializing in acne skin care and treatment, Rebi Beauty offers a variety of services to meet most customer segments. From students to high-class customers, foreign guests, the unit has an effective and cost-effective treatment regimen.
Application of modern technology and techniques
Rebi Beauty HCM focuses on updating new technologies and techniques to increase service efficiency and quickly improve skin for customers.
Use quality cosmetics
Skin care and treatment products at Rebi Beauty HCM are all genuine products of world-renowned pharmaceutical and cosmetic brands. As a result, Rebi Beauty's beauty treatments are highly effective and safe for the skin.
Professional service process
Rebi Beauty HCM's services are performed according to standard working procedures - ensuring clarity. Each client is carefully examined and consulted with the appropriate course of treatment before treatment.
Transparent costs, many incentives
Rebi Beauty HCM is committed to a clear quote during the service consultation process, the customer agrees to proceed. At the same time, the unit also regularly implements discount programs or offers services/gifts.
Other advantages:
In addition, beauty services at Rebi Beauty HCM are also trusted by:
There is no situation of "pushing" customers to use the service or buy more unnecessary products.
Service quality is guaranteed as advertised, clear warranty for each service.
Attentive service before, during and after service.
Spa space close, private, comfortable.
*** Note: Currently, there is no public information about the beauty price list at Rebi Beauty HCM. So you can contact Rebi Beauty HCM directly to get the most accurate quote.
The article has compiled important information about beauty services of Rebi Beauty HCM for you to get an overview, comparison and make the right decision.
If you need to learn more about beauty spas by District in Ho Chi Minh City, please refer to Summary of Top Prestigious Beauty Spas for more options.