Choosing a reputable beauty address helps you feel more secure about the quality of services, satisfied with the cost spent. In Ho Chi Minh City, Huong Tra Beauty & Academy is one of the famous spas, favored by many beauty believers "choosing the face to send gold".
What services does Huong Tra Beauty & Academy HCM have? How's the quality? Is the cost high? Let's review in detail about beauty services at Huong Tra Beauty & Academy HCM in this article.
Beauty Services at Huong Tra Beauty & Academy HCM
Huong Tra Beauty & Academy HCM focuses on cosmetic tattooing services, focusing on technology development - technician skills, using safe organic ink for health.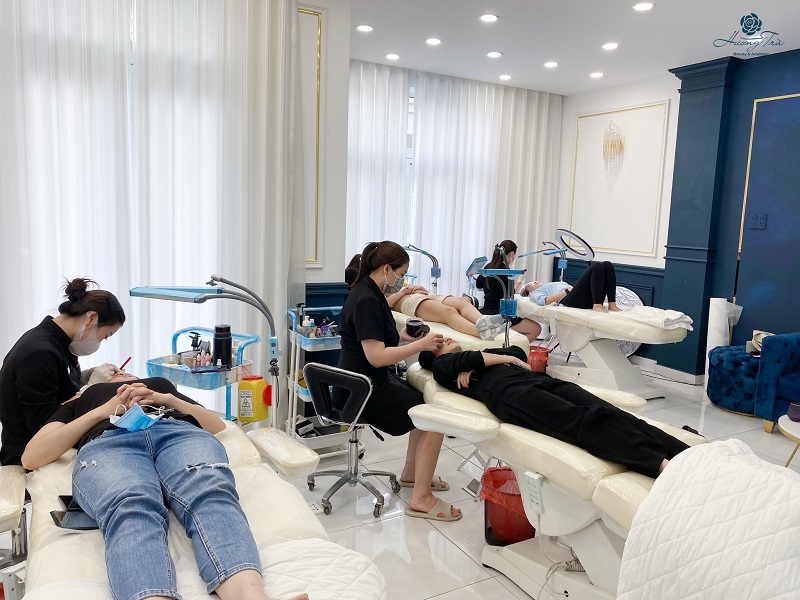 Outstanding services are available at Huong Tra:
Eyebrow Sculpting Hairstrokes: machine-carved eyebrow hairs with natural fiber layout; for slender contours of eyebrows, longer durability than old technologies.
Microblading: use a hand tool with a small blade to carve the eyebrows directly on the skin to resemble the most natural eyebrows. At the same time, combine the eyebrow ombre to create natural and harmonious eyebrows.
Ombre eyebrow spray: creates a clear dark and light distribution for the eyebrows - bringing a natural and modern look to the face.
Spray open eyelids: spray the line close to the eyelash line - from the tip of the eyelid 1,5mm from the tear gland to the tail, 1,5mm from the corner of the eye; the line does not kick the tail out. This technique helps to improve the eyelid contour, giving the eyes a sharper and more attractive look.
Eyeliner spray: contour lines, kick the tail out of the lash line, thick and thin eyelid lines depending on customer needs.
Eyebrow laser removal: destroys the ink color without affecting the eyebrow hairs.
Crystal Lip Spray & Collagen Gloss: spray with the tip of the needle, glide over the lips; For fresh, sexy, natural lips.
Remove dark lips: treat dark lips, pale lips, create standard lip lines.
Customers coming to Huong Tra Beauty & Academy HCM will receive thorough service advice and provide the most appropriate and effective beauty solutions.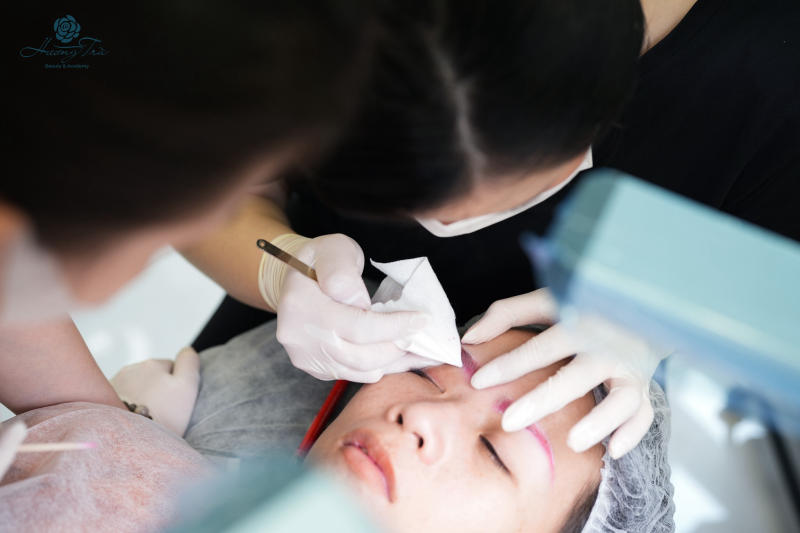 Review of Beauty Services of Huong Tra Beauty & Academy HCM
With many years of experience in the profession and a series of prestigious awards in beauty, Huong Tra Beauty & Academy is trusted and chosen by many customers. Strengths in the service of Huong Tra Beauty & Academy are reflected in many aspects, specifically:
Led by Master Huong Tra - high reputation in the profession
Master Huong Tra has many years of dedication in the cosmetology industry, being on the jury of major competitions such as: Vietnam PMU Championship 2020 & New Face PMU 2020, Thien Kim Award...
During the process of building and developing Huong Tra Beauty & Academy, Master Huong Tra always aims at three enduring values: enthusiasm - sincerity - sincerity.
Good, experienced and enthusiastic staff
Huong Tra Beauty & Academy has a team of highly specialized personnel, well-trained in both technical and soft skills to serve customers effectively. Most of the staff at the center are students with high achievements in training courses organized by the center and are retained to serve customers.
Full and modern facilities
Huong Tra Beauty & Academy quickly embraces the most advanced beauty technologies from the cosmetology powerhouses to serve customers effectively. At the same time, the unit focuses on investing in facilities, equipment, and service rooms that meet international standards.
Many promotions
Wishing to create favorable conditions for customers to have access to quality beauty services, Huong Tra Beauty & Academy regularly deploys offers with services or discounts.
Other advantages
In addition to the above strengths, the services of Huong Tra Beauty & Academy are also highly appreciated by:
Diversified beauty services to meet the needs of customers.
Professional and methodical service process.
Using high-quality, genuine cosmetics, inkjet ink, tattoo tools, etc. in the treatments.
Commitment to quality service is clear, specific warranty policy - thoughtful for each service.
Clear quotation before doing.
Do not "pull" to use additional services or buy unnecessary cosmetics.
*** Currently, Huong Tra Beauty & Academy HCM does not publicize service prices. You can contact us directly for a quick and accurate quote.
Hope information Review of Beauty Services of Huong Tra Beauty & Academy HCM: Service, Quality, Quotation will help you better understand this beauty address. When you have a need for more information on reviews of other beauty salons and spas in HCM, follow the column Top Beauty Spas by Miss Tram.