Safe Method of Needle Rolling for Pore Scars. Things To Note After Needle Rolling
Needle Rolling Procedure for Pimple Scar Treatment
When acne disappears, it can leave pitted scars on the skin that make you lose confidence. So if applying the needle rolling method to treat pitted scars, is it really effective?
Treatment of pitted scars by needle roller is a method that many women promote in recent times. Before proceeding to treat pitted scars with needle roller, please Miss Tram - Natural Beauty Center Learn more about this new beauty method!
What is the effect of needle roller technology?
Treatment of pitted scars by needle roller is a method of using "special" micro-designed needles that act directly on the scarred skin. Although only causing external damage to the skin, this process activates the body's self-healing mechanism, thereby helping the skin to regenerate quickly, promoting collagen proliferation and helping to absorb therapeutic nutrients. Nourishes, restores and heals damage from deep within. This method is effective for areas with pitted scars – which are the most persistent and difficult to recover.
In particular, the method of scar treatment helps the wound heal itself while keeping the skin tissue intact, without causing any significant damage. In addition, this method is safe for all skin types, does not cause complications, does not cause discomfort to customers during treatment. The recovery time is relatively short, with little downtime.
However, if you are a busy person, doing jobs that often have to go out, you should consider this method, because during the initial treatment the skin may change pigmentation, becoming more sensitive.
>>> Related Articles: Can needle rollers treat pitted scars permanently? – Learn the advantages and disadvantages of the method of needle roller scar treatment. The secret to treating pitted scars is forever.
In addition to treating pitted scars, which subjects are needle rollers suitable for?
The method of needle rolling, whether done by hand or machine, also follows the same principle of operation as creating micro lesions to stimulate the body to increase cell proliferation. Therefore, subjects with the following conditions should undergo a needle roller procedure such as aging skin, broken wrinkles, tiny acne near the eyes, large pores, loose sagging, post-acne scars, pitted scars , concave scars, skin cracks, melasma, skin tightening after liposuction.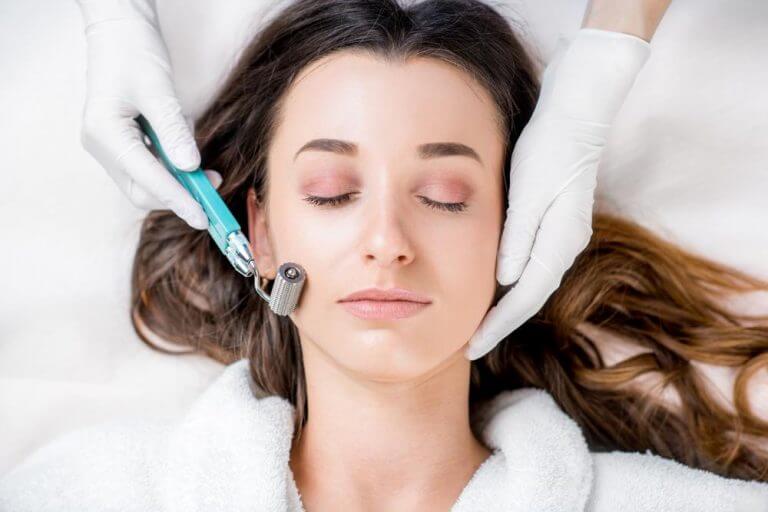 Steps to treat pitted scars at Miss Tram
Step 1: Examine and check, determine the extent of scars

Step 2: Disinfect the skin to be treated and apply a numbing layer. Depending on the skin condition, the incubation time can last from 20-30 minutes.

Step 3: Perform the needle roller operation and put the nutrients deep into the skin.
There are two forms of needle roller:
Needle roller by machine: used to treat cases of pitted scars that are too severe. The needle tip used is from 0,2 to 0,5 mm.

Manual needle roller: used for skin care to help reduce wrinkles, tighten pores, whiten skin. Needle tip used from 0,2 to 0,5 mm. Especially, hand-rolled needles do not need anesthesia, just roll gently and put nutrients into the skin. The use will depend on the nutrients that the customer chooses to include.
>>> Related Articles: Today's safe and effective pitted scar removal methods Choose the most suitable acne scar treatment method for you.
Things to note after rolling the needle to treat pitted scars
- Avoid direct sun exposure for about 5-7 days after needle roller.

- Practice sun protection for the skin, whether rolling or not, especially during the time when the skin regenerates, it needs more protection.
- Do not use cosmetics or makeup after rolling unless directed by a doctor.
- Learn more about the medicine as well as the nutrients used after rolling.
- Do not roll the needle when there are cysts, pustules and inflammatory acne because it will make acne worse. However, cases with hidden acne can apply needle roller to treat.
- When you are in your period or pregnant, you should not roll the needle as well as squeeze the acne because it is easy to bring dark scars and slow healing
– Before proceeding to treat pitted scars with needle roller, learn carefully this beauty method as well as find yourself a reputable cosmetic facility to avoid money loss!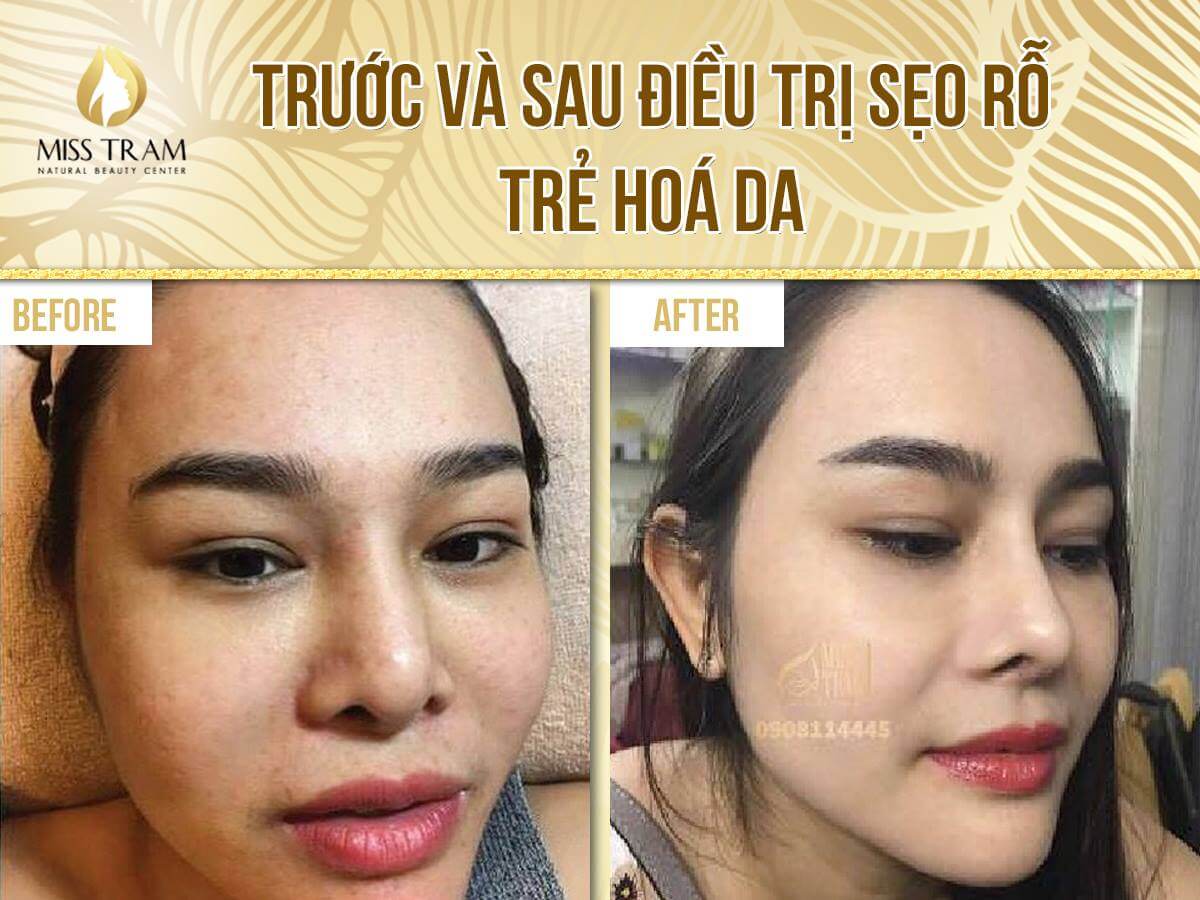 >>> Related Articles: Why Supplement Collagen After Needle Rolling – Learn about the benefits of collagen for the skin after needle roller treatment for pitted scars.
Miss Tram - Natural Beauty Center is proud to be a safe and effective beauty address, an address chosen by thousands of customers to treat skin problems. With more than 10 years of experience in the cosmetic industry, we are sure to help your skin improve markedly, reduce pitted scars as quickly as you desire.
See More About News – Beauty Secrets By Miss Tram - Natural Beauty Center:
Is the C Run at Miss Tram - Natural Beauty Center Really Good?
The Best Oily Skin Care Treatment
Review Top Skin Care Products