Spray lips is an optimal and most chosen lip beautification method today. Because not only helps lips stay plump and fresh for a long time, this method also effectively removes lip defects. This is also the first choice of most artists because this "semi-permanent makeup" method helps them always own fresh lips when bare face.
So, what method do singers and actors spray lips? Where? Let's find out through the following article of Miss Tram - Natural Beauty Center ok
What is lip spray?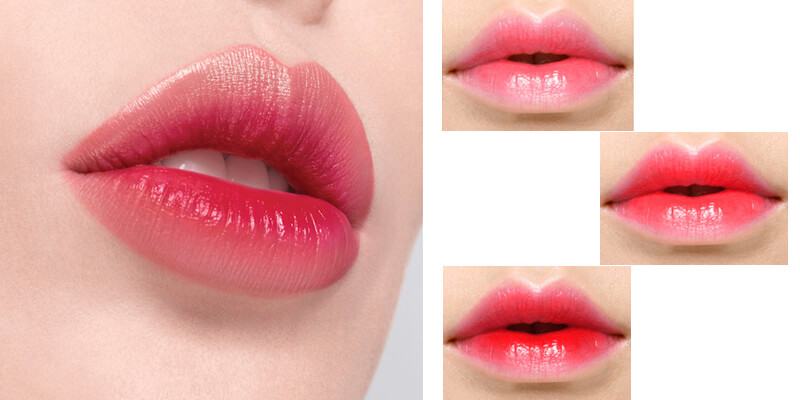 It can be roughly understood that lip injection is a method of using a sprayer with micro-needle heads to impact and bring ink to the lips. This lip beauty method has the following uses:
Helps keep lips fresh and plump for a long time.

Improve the condition of dark lips.

Improve the condition of pale, disproportionate lip lines.

"Cheat" lip thickness, helping to improve lip defects that are too thick or too thin.
Currently, there are many modern lip spray techniques that are suitable and meet all the lip beautification needs of all customers. So, if you want perfect results, then choose reputable addresses to be beautified by the most suitable lip spray techniques.
Lip spray methods are favored by Vietnamese stars
Lip Spray Color Chosen by Artists
Usually, artists often choose light, natural lip colors such as rose red, peach pink, nude pink and baby pink. These lip colors will help singers and actors own a fresh, natural lip color and easy to coordinate lipstick colors when applying makeup.
>>> Related Articles: Which Beauty Salon Sprays The Most Beautiful Lips Today - Evaluation criteria for quality lip tattoo spray addresses.
Which Lip Beauty Method Do Male Artists Usually Choose?
+ Spray Crystal Collagen lips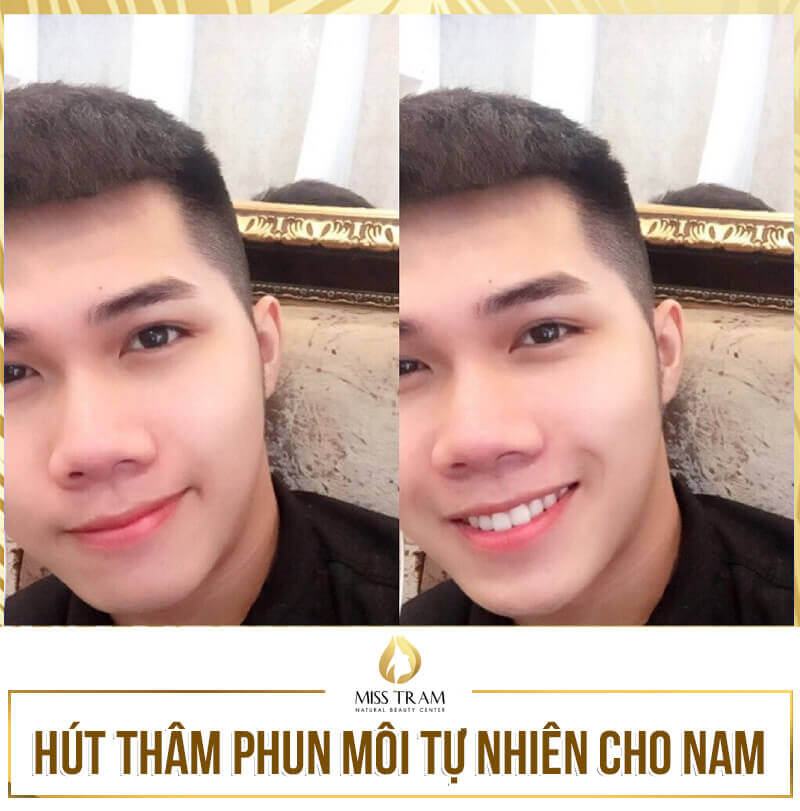 Spray Crystal Lips Collagen is a combination of crystal lip spray technology and essence collagen Natural to bring collagen essence into the lips. This method helps the lips color up in a natural, very stable manner while providing nutrients to the lips, making the lips smooth and soft.
Spraying collagen crystal lips will keep the naturalness and masculinity of the lips, so this is the first choice of customers, male artists.
+ Micro-lip sculpting
Lip sculpting is a technology that uses a special engraving knife with a micro-blade to bring the ink in an arc to spread particles on the skin, combined with Micro-point lip spray to create smoothness and fast color adhesion. This is a modern technique of creating lip color combined with correcting defects in lip shape, micro-pointing lip sculpting capable of quickly coloring and correcting.
Combined with natural ink colors, this technique helps male artists effectively correct lip defects and still retain the natural look of the face.
>>> Recommended articles: How to Choose Beautiful Lip Spray Color Màu - Experience in choosing lip spray colors suitable for skin color and age.
Which Lip Spray Method Do Female Artists Often Prefer?
+ Spray the Queen's lips
The Queen's lip spray is a super-sticky micro-touch lip spray method, helping the lips to become extremely natural, bright, soft and durable. This technique is one of the top choices of female stars.
+ Spraying stem cell lips
Stem cell lip injection is the process of adding stem cells into the ink. This method is especially suitable for aging lips, which have been made many times, often dry - helping to regenerate youthful lip skin, enhance elasticity and standard, youthful color.
The Most Important Thing Is Choosing a Lip Spray Base
In order to achieve the most perfect results, not only for singers and actors, but each customer needs to choose for themselves reputable tattoo spray addresses. A reputable address will ensure the most necessary conditions for the lip spray process to take place safely, with clear technical standards and care and warranty after spraying.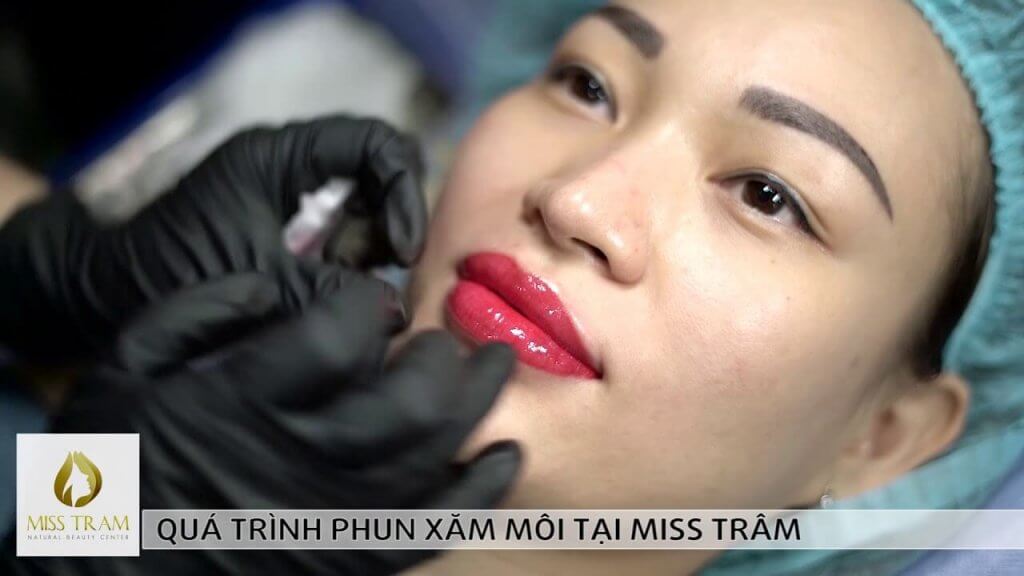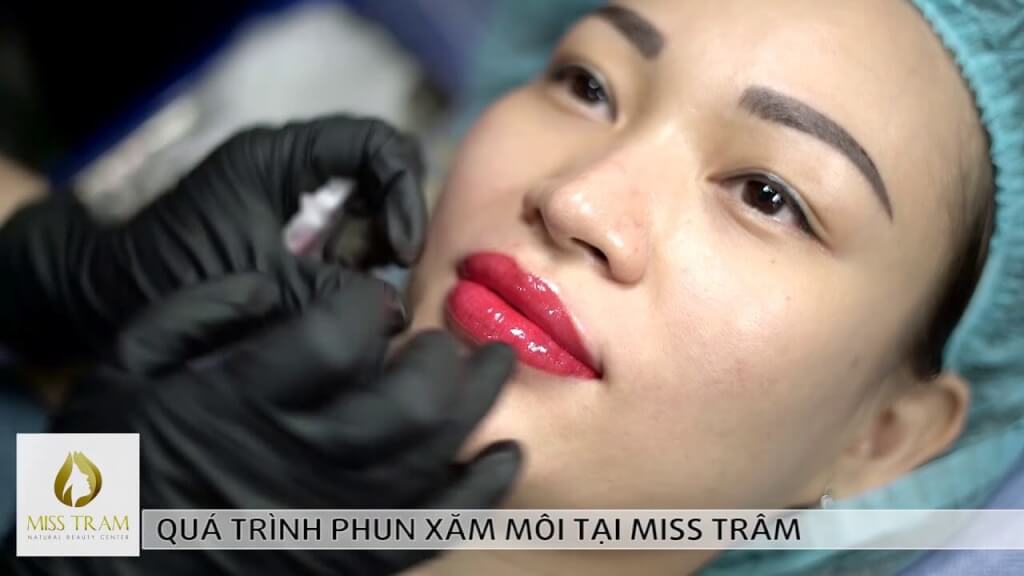 Why should you choose lip spray at Miss Tram?
At Miss Tram - Natural Beauty Center, each customer is examined and discussed by experts about the condition and defects of the lips. From there, give appropriate advice, help customers choose the method and ink color how to bring the most perfect results.

With a team of well-trained, highly skilled technicians and many years of experience in the profession, it is guaranteed that your lips will be sprayed gently and accurately.

The procedures, technology and equipment for tattooing at Miss Tram 100% meet the hygiene and safety standards of the Ministry of Health, committed to absolute safety for all customers.

In particular, Miss Tram always uses 100% organic ink from natural herbs, completely free of chemicals or metals and has a clear origin.

With each technique, Miss Tram has a warranty policy in the right time to ensure the most perfect lip spray results for each customer.
With nearly 20 years of experience in the beauty industry, serving and receiving absolute satisfaction from thousands of customers, Miss Tram - Natural Beauty Center is proud to be one of the top choices of beauty believers as well as the "choosing face to send gold" address of many Vietnamese singers and artists.
Suggested article: Secrets To Relieve Pain For Customers When Spraying Lips - Experience to know when tattooing, lip sculpting.
Lip spray is one of the most popular beauty treatments today. Not only gives a smooth bright lips, this method also improves a lot of defects on the lips.
However, to achieve the most natural soft and smooth lip color, you need to choose reputable cosmetology facilities, ensure the quality of inkjet ink, technician skills and use modern spraying techniques. Hopefully this article will help you choose the right lip spray method. Miss Tram - Natural Beauty Center Wish you always have the desired lips!
See More About News – Beauty Secrets By Miss Tram - Natural Beauty Center:
Washing Your Face In The Wrong Way Makes Acne Treatment More Difficult