Many customers have pitted scars, acne scars Miss Tram VietNam with a different story, but everyone has the same desire to find the skin again FLEXIBLE, SMOOTH, LIGHTWEIGHT.
Miss Tram listens and understands those thoughts and aspirations, Fractional co2 laser treatment + Dori . Special Treatment solved the headache problem for those who encountered this situation.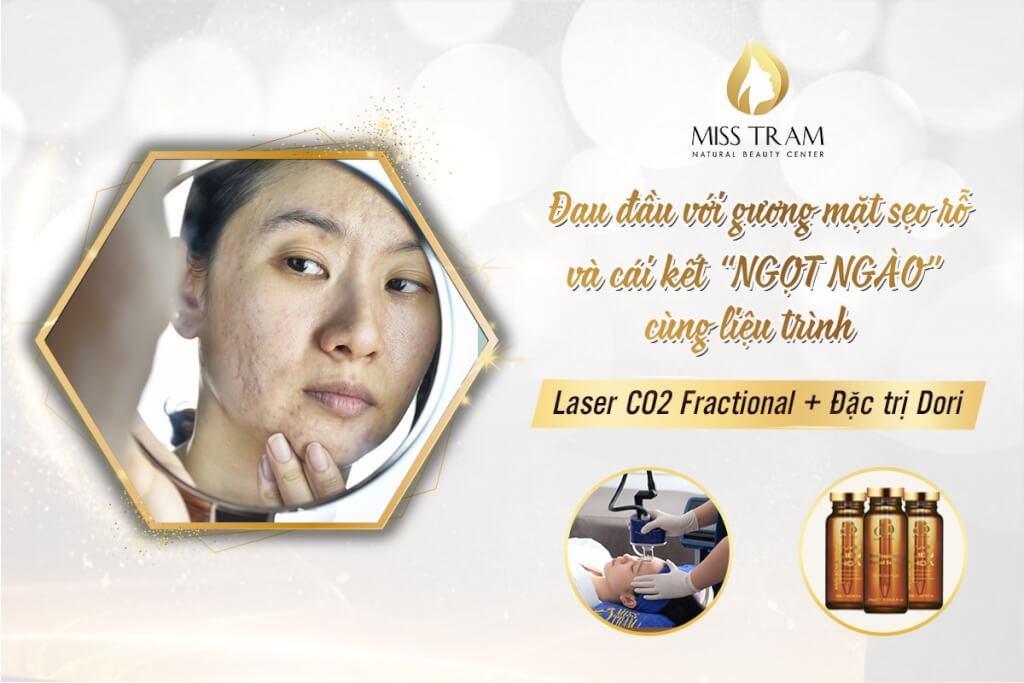 The SUPER BENEFITS of this course at Miss Tram that you cannot ignore
Producing collagen and elastin promote the regeneration of the epidermis to help reduce pitted scars, perennial acne scars.

Smoother, more radiant skin, reduce dark spots

Quickly regenerate and restore the skin, creating a protective layer to avoid harmful agents and bacteria on the skin.

Combined with the scar bottom dissection technique to help cut off stubborn scars, smooth the skin surface to help you feel the treatment results right from the first time.

The treatment is painless, does not use cutlery, does not take time to rest…
Miss Tram believes that we all have the opportunity to own smooth, bright white skin as long as you are really determined and find it. PRESTIGE BEAUTY ADDRESS, to fulfill that wish successfully, don't forget to contact Miss Tram immediately to get enthusiastic advice from the team! (Causes of pitted scar treatment failure what? - Learn the 9 main reasons why your pitted scar treatment is not successful.
Some Effective Skin Beauty Treatments Today
Spirulina treatment helps whiten smooth, tighten pores

Run only Nano Diamond

CO2 detox mask for skin

Regenerate shiny skin with Salmon DNA Electrophoresis

Brightening skin with Activated Carbon Laser

Remove fat bags, wrinkles, slim face and body with Exilis technology

Skin rejuvenation, wrinkle reduction, V-line slimming with Hifu S + technology

Regulate sebum, whiten, remove skin toxins with bio-light technology

Acne Treatment with Fractional CO2 Laser + Exclusive Herbal Medicine Package Đông

Tattoo removal with Yag laser technology.
You are viewing the article Effective Scar Treatment With Fractional CO2 Laser + Dori . Special Treatment favorites in the category Q&A Miss Tram at the website Miss Tram Spa. All comments - reviews please send directly to Email address: teamcrmmisstram@gmail.com Or comment below the post. Don't forget to follow us for more good articles in the same category and share with everyone you know!