Laser Blackhead Treatment Brings High Results
Blackhead Although "small but mighty", not only makes your face uglier, but they are also very "stubborn", even if you use all means to "get rid of" them, they still keep coming back and "trying". guard" on your nose. There are many ways to completely treat blackheads, in which laser is considered the most effective method. Miss Tram - Natural Beauty Center Learn more about this acne treatment.
Blackheads, as the name implies, are small, hard black pimples that grow a lot on the forehead, cheeks and especially the wings of the nose. Blackheads are formed by oily skin, causing pores to become clogged, forming acne, and the upper part is oxidized and turned black.
Although they do not cause pain or pitting scars, blackheads enlarge the pores, making the skin less sharp. This type of acne also recurs many times, causing the "suffering owner" to suffer with them.
To treat acne, many people have resorted to many methods of both Eastern and Western medicine, from applying masks to buying expensive cosmetics. But as a result, blackheads keep coming back and forth, persistent and unable to be terminated.
To completely treat blackheads, you should use laser technology, which is one of the world's modern acne treatment technologies. And Miss Tram is one of the few beauty centers in our country that is committed to bringing absolute efficiency.
>>> Related Articles: How to Treat Blackheads On Forehead Causes and effective tips to treat blackheads on the forehead.
1. Laser acne treatment at Miss Tram - Natural Beauty Center
Conditioning method acne treatment with light In general and laser in particular has appeared since the 1990s and has been gradually improved to become a highly effective acne treatment method.
There are many types of lasers and different treatment methods, but they are all based on the principle of light absorption by bacteria in the pores, or on the human body's ability to protect itself.
>>> Related Articles: Blackhead Treatment Secrets With Clay Mask - Top effective blackhead smoothing clay mask, suitable for each skin type.
2. Miss Tram's laser acne treatment process goes through many stages:
First, the KTV will suck acne bran, blackheads and remove all acne on the face. Next, there will be many stages of intensive skin care. And finally, acne treatment with Green Laser / Blue Light technology, Oxy Jet technology, Nano Skin technology, Bio Light technology or the most modern CO2 Fractional Laser micropoint activation technology.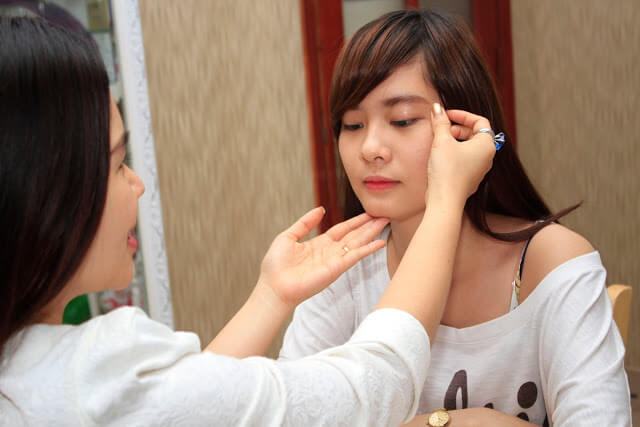 Acne specialists will examine and evaluate your skin condition, then plan treatment and use appropriate technology, to bring the highest efficiency. After the treatment, you will be instructed on how to properly clean and care for your skin, which will help limit the appearance of acne and make your skin more radiant and smooth.
Clear acne:

This is obvious, modern technology acts directly on acne, destroying and quickly eliminating them.

Prevent acne recurrence:

Not only acne treatment, laser also has the ability to control sebum, avoid clogged pores, thereby effectively preventing acne.

Skin beauty: The use of appropriate wavelengths on the skin also has the ability to stimulate the formation of collagen, thereby helping to make the skin beautiful and healthy, visibly more radiant.
Absolute safety:

Laser only affects the acne-affected skin, does not cause invasiveness or damage to the skin, you can rest assured about this problem.
>>> Related posts: The Secret To Preventing Blackheads - Daily measures and habits to help prevent blackheads effectively.
Using a laser is a popular beauty method in Miss Tram that brings unexpected beauty effects. Miss Tram - Natural Beauty Center is one of the few beauty centers possessing many modern skin care technologies with state-of-the-art equipment and a team of experienced KTV and consultants. Miss Tram will help you completely remove blackheads as well as other types of acne, giving you smooth, rosy white skin, making you more confident and beautiful.
See More About News – Beauty Secrets By Miss Tram - Natural Beauty Center:
How To Make Forehead Wrinkles Disappear?
Beat Acne With Micro-Stimulation Technology Combined with Esoteric Oriental Medicine
Exclusive Dermatological Acne Treatment Process at Miss Tram