Learn How to sculpt Miss Tram's eyebrows - Natural Beauty Center
Not every female friend is born lucky to have a perfect eyebrow on her face. This more or less reduces the confidence of women when interacting with others. But now, with Miss Tram's eyebrow sculpting method - Natural Beauty Center, you don't have to worry about this anymore. This is an effective method, which can perfectly correct the unnecessary defects of the eyebrows on the face.
Sculpting eyebrows - the most aesthetic beauty method today

Double eyesbrown Beauty shapes and determines 80% of the good looks of the face, so everyone has the need to own a pair of eyebrows that match their face. In daily life, when interacting or facing other people, the eyes and eyebrows are the first impressions. Having beautiful eyebrows will make your eyes more attractive, and make you communicate more confidently, thereby leaving a good impression on the opposite person.
However, not everyone is born with beautiful eyebrows. However, with the development of today's cosmetic industry, the defects of the "eyebrows" on your face will be overcome more easily.
Besides the "eyebrow" aesthetic techniques such as embroidery and tattooing, the eyebrow sculpting method is considered an advanced technology and is a trend that is being loved by young people. Method "sculptureCurrently, it is one of the best methods to bring natural beauty close to real eyebrows but also ensure high aesthetics for customers.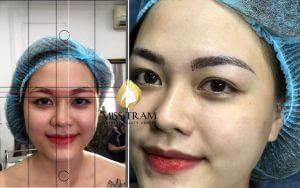 Realizing the needs as well as the advantages that eyebrow sculpting brings, the beauty salon Miss Tram - Natural Beauty Center has learned and transferred technology from Europe, America, Asia, etc. to ensure the best quality for customers.
This technique does not put ink into the skin with a conventional tattoo machine, but uses extremely small needles that are assembled together and carved into the skin to put ink in. Come to eyebrow sculpting Miss Tram - Natural Beauty Center, you will be consulted by highly skilled technicians with many years of experience on the implementation process as well as after-care steps to give customers the most perfect results.
The process of sculpting eyebrows at Miss Tram VietNam encapsulated in four basic steps. You will be consulted by technical experts and proceed to shape your eyebrows first to suit your face. After that, there will be a 15-20 minute numbing process depending on your skin condition, and finally a sculpting process with a skilled professional and delicate aesthetic eyes, helping customers get a perfect eyebrow shape. Natural, elegant and in harmony with the face.
Sculpting eyebrows at Miss Tram - Natural Beauty Center almost no pain for customers as well as no skin damage, no convalescence time. In particular, sculpture ink is guaranteed to be imported from Europe, America, and Korea, so it has a durability of 3-5 years.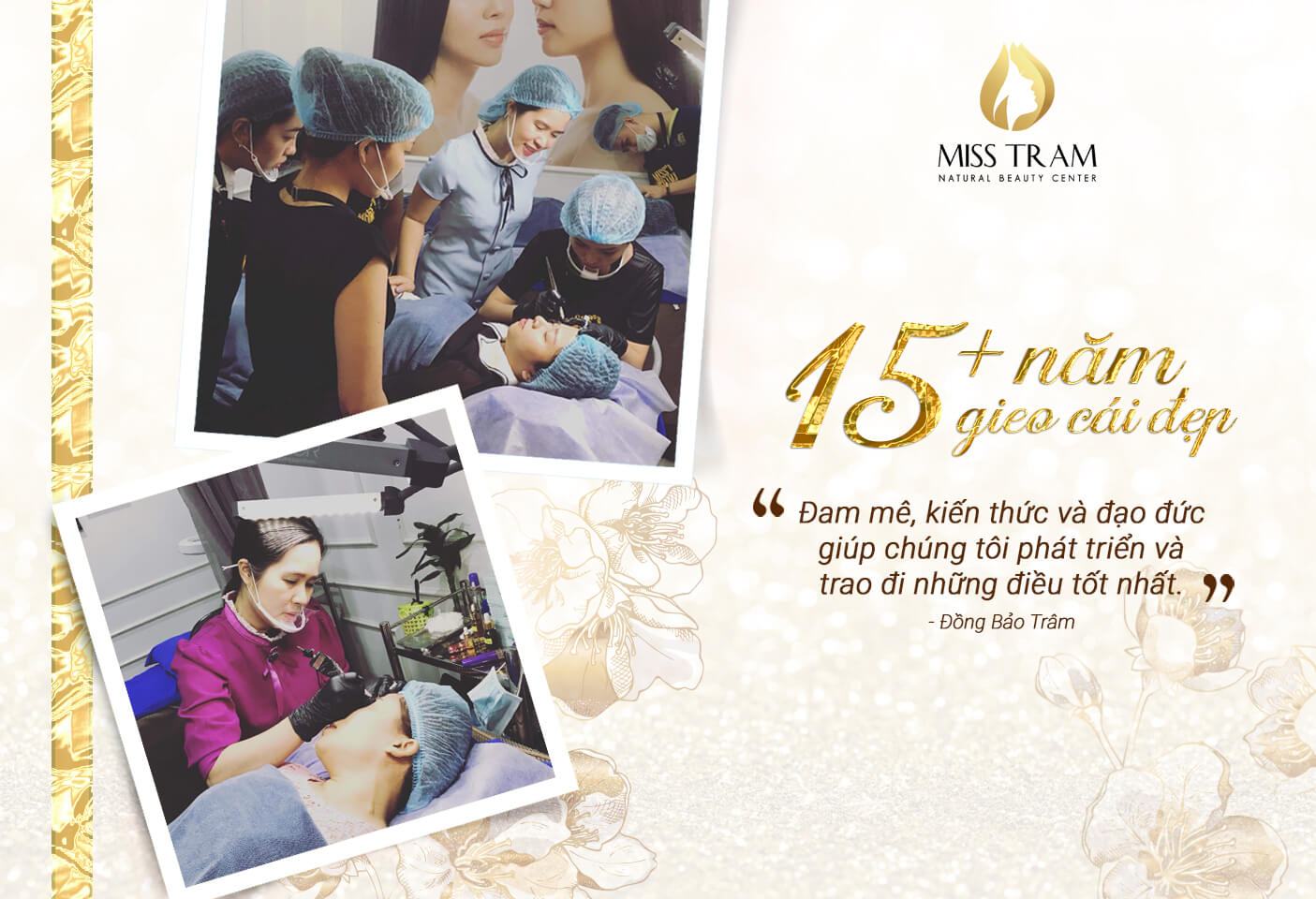 Does this method work for everyone?
Sculpture of eyebrows in Miss Tram - Natural Beauty Center suitable for all genders, many ages, especially those who are experiencing sparse, pale eyebrows. With almost no pain, eyebrow sculpting is also suitable for elderly people. Besides, for those of you who have lost or injured your eyebrows due to accidents such as burns, surgery or scars, this technique is extremely suitable to find your old eyebrow shape.
However, no matter how advanced, you should not abuse too much plastic surgery to beautify, because sometimes it will bring unfortunate consequences. In anthropology, a beautiful face is a harmonious combination of the five senses (the five parts of the face) including: "Eyes, ears, nose, mouth and eyebrows". In which, eyebrows play a rather important role.
It not only affects the beauty of the face but also affects the destiny of each person. It will be unfortunate that just because of beautifying your eyebrows, you accidentally destroy the harmony on your face. So, listen to advice from Miss Tram's experts before starting to apply a beauty technology.
>>> Heart understands the The latest method of eyebrow tattooing today Which eyebrow beautification method will be right for you?
"In the past, beauty was given by heaven, today beauty is made by…you", but finding a quality and reputable center to trust is really a difficult problem. If possible, please come to Miss Tram Natural Beauty Center, to be shared and consulted as close friends, thereby helping you to make better choices for your own beauty. benefits and gives the best results.
See More About News – Beauty Secrets By Miss Tram - Natural Beauty Center:
Where Beauty and Prestige Lip Cosmetics Are Made
Beautiful Eyebrow Embroidery Address In Ho Chi Minh City