Many people want to tattoo their lips, eyes or eyebrows to "slap" their beauty, but can't arrange the time. They are wondering if spraying tattoos in the evening will have any effect on the quality and what is the best time to spray beautiful tattoos. Miss Tram - Natural Beauty Center Please advise on this matter as follows.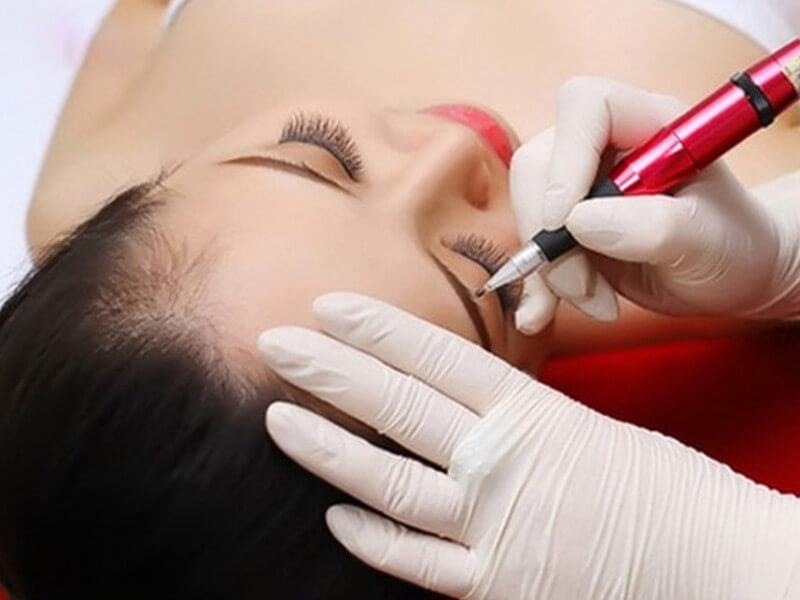 The Best Time of Day You Should Know
Owning a beautiful lips, eyebrows or eyes is the dream of many people, and anyone has the right to realize that dream by cosmetic tattooing. This is a method that uses a specialized ultra-thin needle to put a small amount of ink under the skin, helping the skin to have the desired color. This needle only works on the epidermis, so it is completely painless or affects the skin.
However, due to being too busy, many people choose to go tattooing in the evening, Miss Tram - Natural Beauty Center We advise you to limit this, for the following reasons.
Firstly, the night light can make it difficult for the tattoo artist to spray, as well as difficult to determine whether the ink color is up to standard or not.
Secondly, tattooing can take about 2 minutes - 30 hour, so it will be very tiring for everyone after a working day. Not to mention for people who are weak and nervous, being too tired can cause low blood sugar.
Many tattoo parlors do not accept customers in the evening to avoid affecting the quality, you can waste your time in vain when you arrive where the center is closed.
>>> Related Articles: Is it OK to Sculpt Eyebrows After Spraying Tattoos? Answer in detail the question that many women ask when going to beautify their eyebrows.
What time of day should you go for tattooing?
You should go tattooing during the day, because this is the ideal time for tattooing, ensuring adequate lighting standards, the flexibility of KTV's eyes as well as your own health. Ideally, you should call the tattoo spray center for specific advice and an accurate appointment, without wasting time waiting as well as choosing the appropriate tattoo spray time.
In addition, if you intend to go for tattooing, you need to keep a few things in mind:
1. Ensure your health
Spray tattoo looks light but takes a lot of time and makes the body tired. You should make sure you don't get sick, don't go to the "red light period", and your body is not tired when you go to tattoo. In addition, you should eat a full breakfast before going, absolutely do not starve to avoid falling. blood sugar.
2. Do not use stimulants before tattooing
When using stimulants before, in the process of tattooing, the tissue will produce a lot of water, making it difficult to perform as well as making the ink difficult to stick to the color.
In addition, to ensure health, if you are far away, you should avoid tattooing at noon, because after spraying, going for a long time in the hot sun will make the tattoo area dusty or itchy and uncomfortable.
Should choose to spray on the weekend to have more time to rest and take care after spraying carefully, because 2 days after the procedure, you need to have a special care regimen for the tattoo spray area to achieve the best results.
>>> Related Articles: Does Lip Tattoo Loss Feeling When Kissing - Answering the problem that many women care about when they want to beautify their lips.
3. Take care of the skin after spraying properly
The first is that after spraying, you absolutely do not let this skin area get dirty, easy to cause infection. Next, it is necessary to limit the exposure of water to affect the ink color.

After tattooing, you should clean and apply ointment according to the doctor's instructions to ensure the best color.

It is necessary to drink a lot of water, eat vegetables containing many vitamins, especially vitamin C, so that the tattoo spray heals quickly and has the most beautiful natural color.

Although spraying, sculpting, embroidery does not hurt the skin, it is best to abstain from soy sauce or other stimulants to avoid affecting the ink color.

When the spray is peeling, you absolutely do not scratch or peel off the scabs that affect the skin.

During the first month after embroidery, you should not use powder or pencil to paint over the embroidered eyebrows and eyelids, as well as limit the use of lipstick to the maximum extent.

You should follow the instructions of the tattoo experts to get the most effective tattoo spray.
>>> Related Articles: Is it difficult to learn Cosmetic Tattooing? – Learn about the current HOT cosmetic tattoo industry. Difficulties encountered when learning the profession of cosmetology.
Some sharing from estheticians of Miss Tram - Natural Beauty Center for you. If you want to carry out tattoo spraying, you should contact Miss Tram, the consultant will advise specifically on what you need to prepare when you go and give you an appointment at a most suitable time frame to ensure that you get the best results. give you the best results.
See More About News – Beauty Secrets By Miss Tram - Natural Beauty Center:
What To Do When Spraying Red Eyebrows?