[Q&A] Do you have to spray eyebrows

Will the Powder Fly Color Fast?
Question:
Hello Miss Tram VietNam, I am planning to do eyebrow spray powder but I heard that after only a few months, it will fade or change color, so I am very confused. I want to ask for an expert's opinion on the issue of powder spraying that will quickly fade, is it correct? Hope to get a reply soon.
(Minh Nguyet – 27 years old – Gia Lai)
Reply:
Hello Minh Nguyet!
Miss Tram - Natural Beauty Center is very happy that you sent your question to our beauty advice and sharing column. If you are wondering about the issue of whether powder coating will keep the color for a long time, the useful information we provide below will help you feel more confident! (Refer to the Methods to beautify eyebrows suitable for men and women current favorite).
Spraying powder will quickly fade color, right?
Hi, because the injector only makes micro-touch on the surface of the skin, the powder coating spray has not as high color adhesion as the old tattoo method. The color fastness of powder eyebrow spray will depend on the quality of tattoo ink of each facility that you perform. At Miss Tram - Natural Beauty Center, there will be 3 ink qualities for you to choose from with a color fastness time that can be up to more than 5 years!
With more than 15 years of experience in the beauty industry, we always ensure the quality of using genuine eyebrow ink, completely extracted from natural herbs without substances harmful to health. In addition, we are still very dedicated and detailed before doing so you can understand what is the most suitable solution for you.
Spray eyebrow powder is a completely new beauty method of tattoo spray technique. The process is quite simple. First, the experts still carry out normal tattoo or embroidery techniques. Then, apply a layer of eyebrow powder on the surface so that the eyebrows have a porous, pale color and look as natural as when you draw your eyebrows with a pencil. The outstanding advantage of this method is to help your eyebrows have slender, beautiful and harmonious lines but without causing swelling and pain. (What are the common mistakes with ombre eyebrow powder? How to fix it? See at: https://en.misstram.edu.vn/nhung-loi-thuong-gap-khi-phu-bot-long-may-ombre-va-khac-phuc/).
Factors that determine the color fastness of powder eyebrow spray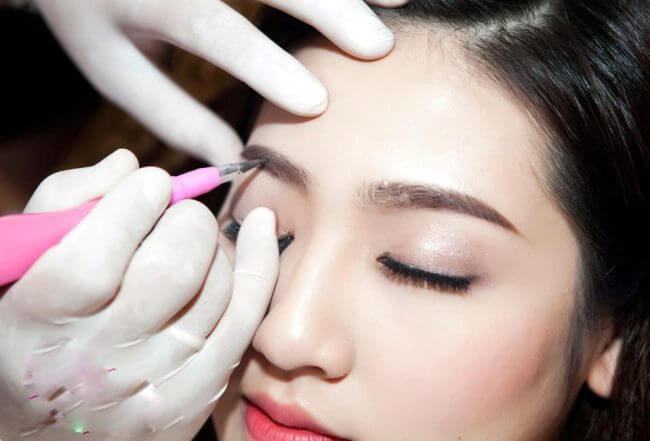 According to the experience of the esthetician at Miss Tram, the color fastness of powder eyebrow spray depends on the following factors:
Ink color quality
This is a very important factor that determines how long it takes to apply the powder to a beautiful color and whether it is durable. Miss Tram - Natural Beauty Center uses high-grade inks, herbal extracts, so it is very safe for the skin. After spraying eyebrow powder, eyebrow color is usually a bit darker. However, you do not need to worry because this is a very normal phenomenon. When the eyebrows are scaly, the color will gradually become more stable and most beautiful after about 4-6 weeks.
With the development of modern beauty needs today, women no longer like the old black eyebrow fashion but gradually replaced by western brown, chocolate brown, copper brown, earthy brown, etc. Do you have oily skin? the ability of the skin to eliminate faster, so the speed of fading of the eyebrows is also faster. This is one of the characteristics of powder eyebrow spray.
Modern equipment
If in the past, experts used manual eyebrow tattoo machines and had to use ink many times to get the desired results, today, electronic eyebrow sprayers with micro-heads make the ink speed fast. more, non-invasive, no bleeding or burning pain.
Technician's skills
Technology eyebrow powder spray It is also an indispensable factor when evaluating the durability of powder coating spray. The experienced, well-trained experts of Miss Tram - Natural Beauty Center will control the shallow - deep level of each tattoo ink line so it is not invasive to the surrounding skin. Thanks to that, the eyebrows after scaling still retain their natural color and beauty, not too faint as well as long-term stability.
Depends on each person's body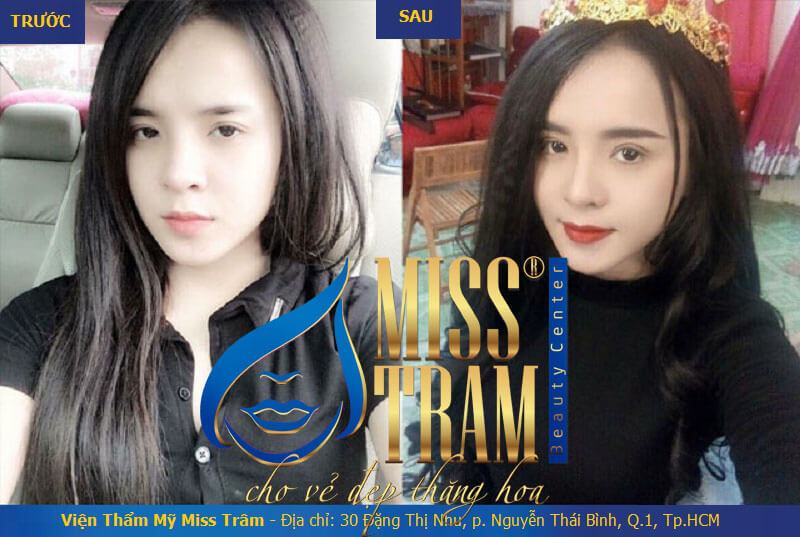 The location of each person is also a factor that greatly affects the time to color of powdered eyebrow spray. If you are a type of person with benign skin, the ink color will stick quickly, be shiny and easier to color.
On the contrary, people with more sensitive skin need to be more careful and meticulous in the process to avoid swelling, burning pain and help the ink penetrate into the skin effectively. Only then will the eyebrow color last for a long time.
To own beautiful, natural and long-lasting powdered eyebrows, you should look to reputable cosmetic establishments and have long-standing brands in the cosmetology industry. As a prestigious beauty address for more than 15 years, Miss Tram - Natural Beauty Center always towards the goal of "telling straight, doing the truth", not deceiving customers, not doing fraudulent business. Therefore, Miss Tram has always received a lot of support and trust from customers during the past time.
See more Troubleshooting Other Miss Tram:
Does Lip Tattoo Loss Feeling When Kissing
Can I Drink Beer After Spraying Lips?
Powder Eyebrow Spraying Technology For Natural Eyebrow Heads