Currently, the trend of spraying dirty lips is beauty trends loved by many girls, but not every beauty center can do it sooty lip spray standard beauty. Therefore, the question "Where is the beautiful place to spray sooty lips??" This is the question most women have when learning about this method.
The Most Beautiful and Safest Place to Spray Lips in HCM
1. The trend of spraying soot lips of young people today
Dirty lips Lipstick is one of the beauty trends originating from Korea with the inside of the lips being darkened and fading towards the lip line, making the lips more natural and fresh. This is one of the trends that are still "HOT" at the moment, because of its charm and attractiveness, but it also helps you look younger and more dynamic.
Although it is popular with many young people, it is not easy to beat soot, but it also takes a lot of time to get a perfect lips. Especially for girls who do not often wear makeup, the choice of soot spray is an optimal beauty solution.
With this lip spray method, the technicians will put tattoo ink into the epidermis to change the lip pigmentation from fading in the lip rim to gradually darkening in the center of the lips to help create natural and fresh sooty lips. young. (Refer to the lip beautification method that is right for you most currently).
2. Miss Tram - Natural Beauty Center - a reputable lip spray address trusted by many customers
There are many addresses and facilities that perform soot spraying with different fees, but not all lip spray addresses can give you a perfect and safe soot lips. Therefore, this is also what most girls often wonder before deciding whether to go to spray dirty lips or not?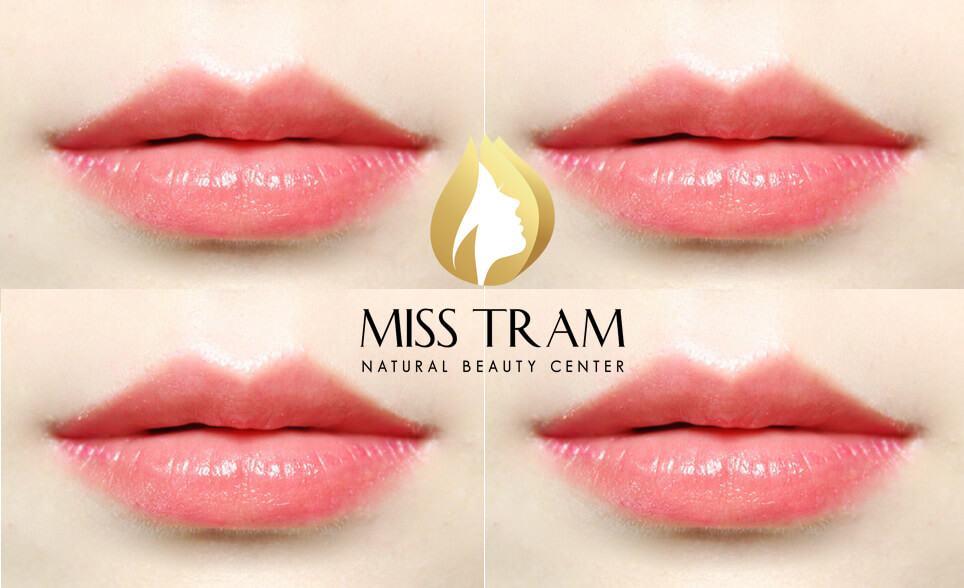 When you decide to refurbish your beauty in general as well as have a need to spray soot lips in particular, Miss Tram - Natural Beauty Center recommends that you carefully study information such as whether the lip spray technology is modern, How is the process done, is the technician team qualified enough, is the ink quality good, etc.
These are important factors that directly affect the safety and results after implementation. You can find out information through social networks, website systems, consult friends, relatives or those who have done it successfully before. And if you still do not have an objective view of spraying soot, come to Miss Tram - Natural Beauty Center.
With more than 10 years of operation in the beauty industry, Miss Tram has always received the trust and support of customers. We constantly update new beauty trends, the most advanced technology to meet the needs of a large number of customers, including obviously soot spray.
At Miss Tram - Natural Beauty Center, soot spray technology is updated from advanced countries, transferred in accordance with international standards, so it is committed to bringing women the highest aesthetic effect. The process of spraying soot at Miss Tram is also guaranteed to be safe, scientific and fast with a team of highly skilled experts with extensive knowledge. With ingenuity, meticulous accuracy to every millimeter, the experts at Miss Tram will help you get the most beautiful, natural and perfect lips. (Instructions on how lip care after spraying the most standard to help lips color beautiful and durable).
Thousands of girls have chosen to spray soot at Miss Tram - Natural Beauty Center and are all satisfied. Along with focusing on the quality of lip spray, Miss Tram also deploys a very dedicated and thoughtful customer care service before and after lip spray.
So, if you are wondering where to spray soot, come to Miss Tram - Natural Beauty Center to experience these great things right away!
See More About News – Beauty Secrets By Miss Tram - Natural Beauty Center:
What is the difference between Lip Spray and Lip Tattoo?
Answers to questions about What Color Crystal Lips Spray is Beautiful