Experience of Drinking Milk After Spraying Lips For Standard Color Màu
Question:
I'm new lip spray After 2 days, the tattoo artist said that after about 5-7 days, it will peel off and then it will have a beautiful color. I want to ask is it possible to drink milk after spraying lips? And what foods should be eaten to keep the color for a long time. Hope the experts answer soon!
(Thanh Vy – 23 years old – Tan Phu)
Reply:
Hi Thanh Vy, thank you for your interest and questions to my inbox Miss Tram - Natural Beauty Center. We would like to answer your questions as follows:
After lip spray You can drink milk to provide nutrients for your body as well as your lips. However, to ensure safety and get the optimal effect, you should pay attention not to let the milk stick on the surface of the lips. The solution is that you can use a straw to drink to avoid contact with the milky solution or water in milk. Because in the new stage of spraying, the lips are very sensitive at this time. After your lips are peeled off, you can eat and drink normally without having to worry about your lips being damaged. (Refer to the lip spray experience the most standard you definitely have to keep in mind).
What to eat lip spray to color up beautiful?
After getting a lip tattoo, usually in the first few days, the color of the lips is not completely up. What you need to do is take reasonable care to stimulate the color and avoid causing damage to the lips. In addition, combining scientific eating will help you get a satisfactory lip color. Here are some foods to help your lips become glossy, smooth, and have a beautiful natural color that you need to know.
Eat a lot of pineapple
Pineapple is a fruit rich in vitamin C, which stimulates the skin to regenerate faster, thereby helping the lips to have a natural color. You should eat ½ pineapple every day to naturally beautiful lips as desired. Note, if you feel your tongue burning when eating pineapple, you can add salt or puree the pineapple to make a smoothie with other fruits depending on your personal preference, both delicious and cool.
Eat yogurt
Yogurt not only aids digestion but is also rich in nutrients for the skin. You can eat more yogurt daily or at least 2-3 times a week to see the effect it brings. In addition, when the lips have healed and no longer feel the burning pain, you can also use yogurt to apply evenly on the lips to help soften the lips and stimulate the lips to regenerate.
>>> Related Articles: Favorite lip spray The current? – Spray collagen lips, spray crystal lips, spray 3D lips, spray soot lips… What type of lip spray is most interested in?
Eat tomatoes every day
Tomatoes not only help beautify the face, but also very good with lip spray. Tomato smoothie is one of the tips you should not miss! You should choose ripe tomatoes, remove the seeds, puree and combine with a few other ingredients such as yogurt, honey... to make a nutrient-rich smoothie that is both good for the skin and supports lip care. after spraying.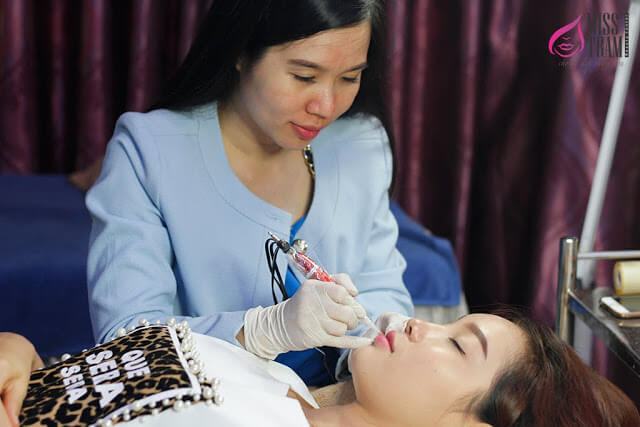 Miss Tram – Nautral Beauty Center Hope this article will provide some useful information for you about the diet after lip spray. Although there are many lip spray facilities operating on the market, Miss Tram - Natural Beauty Center has always been the beauty address chosen by many women. (Guide How to spray lips quickly to stick color widely used today).
We are proud of our team of experts, experienced and highly qualified tattoo technicians, equipped with modern facilities. Miss Tram will give you a pleasant feeling during the implementation.
Present, Miss Tram - Natural Beauty Center is providing a variety of cosmetic tattoo spray services such as: 3D lip spray, crystal lip spray, soot lip spray, etc., giving customers many options to choose to make themselves more beautiful every day. If you need full advice on technology, you can contact the hotline 1900 7018, Miss Tram is always ready to support you.
See More About News – Beauty Secrets By Miss Tram - Natural Beauty Center:
Advice on Safe Tattoo Removal, No Scars
Why There Are Some Places To Make Eyebrows Have A Few Hundred Thousand Only