If unfortunately owning a dry, dark lips and many defects, you should not be too self-deprecating, because modern stem cell lip spray technology can completely overcome these disadvantages. In addition, technical lip spray This also gives you a plump, youthful lips with many bright colors.
Correct understanding of stem cell lip spray technology – So what is stem cell lip spray?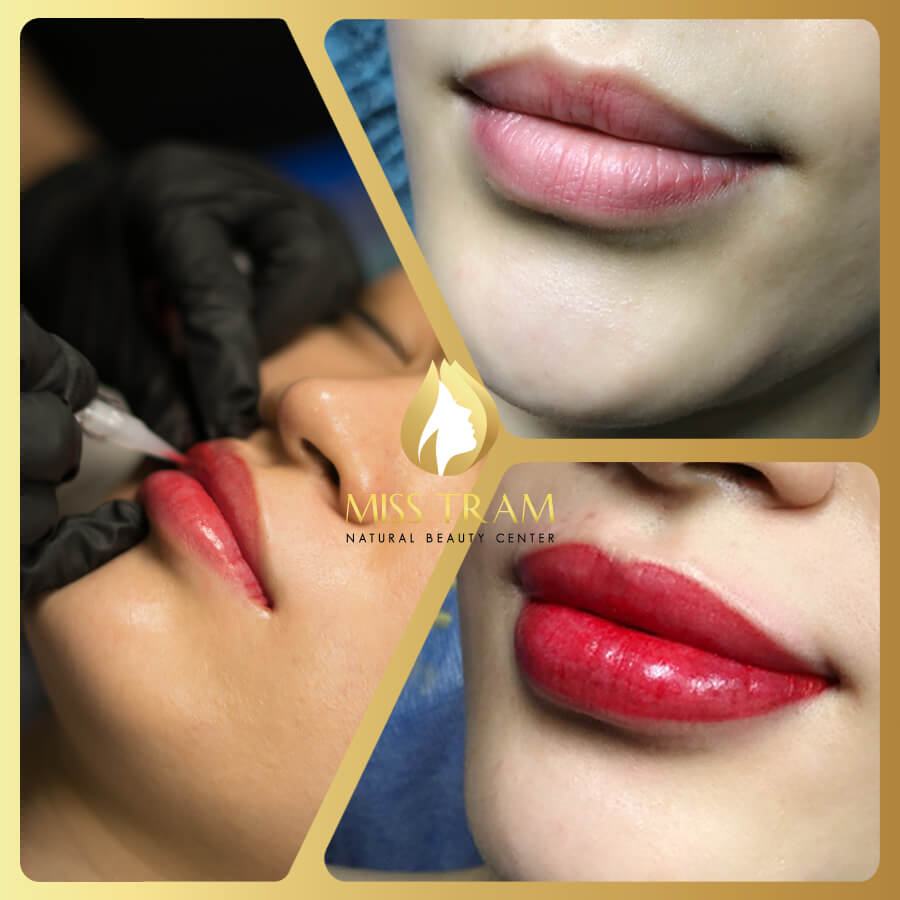 Stem cell lip spray is a modern lip spray technology, combining advanced tattooing techniques with natural stem cell essence, giving you perfect beautiful lips, overcoming existing defects well. on the lips.
Stem cells are simply understood as cells that have the ability to give rise to other types of cells in the body. This is truly a great invention of mankind, bringing breakthroughs in the fields of beauty and medicine. Stem cells work to nourish the skin from deep inside, regenerate the skin, make the lips plump and the skin around the lips also becomes smoother.
>>> Good experience: Why Should You Use Pineapple Juice for Finishing Lips? - Experience in lip care after spraying
Stem cell lip spray service at Miss Tram
Stem cell lip injection is an effective beauty method, committed to safety, but requires modern techniques and skilled technicians. Today, Miss Tram is one of the very few lip spray facilities capable of performing this service.
Lip injection at Miss Tram is conducted with a strict process. From the consultation process to choose the shape of the lips, the lip treatment process, the anesthetic incubation, or the lip spray procedure are all done in a full and correct technique.
When spraying lips at Miss Tram, customers will be completely satisfied by:
No swelling, no pain, no bleeding
The technicians are all experienced and highly skilled. The needle tip is aligned perpendicular to the skin surface, go evenly and apply force evenly to avoid lip damage. The depth of the needle is also properly aligned and the order of the needle is extremely accurate, ensuring that it does not affect the lips.
Lips up natural color
Contrary to the old tattoo spray for bold and rigid lip color, stem cell lip spray gives a gentle and natural lip color. Safe lip color, formulated into many different colors depending on each person's preference and face. Before spraying, the lips will be thoroughly treated, helping the lips to have a standard and fresh color.
Smooth, youthful lips
Stem cell essence will help you have a soft, smooth and glossy lips without too much care. After spraying, you can be confident with a new, natural-looking appearance anytime, anywhere, ready to receive many surprises from life.
Perfect lips
In addition to helping the lips to have color anytime, anywhere, the lip spray also improves the defects of the lips and shapes the lips to their liking. You know, each face will suit a certain lip shape, and the right lip shape will help you look younger and more beautiful. Whether you have thick or thin lips, pointed or deviated, Miss Tram has the ability to help you completely eliminate the above defects.
Clip of Lip Spray Procedure at MissTram Spa
Women, not smart, must be beautiful. Smart and beautiful at the same time is even more amazing. So, whenever I have to be beautiful first. A beautiful lips with a sunny smile will make you more beautiful. And Miss Tram, proud to help you create that smile, brings confidence to millions of Vietnamese women.
See More About News – Beauty Secrets By Miss Tram - Natural Beauty Center:
Spraying Natural Beautiful Eyebrows What to Pay Attention to
Should You Spray Eyebrow Tattoo For Beauty?
Tips for Choosing Criteria for Choosing Good Eyebrow Embroidery Salon