Among the services cosmetic lip spray, crystal lip spray is the top beauty choice of many women. This method helps to thoroughly overcome cosmetic defects on the lips, helping women own a seductive and plump lips, bringing confidence in life.
But crystal lip spray Is it really good or not, does it have any effect on health? That is one of the many concerns of women when learning about this advanced beauty method.
What effect does crystal lip spray technique bring?
Just like other cosmetic lip spray techniques, when performing crystal lip spray, the specialist will use a device with micro-needle tips to insert ink to create a crystal shine on the lips. Since the depth of the needle is very small, you will not feel any pain during this procedure.
The technique of crystal lip tattooing will improve the disadvantages of the lips such as:
Create a lip contour so that the lip contour is even and clear, improve the situation of deviated lips by cheating or narrowing measures while ensuring the natural beauty of the lips.

Helps create a sexy round lip line or correct other defects on the lips such as: dark lips, deviated lips, unclear lip lines.
Crystal lip spray techniques
Treatment of crystal lip spray will not be fixed, but depending on each case, each object, the experts will have different ways of applying.
Women with pale, dark lip color: The experts will treat the dark, advise on choosing the standard lip color to create a fresher, younger, fuller and more vibrant lip color.
Lips are too thin, lips are not beautiful: Cosmetic lip spray specialists will use a cheat needle to go out of the lips to make the lips thicker. Simultaneously combine with lip shaping to harmonize with the face.
Lips too thick: In this case, the specialist will cheat inward, re-create a small lip shape, more proportional to the overall face.
Is crystal lip spray really good?
As can be seen, crystal lip spray is an advanced and perfect aesthetic technique. However, to bring the highest efficiency, the high skill of the operator and the equipment must strictly meet the criteria of professionalism, safety and modernity. What will never be guaranteed if you do it at an "underground" aesthetic facility, with poor quality.
At a large beauty center like Miss Tram - Natural Beauty Center, the crystal lip spray process is very safe, the equipment and machinery all meet the standards of the health authorities, plus a team of knowledgeable experts. knowledge and skills.
The implementation process at Miss Tram does not take much time, only within an hour, but brings long-term effects to customers. Miss Tram focuses on every step, from the technique to the materials involved in the lip making process, so that everything must be perfect. High-quality inkjet ink color extracted from 100% natural imported directly from abroad by Miss Tram will help lips color beautifully, and absolutely no irritation or side effects.
At Miss Tram - Natural Beauty Center, customers can also choose a lot of colors according to their personality. If it is too difficult to choose, Miss Tram's consultants will advise you to choose the most suitable color.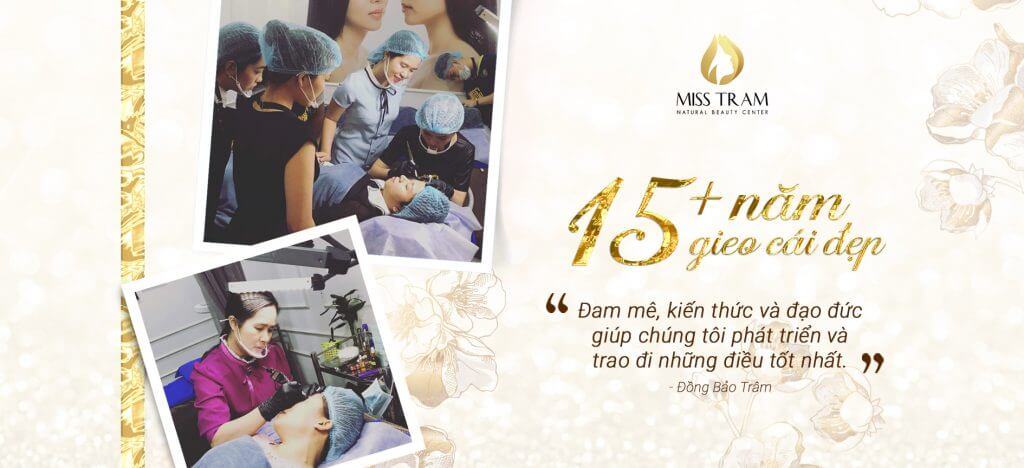 Can see, crystal lip spray It is a cosmetic procedure that does not affect your health at all. However, those things are only possible when you do it at a reliable service provider. Miss Tram - Natural Beauty Center With more than 10 years of experience in the profession, always providing quality services with reasonable costs will be a reliable choice for you when deciding to implement crystal lip spray method.
Any Questions Click Get Information Contact MissTram Spa
See More About News – Beauty Secrets By Miss Tram - Natural Beauty Center:
Where is European technology lip spray safe?