Eyebrow spray It is one of the most popular beauty treatments among women today. Because this method not only beautifies the eyebrows but also makes the face more sharp, attractive and the eyes more charismatic. Even many people after spraying eyebrows are much younger thanks to choosing the right eyebrow style, color and size. So why are there still cases where the face looks older after spraying?? Let's find out more through the following article of Miss Tram - Natural Beauty Center ok
Is Eyebrow Spraying Old Or Not?
1. What causes eyebrow spray to look older?
+ Using outdated eyebrow tattooing techniques
Eyebrow tattoo is the method of beauty eyesbrown from a previous life with a lot of limitations from the lines, the intensity of the tattoo ink, so the eyebrow shape is rough and unnatural. This will make the face look older – this beauty method is not chosen by many people anymore.
Currently, eyebrow beautifying techniques are more and more modern, the methods of eyebrow spray, embroidery or sculpting are all new, improved beauty techniques and are suitable for almost all subjects. Modern eyebrow spraying techniques with micro needles will bring you a sharp eyebrow, flexible, natural and bring the most harmony on the face.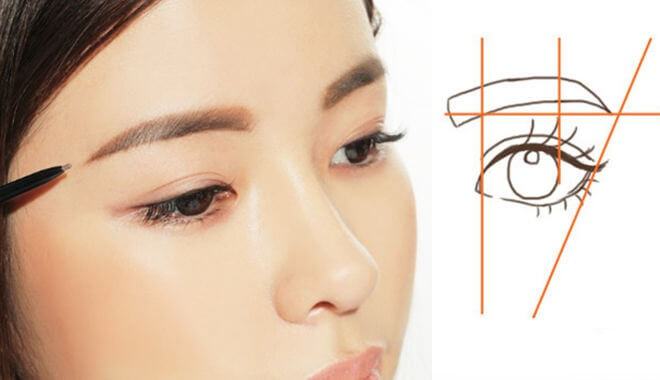 + The eyebrow shape does not match the face
One reason that eyebrow spray looks older is because the eyebrow shape does not match the face. There are many different face shapes, and will suit certain brow shapes. Choosing the wrong eyebrow shape for your face is like wearing an inappropriate outfit – it will make you less sharp and look much older.
Therefore, if you cannot choose for yourself a satisfactory eyebrow shape, you should choose quality cosmetic facilities and have a team of highly skilled professionals with deep knowledge of drawing the correct golden ratio eyebrow shape. For detailed advice on eyebrow shape to best suit your age, face and personality.
>>> Refer to the mistakes when shaping eyebrows You need to know to ensure that you always have a beautiful natural eyebrow.
+ Choose the wrong ink color
Eyebrow ink colors are now very diverse and rich with many different levels of light and dark, suitable for many different skin and hair colors. Choosing the wrong ink color can cause the eyebrow spray result to be unsatisfactory.
+ Choose an outdated eyebrow style
If you are not a beauty fanatic and do not regularly update with new beauty trends, it is best to ask technicians to advise you on eyebrow styling. Because outdated eyebrow styles can make your face look "classic" much more.
>>> Refer to good experience: Simple tips to have beautiful eyebrows - The secret to taking care of beautiful eyebrows without going to a beauty salon.
2. Modern cosmetic eyebrow tattooing methods
+ Spray Embroidery Powdered Eyebrow
Powder embroidery is a beauty method from Korea, which is a combination of spray-embroidery and powder-dispersing techniques. Give your brows a sharp and natural look like you're wearing light makeup.
Powder embroidery is suitable for all ages, skin tones, faces and you can create any shape and color of eyebrows with this new method.
In particular, Miss Tram uses Queen ink with 100% herbal extract, imported directly from the US, helps create the sharpest eyebrows.
+ Eyebrow Spray Ombre
Ombre eyebrow spray is a beauty trend that uses ultra-fine powder inkjet ink. After spraying about 80% complete eyebrow shaping, the technician will massage several times on the eyebrows to incubate the color, help the ink penetrate quickly, create a natural and soft eyebrow shape.
With a high-end spray color palette, diverse colors, you will be consulted by Miss Tram's estheticians to choose the right color for your skin and hair color, to help you become the most beautiful.
+ Magic Shading Eyebrow Spray
This beauty method is also known as 3d shadow – this is a modern eyebrow spray technique, based on the dark and light change of color to help eyebrows become as natural as possible. In particular, Magic Shading eyebrow spray will help you own soft, sharp and natural eyebrows, not as stiff and old as traditional tattooing methods.
+ Men's Eyebrow Sculpting Technique 6D, 9D
Eyebrow sculpting is a beauty method using specialized equipment, meticulously drawing each thin and sharp eyebrow, interwoven with real eyebrow hair, without a frame, so it does not reveal any cosmetic traces. .
This is the most advanced method of eyebrow beautification today, helping men to own thick eyebrows, standard and completely natural. With Miss Tram's modern 6D and 9D sculpting techniques, the cases of thin eyebrows, thin, pale eyebrows or lack of tail in men are all improved most perfectly.
+ Sculpting eyebrows with 9D yarn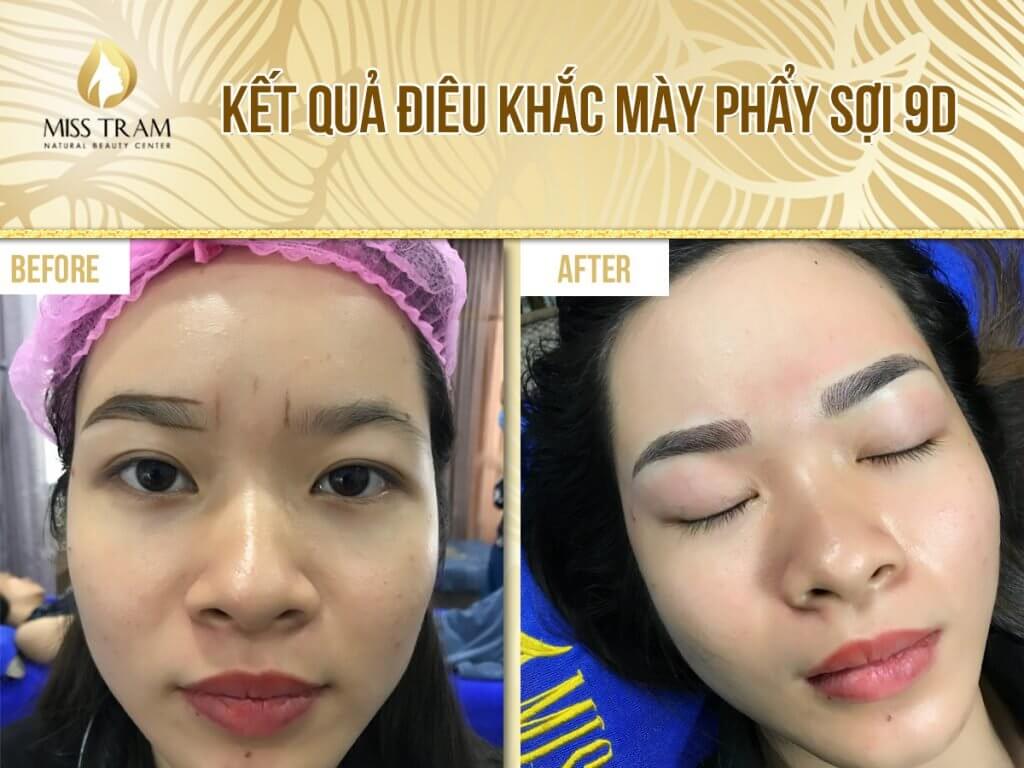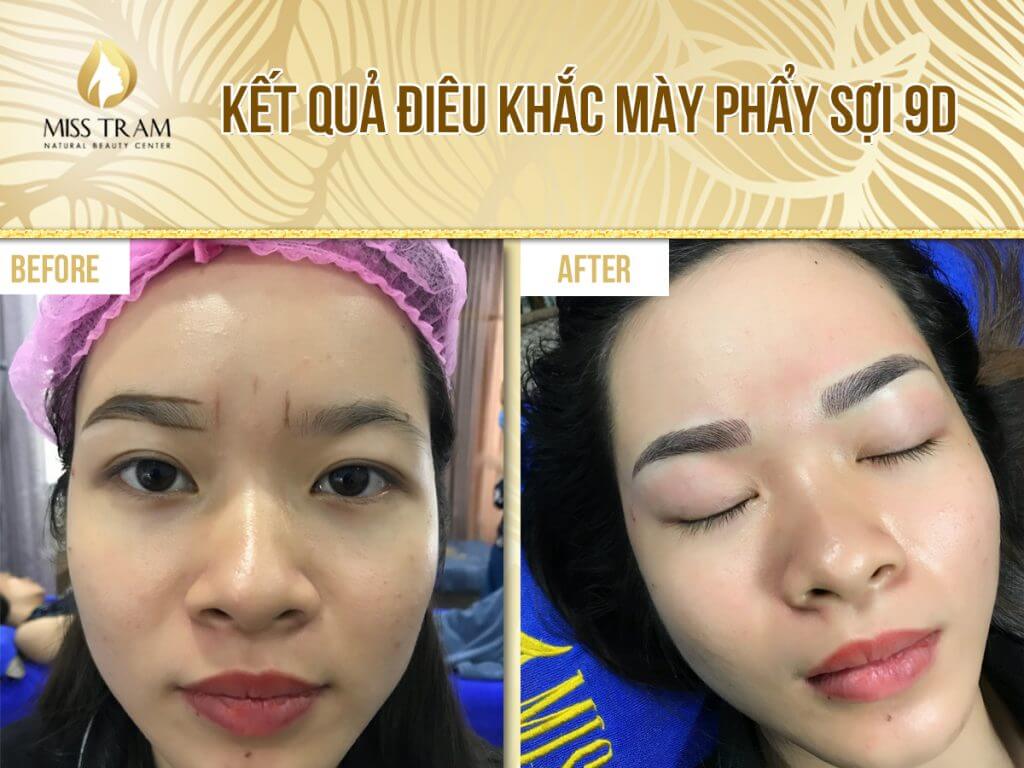 Sculpting eyebrows with 9D yarn is the most advanced cosmetic method of eyebrows today, technology from Europe has been transferred to Vietnam by Miss Tram. This is the most perfect eyebrow beautification method for women with the advantage of highlighting each eyebrow line, helping to make the eyebrows look natural.
In addition, Miss Tram also combines two methods of eyebrow sculpting with yarn and Spray Ombre / Shading to create eyebrows that are both natural and sharp, bringing the most satisfaction to customers.
Currently, Miss Tram owns a lot of modern eyebrow beauty techniques with its own outstanding advantages. Coming to Miss Tram, customers will be consulted by experts on eyebrow shapes, as well as choosing the most suitable eyebrow beauty technique.
>>> Refer to good experience: The Habits That Make Your Eyebrows Ugly - 5 bad habits you should avoid to protect your eyebrows are always sharp, naturally beautiful.
So is your tattooing old? The answer is YES – if you choose poor quality beauty salons, use outdated tattoo techniques or choose the wrong eyebrow shape, ink color. And at Miss Tram, with modern technology and techniques of tattooing - sculpting, and a team of professional technicians, Miss Tram is committed to bringing eyebrows to a standard, natural, sharp shape and helping you Youngest, most beautiful. Hope this article will be useful to you. Wish you always have the best eyebrows!
See More About News – Beauty Secrets By Miss Tram - Natural Beauty Center:
What Should Men Do With Dark Lips?
Criteria for Evaluation of Eyebrow Tattooing Results Successfully Or Not
Harmful Mistakes When Treating Acne With Natural Ingredients