Lunar New Year is a very special occasion of the year that everyone eagerly welcomes. Because this is an opportunity for family members and close friends to reunite after a long busy year in life. Therefore, this is the reason why we women pay great attention to what to wear, how to apply makeup to look the most beautiful in the eyes of our loved ones.
If you want to have makeup styles that are both fresh and trendy, don't miss the following article of Miss Tram - Natural Beauty Center ok
Sparkling beautiful makeup styles for Tet
The beauty trend that is "dominating" at the beginning of the year is natural makeup. The lightness, simplicity and not too many layers of makeup will make your face more youthful and modern. And especially, you can also combine with many different makeup styles.
Just a few simple makeup steps with cushion, you will create a light, transparent, natural foundation. Then, pressing blush, using different eye colors or lipstick colors will create many new and suitable styles for each of your outfits. Miss Tram would like to introduce some outstanding makeup styles:
1. Transparent, natural makeup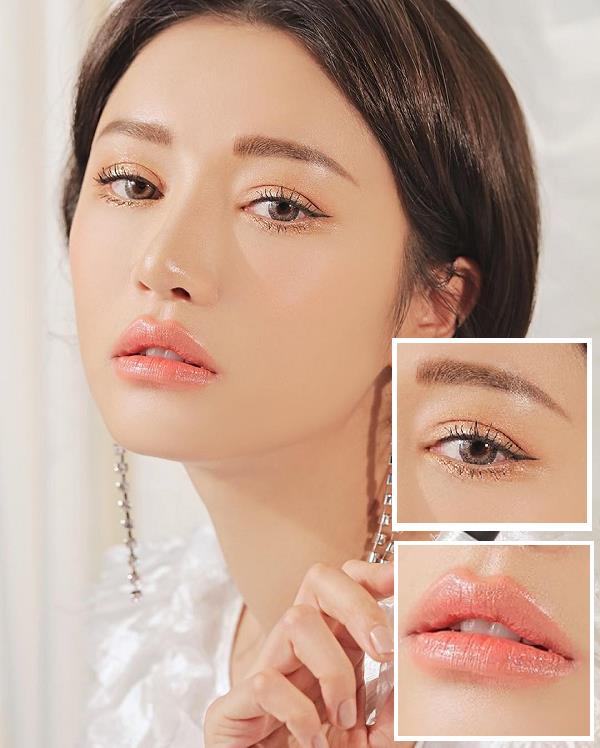 This transparent, natural style is very suitable for girls who wear white sets – both luxurious, gentle and feminine. In particular, this style is extremely suitable for the early spring days.
Draw thin eyeliner, gently pluck your eyebrows and choose a glossy pink nude lipstick to create a seductive look.
2. Makeup accents on the eyebrows
With this style, you only focus on eyebrows on natural makeup. Take care of your grooming and choose different drawing tools to create the perfect natural eyebrows.
In addition to the natural foundation, you can create light contours for a more contoured face. With eyebrows, you should also choose brown to look flexible and natural. In particular, this type of makeup is often suitable for lipsticks.
>>> Update Colors Will Dominate Fashion Village The current.
3. Makeup that emphasizes the eyes
If you want to have a beautiful sparkling eyes, this style is the ideal suggestion for you. It is also a natural makeup with a thin, smooth foundation from water powder. But this time, you need to choose a dark color layer to create depth for the eyes, conceal imperfections, help the nose and face sharper.
In addition to highlighting, more carefully when applying eye makeup, use a little glitter to lightly cover your lashes to create a sparkling effect on Tet. With this makeup, you can press a little more blush and choose lip gloss colors to create more highlight for the face.
4. Makeup according to lip color
It is also on a natural makeup base, but if you want your face to stand out and be sharper, choose this lip color makeup style.
After completing the smooth foundation with cushion, you just need to highlight a few details in the eyes, lips and cheeks with lip tone to complete this makeup look. Some hot lipstick color early this year: coral orange, earth orange, scarlet, earth red, nude…
Tips to make makeup extremely fast and extremely standard
1. Always take proper care of your skin
If you want to have a beautiful, flawless makeup, you need to take care of your skin thoroughly and regularly. Because when the skin is moist enough, soft and smooth, the foundation layers will also be smooth and done quickly in a split second.
Therefore, at least you need to ensure the most basic skin care steps: cleansing and moisturizing.
2. Always choose your outfit first
Choosing the outfit first will help you shape and choose the right makeup and hairstyle. For example, if you choose an orange set, you can makeup your cheeks and lips with coral orange, peach or pink orange colors to look very fresh and fashionable.
This is a very important note because they affect the overall harmony and save your time. Because no one wants to be "crazy" after makeup to find a uniform tone.
3. Use America suitable makeup products
Using makeup that is suitable for your skin will avoid skin irritation, mold, and roughness after makeup. Therefore, always determine which skin type your skin belongs to to have the most suitable choice.
>>> Update beauty trends from Korea and Japan. These two countries are considered paradises for many beauty believers to learn.
4. Don't put too much emphasis on the face
Too much emphasis on the face will not make you more beautiful, even confusing the eyes of the opposite person. In particular, with the trend of natural makeup this year, having too many accents will make you look "outdated" even more.
5. Pay attention to a healthy diet
The New Year's diet also greatly affects your skin and makeup. Why? Because if you are too comfortable eating a lot of unhealthy food and candy, your skin will be more oily and prone to acne.
Especially, with oily skin girls, acne spots will quickly form. And certainly, the layers of makeup will not help you hide your flaws absolutely, they are even the cause of more serious acne.
So, Miss Tram - Natural Beauty Center shared beautiful makeup styles for Tet 2020. To be the most confident in the first days of the year, in addition to choosing a makeup style that matches your outfit and hair, you need to have a care regimen. Take care of your skin from the inside out. Because with a smooth skin, enough moisture, your makeup will be smooth and perfect.
Hope the sharing of Miss Tram will be useful to you. Wish you always the most beautiful in the first days of the year!
See More About News – Beauty Secrets By Miss Tram - Natural Beauty Center:
Top 7 Foods To Eat For Weight Loss And Brighten Skin