2 Months Is It Time To Beautify Lips?
In less than 2 months in Vietnam, do you have time to make beautiful lips? This is definitely a question many of you have when you have the opportunity to visit your hometown and want to take advantage of the time to be beautiful, right? Check out the article to know the answer from Miss Tram!
Question:
My lips have been dark for a long time, so my friend advised me to get a lip tattoo, but I still hesitated because I don't know how long it will take to recover from tattooing. In about 2 months, I will go abroad to settle down, so I need to work urgently. Ask your doctor for advice. Thank you
(Phuong Dung, 25 years old, HCMC).
Reply:
Hello Phuong Dung! Thank you for your interest and questions about the consulting section of Miss Tram - Natural Beauty Center. This is a question quite a lot of you have asked recently about the issue of lip tattoo spray, does it take a long time? The following article will answer your questions!
In your case Phuong Dung, in a short period of less than 2 months, we guarantee to bring you naturally beautiful, rosy lips through lip tattooing method. Like you, many women have dark, pale lips.
This seriously affects the aesthetics of the face, thus causing many women to lose all their inherent confidence. Therefore, the lip tattoo method is the best solution to bring back a fresh and youthful lip color without depending on lipstick anymore!
Does lip tattooing take a long time?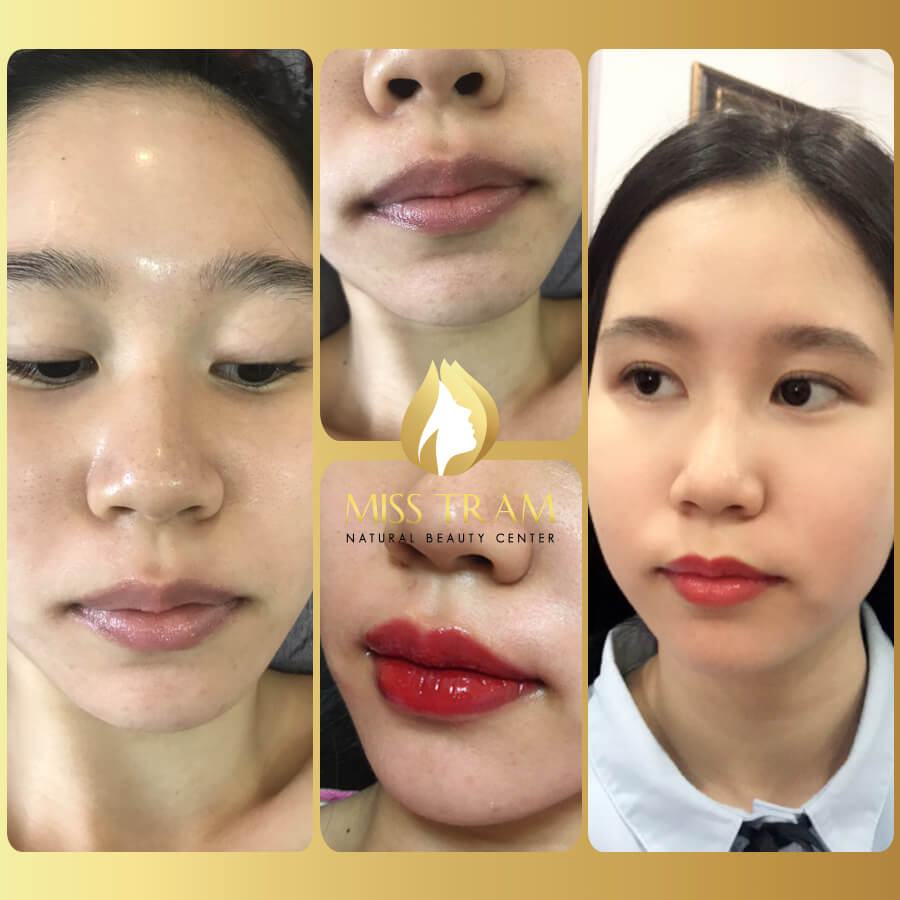 Currently, Korean technology lip tattoo spray is a method of tattooing that is trusted by many women because of its safety and high efficiency. This technique helps to create a fresh lip color, suitable for the face and overcomes dark, dull and pale lips with tattoo machines and tattoo inks.
This method is conducted in a very short time, only from 15-30 minutes and the lip color will be naturally beautiful after 7-10 days. The outstanding advantage of this method is that you do not need to rest, after spraying your lips, you can return to your daily activities without much impact on life, study and save time.
>>> Reference beautiful lip care tips from natural ingredients, easy to find, simple and effective formula.
The factors that determine the lip color after tattooing are fast or slow:
+ Due to geography:
Depending on the body, each person decides whether the lip color is fast or slow. If you are a person with a good body, you will quickly adapt to tattoo ink, making your lips color quickly. The coloring time of those who have a healthy body in 1-2 weeks, the lip color will be even and beautiful. On the contrary, if your body is bad, the time to color will be longer, which can last about 1 month or more than 1 month.
NOTE:
Normally, after 5-7 days, the tattoo scab will peel off and you can now see your lip color. However, at this time, the color is not standard and will often be quite dark or uneven, you need more time to get the best color tattoo ink on the lips. Keep a calm mind and don't worry too much, you can ask your doctor, a counselor to give you advice!
Due to diet, daily activities:
Diet and daily activities also greatly affect the process of your lip color. You should add nutritious foods such as yogurt, fresh milk, pineapple, ... to make your lips more soft, promote lip color to be more beautiful and natural. Besides, you also need to limit the use of foods such as beef, chicken, seafood and carbonated drinks such as soft drinks, alcohol, and beer that will hurt your lips.
+ Technology of tattooing lips, ink color
Tattoo technology is one of the important factors that determine whether your lip color is beautiful or not? Modern technology will make it easy and fast to put tattoo ink on the lips.
As for tattoo inks, there are tattoo inks that have the ability to quickly color while there are some poor quality tattoo inks that color slowly. In addition, the skill of the specialist will directly affect the ink color when tattooing, making your lip color even or not.
>>> Instructions How to take care of lips after spraying so that the lips do not swell, quickly peel, up to the standard color and especially the color is durable.
With some of the above sharing, hopefully Phuong Dung has found a satisfactory answer. If you have anything to answer, you can call the hotline 1900 7018 for a quick consultation. Or you can leave your phone number for consultation, we will call you as soon as possible. Or better yet, you can come Miss Tram - Natural Beauty Center to examine and perform lip spray!
See more Troubleshooting Miss Tram's Other
Spray Lips 2 Weeks Dark, What To Do
Spray Lips 3 Days Not Fade How To Fix