Eyelash extensions How long does it take to fall off is one of the "hot" topics that many women are interested in when it comes to this special beauty technology. So do you want to own the secret to increase the longevity of your eyelash extensions? If yes, please join Miss Tram - Natural Beauty Center find out!
How Long Can Eyelash Extensions Fall Out
Why is eyelash extensions the most popular beauty method today?
Eyelash extensions are a method of beautifying eyelashes that are loved by many people, because thanks to it, women can save a lot of time applying makeup before going out, while still getting curled eyelashes with a pair Beautiful sparkling eyes attract all eyes. This is also a perfect solution for women who have defects such as weak, sparse, not curved, short eyelashes, etc.
Here are the bullet points that show the advantages of eyelash extensions:
Eyelash extensions help you own eyelashes that look naturally beautiful and softer than when using false eyelashes.

Suitable for many subjects: students, students, office workers who go to work or go out normally.

There are many styles of eyelashes for you to choose from (silk eyelashes, black rose eyelashes, ...)

Implementation cost is not too high.

Does not affect real eyelashes and our eyes because if done correctly, false eyelashes only overlap the root of the real eyelashes.

Quick completion time.
>>> Related Articles: More about meditative eyelash extension technology Hottest right now.
So how long can eyelash extensions last?
The time it takes for eyelash extensions to fall off depends on many different factors, so it is impossible to say exactly how much time. Normally, the eyelash extension service at Miss Tram - Natural Beauty Center will keep the beautiful standard eyelash extensions within 2-4 weeks. After this time, the eyelashes may fall out, but the eyelashes will still retain their beautiful thickness for a few more weeks.
To keep your lashes as beautiful as they were at the beginning, you should go to the center to re-apply the areas that have fallen out. Usually Miss Tram will tell customers to return miles after 2 weeks of connection to save time.
The factors that directly affect the duration of eyelash extensions are:
Eyelashes of your choice
Designs eyelash extensions is the first factor affecting the retention time of eyelash extensions. Depending on the preferences of each person, there are many different types of eyelash extensions such as: thickness of eyelashes, short length of eyelashes, current condition of real eyelashes. For example, natural thin lashes will have a shorter lifespan than thick, angelic lashes.
How to take care of eyelash extensions
Careful and effective eyelash care also affects the time to keep eyelash extensions. Many of you after finishing the connection do not care about eyelash care such as diet, unscientific daily living habits also make eyelashes fall out faster.
Depends on each person's body
The time to keep the eyelash extensions fast or slow also depends on the muscles of each person. For those with oily skin, the time to make eyelashes fall out faster than for those with dry skin. Because oily skin makes the contact between real eyelashes and false eyelashes less, resulting in a much reduced durability of the glue.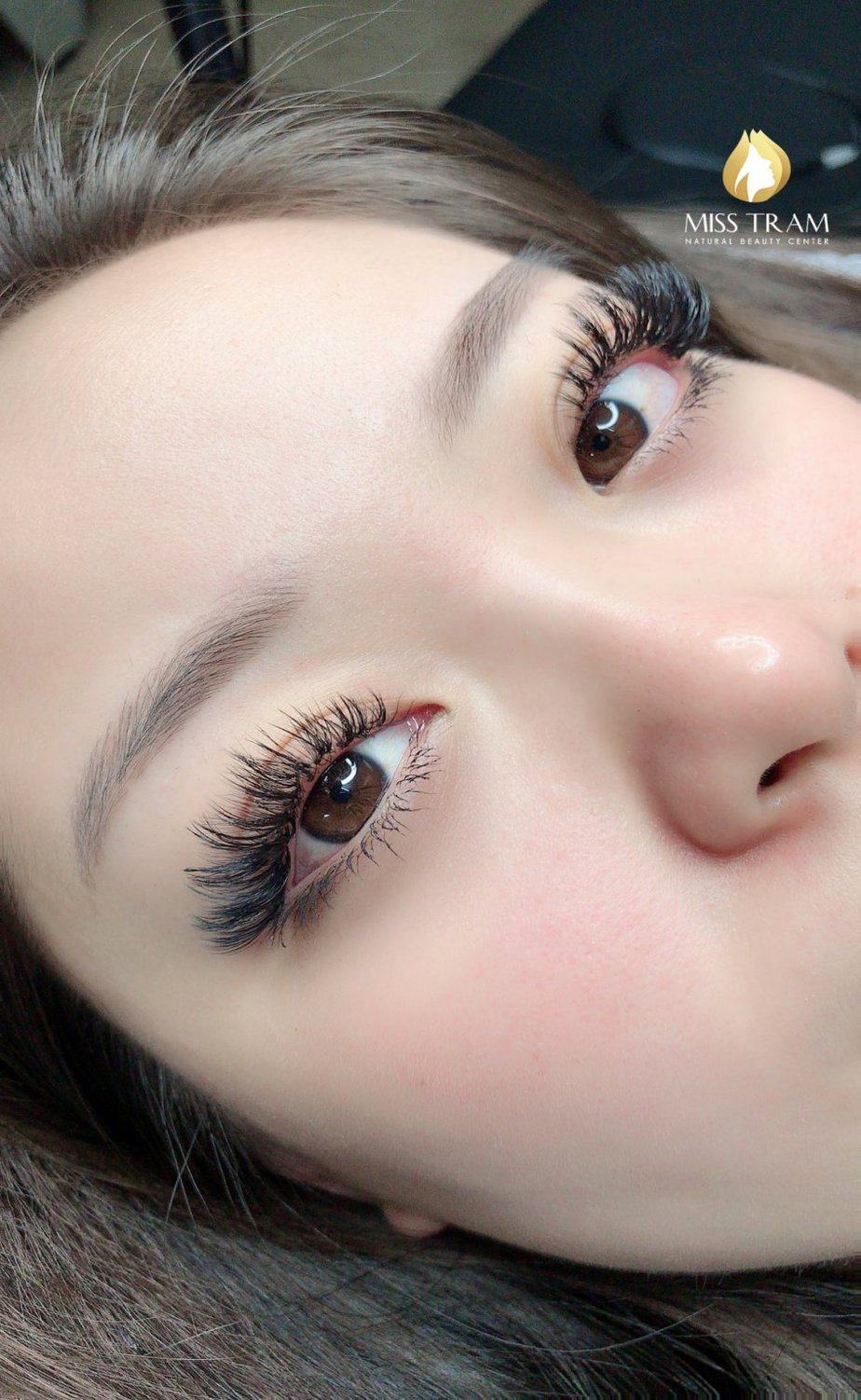 Daily routine
For those of you who often wear makeup, the risk of eyelash extensions will fall out faster. Because when you wear makeup, you have to remove makeup, this greatly affects the eyelash extensions because cosmetics with essential oils will easily cause eyelashes to fall off. Therefore, to prolong the time of keeping the eyelash extensions for a long time, you should limit makeup in the eye area, regularly wear sunglasses when going out!
Quality of eyelash extensions
The quality of the eyelash extension set is a factor that affects 80% of the time it takes to keep the eyelash extensions long or not. At Miss Tram - Natural Beauty Center, we always ensure the use of high-quality eyelash extension glue, combined with a team of professional eyelash extension technicians with many years of experience in the beauty industry. Thus will help you own a perfect pair of eyelashes as expected. (Tutorial beautiful eyelash extension technique being applied by many leading spas today).
Hope the above article has helped you answer your question about how long to keep eyelash extensions, if you have any questions about eyelash extension service, don't hesitate to call the hotline: 1900 7018 for a free consultation!
See More About News – Beauty Secrets By Miss Tram - Natural Beauty Center:
Is Silk Eyelash Extensions Harmful
How Much Time Does Eyelash Extensions Take
Review Top Skin Care Products