Beauty needs, beautiful eyelash extensions It is a must-have in life and it is an inevitable part of our lives. The face is a very important part, it helps you to be confident and is the first weapon to help you stand out from the crowd when going to a party or communicating, having a coffee with friends. Here are the techniques and benefits when Japanese style eyelash extensions at Miss Tram:
Miss Tram Spa uses Japanese-style eyelash extensions method, modern advanced technology, Miss Tram Spa ensures you will immediately own wonderful eyelashes with 5 NO:
IS NOT pinned to the skin,
IS NOT stingy eyes,
IS NOT uncomfortable itching,
IS NOT real eyelash loss;
IS NOT time consuming for the customer.
There are 2 eyelash extension techniques applied at Miss Tram Spa:
+ 3D angel silk eyelash extensions (round eyes): make eyes glitter, round, natural, suitable for all types of eyes.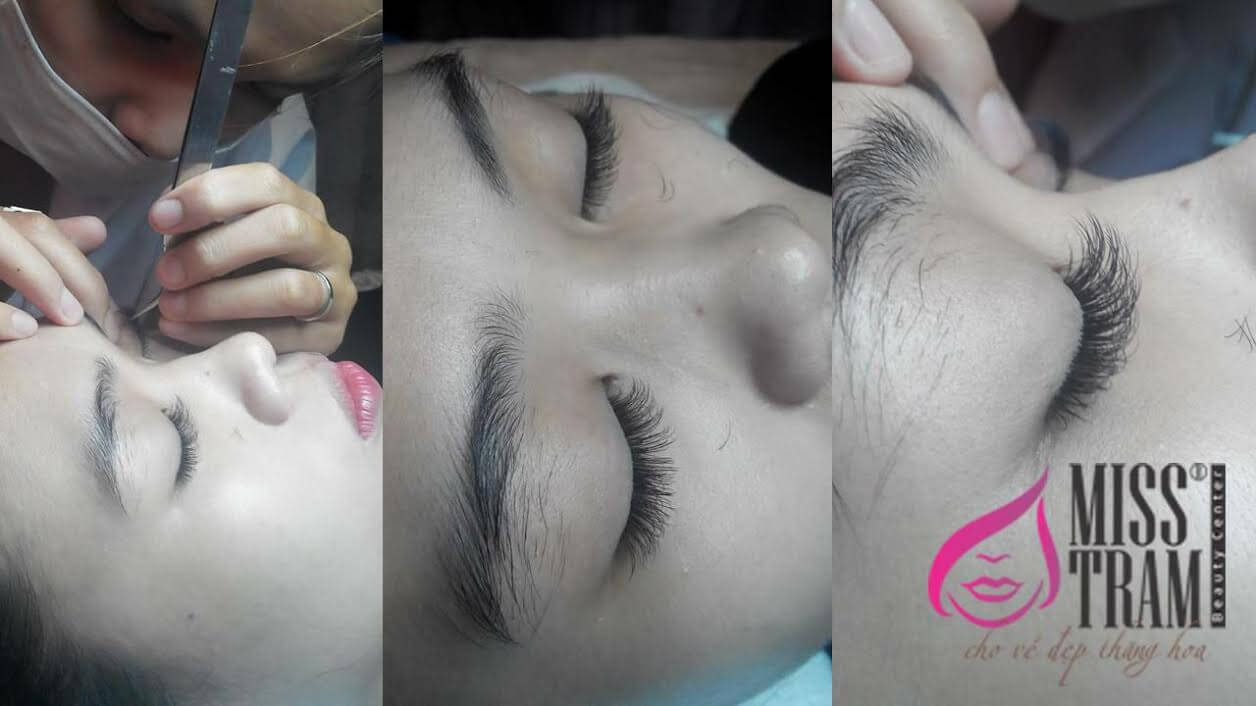 + Black rose eyelash extensions Seductive (Sexy): makes the eyes sharper and more personal with the tail of the eye longer than the top of the eye, creating a sharp and extremely seductive eye.
Customers coming to Miss Tram Spa are completely assured with excellent workmanship and services here because all technicians are well-trained in expertise and professional, friendly, and dedicated service attitude. and devoted.
Experience Professional eyelash extensions service At Miss Tram Spa you will:
BE consulted carefully before and take care after eyelash extensions,

GUARANTEE the quality of eyelashes (100% genuine silk lashes imported in Korea) and eyelash glue,

ENJOY the most comfortable of eyelash extensions,

ALWAYS own long and thick curled eyelashes after joining,

BE confident with perfectly beautiful eyes.
⇒ It will be more beautiful if you combine horizontal eyebrow embroidery spray
PRICE LIST OF lash extensions service at MISS TRAM SPA
3D Angel Silk Eyelash Extensions Japanese style:

500,000 VNĐ

only 299,000 VNĐ
Eyelash extensions Black Rose Japanese style:

600,000 VNĐ

only 349,000 VNĐ
Miles: only 99,000 VND – 149,000 VND
If you want to own attractive eyes with curled eyelashes, please book an appointment in advance so that Miss Tram Spa can best serve you!
See More About News – Beauty Secrets By Miss Tram - Natural Beauty Center:
Prestigious Natural Eyelid Spray - MissTram Beauty Salon
Secrets of makeup and beauty in the dry season
Fever with the favorite orange lipstick of Vietnamese stars 2018